An 18-year-old of Pakistani origin arrested on suspicion of carrying out an attack with a meat cleaver on Friday against a man and a woman outside the former premises of Charlie Hebdo magazine said he mistakenly believed they were journalists from the magazine, according to judicial sources, and acted in revenge for its republication of cartoons depicting the Prophet Mohammed ahead of the trial opened this month of alleged accomplices of the jihadists who carried out the January 2015 shooting massacre in and outside the offices that left 12 dead.
Following a stabbing attack on Friday against a man and a woman outside the former Paris offices of Charlie Hebdo magazine where 12 people were gunned down by terrorists in January 2015, French police have arrested seven people, including the suspected perpetrator, described as an 18-year-old Pakistani national.
The decision to treat it as possible terrorist attack is said to have been taken following interviews with attacker's wife and several close associates.
Police have arrested one suspect after stabbings in Villeurbanne, near Lyon in eastern France.
Five people have been detained for questioning over their suspected links to Ahmed Hanachi, 29, who was shot dead by an army security patrol after he murdered two young women outside St. Charles railway station in the southern French city of Marseille on Sunday in a knife attack which the Islamic State group later claimed responsibility for.
A 19-year-old who was arrested when he attempted a knife attack on soldiers guarding the Eiffel Tower on Saturday, which he claimed was in support of the Islamic State group, has been returned to a psychiatric hospital from where he was on short-term release after he was deemed unfit to face prosecution.
A man wielding a knife assaulted three people in the street in Montauban, near Toulouse, before being shot and wounded by police who said the motive for the attack was unclear.
Man, 31, arrested by two tram workers after the attack, is described by police as an 'unbalanced individual' recently refused entry to Turkey.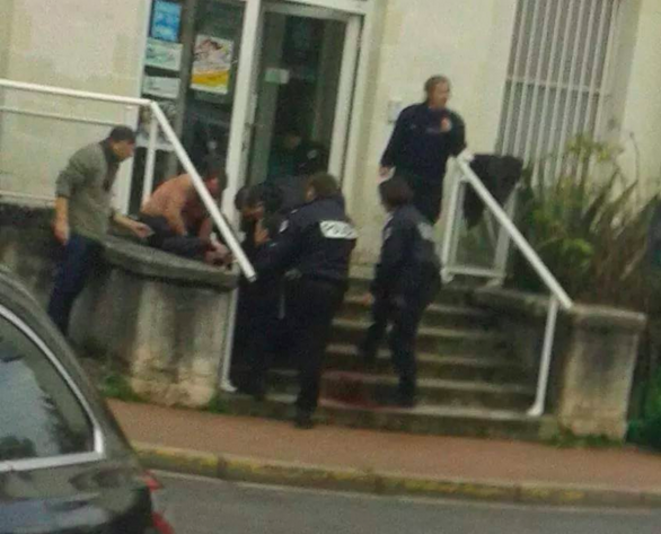 © DR
On December 20th, 20-year-old Bertrand Nzohabonayo was shot dead by police in Joué-lès-Tours, west-central France, after he reportedly attacked a police station wielding a knife with which he wounded three officers while shouting the phrase 'god is great' in Arabic "up until his last breath", according to some media. The French interior minister hailed the "professionalism" and "level-headedness" of the officers involved, and an investigation into the events was immediately handed to anti-terrorist police. Burundian-born Nzohabonayo, a Muslim convert who had recently posted a photo of the flag of Islamic State on his Facebook page, has been widely presented as acting for the cause of Islamic extremism. But one week after his death, a quite different version of events has emerged. According to several witnesses, he was shot while using a knife to resist arrest outside the police station, where he was being brought for questioning over a fight involving one of the station's officers and two black youths. Yannick Sanchez reports.