Kurdish-led forces say they have captured close to Raqqa, in Syria, French jihadist Adrien Guihal, also known as Abu Osama al-Faransi, who notably voiced the Islamic State group's claim of responsibility for the July 14th 2016 truck rampage attack in Nice which left 86 people dead and more than 400 others injured.
French president 'paid tribute' to Kurdish-dominated Syrian Democratic Forces while Kurds say he has also promised to send more troops to area.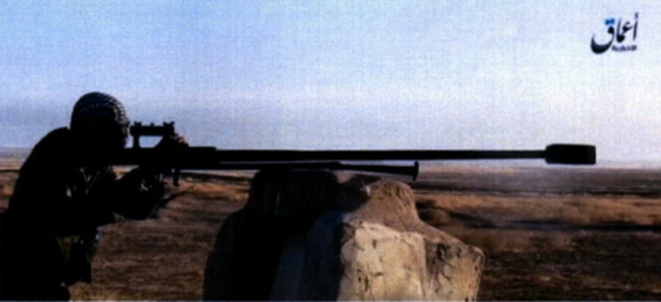 An Islamic State propaganda photo of one of its sharpshooters. © DR
In the wake of the military defeats of the Islamic State group in the Middle East, a total of about 100 French nationals, including jihadist fighters, women and children, are now detained in Iraq and in Kurd-controlled territory in Syria. Their situation represents a dilemma for the French government, which is tempted to leave them in the hands of their captors and their justice systems, but which is under pressure from lawyers acting for their families who argue that to do so is unlawful and inhumane. Michel Deléan and Matthieu Suc report on the debate, and hear the arguments, which include security concerns, for and against their return.
Recep Tayyip Erdogan's trip comes the day before a commemoration of the murder of three Kurdish activists in Paris five years ago.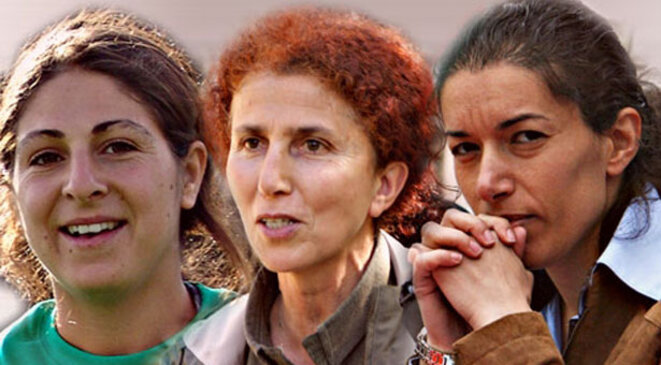 The three Kurdish activists killed in 2013: Leyla Saylemez, Sakine Cansiz, Fidan Dogan.
In January 2013 three female Kurdish activists were gunned down in cold blood at their offices in Paris. The chief – and only - official suspect will stand trial in France early this year for their murder. However, despite an investigation by three examining magistrates the people who ordered the killings have never officially been identified. Instead, political, diplomatic and security concerns appear to have blunted the French judiciary's probe. Nonetheless, writes Jacques Massey, it is clear that the confrontational approach adopted by Turkish president president Recep Tayyip Erdogan towards the Kurds lies behind the shootings.
The protesters in central Paris accused Turkish President Recep Tayyip Erdogan as responsible for the bomb blasts that killed at least 95 people.
Statement from President Hollande's office says move is in response to the 'urgent need' expressed by the authorities in Kurdistan.
The move comes as President Hollande assured Kurdish authorities that France will stand by 'victims of continued exactions of the Islamic State'.
One of the women found dead with gunshot wounds is said to be a co-founder of the militant Kurdish separatist movement, the PKK.