Keyword: La France insoumise
Related keywords
Police last week searched the home of Jean-Luc Mélenchon, leader of Frances radical-left La France Insoumise party, and also the homes of several of his close entourage, as part of an investigation into suspected financial fraud during Mélenchon's 2017 presidential election campaign. Mélenchon's furious reaction to the raids, which included his party's headquarters, have erupted into a public slanging match with the prosecution services and also the media, who he has denounced as serving a political plot against him. Fabrice Arfi, Michel Deléan and Antton Rouget report on the searches last week, when 12,000 euros in cash was discovered at the home of a former close aide of Mélenchon's.
In his first set-piece television interview since becoming France's president in May, Emmanuel Macron was in unrepentant mood, refusing to apologise over a string of controversial remarks which he now claims have been misunderstood. Speaking on the privately-owned TF1 television station, the centrist president also said the country would have to wait for up to two years for his reforms to take effect. Hubert Huertas analyses President Macron's much-anticipated television appearance.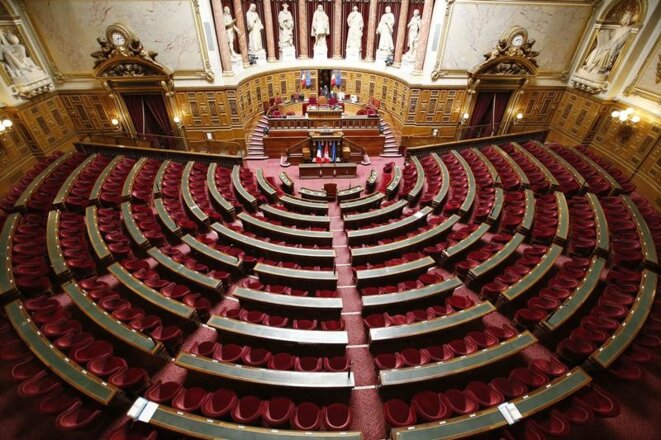 The chamber of the French Senate. © Reuters
The events of last weekend have been revealing about the state of French politics and the balance of political power. The elections for the Senate, in which the Right consolidated its position in France's upper chamber, showed the limits and weakness of President Emmanuel Macron's government. At the same time the relatively modest turnout for a protest march in Paris organised by the radical left La France Insoumise highlighted the lack of major political opposition. But as Hubert Huertas says, this does not mean that opposition to the government's measures has melted away.
The 'far leftist' Jean-Luc Mélenchon who rails against capitalism is now the de facto leader of the opposition, reports The Washington Post.

Facing problems: President Emmanuel Macron.
The first series of the Macron show has come to an end. Now, as the political world returns after the summer break, the show threatens to become more of a (grim) reality TV series. President Macron is confronted by three main issues: his economic policy is right-wing, many of his key measures are unpopular and he lacks heavyweight communicators in his party's ranks. As a result the new head of state seems set to change his communication strategy and get more involved in the fray. Mediapart's editor François Bonnet reports.
President Macron's speech to both houses of Parliament in Palace of Versailles next week is intended to set the tone of his presidency.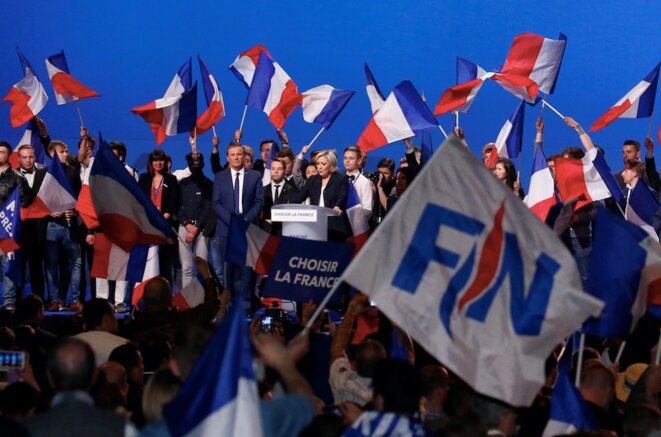 The far right's Marine Le Pen during a politcal rally at Villepinte near Paris on May 1st, 2017. © Reuters
Mediapart is calling for a vote for Emmanuel Macron against Marine Le Pen in the second round of the French presidential election on Sunday May 7th. This is not out of approval for his manifesto, writes Mediapart's publishing editor and co-founder Edwy Plenel, but in defence of democracy as an arena where one has the freedom to object - including against Macron's policies. For under the authoritarian and identity-obsessed far right, he says, this fundamental right would certainly come under challenge.