Keyword: La République En Marche
Polling agencies estimate that France's traditional conservative party will win the first round of regional elections, with Marine Le Pen's far-right party performing worse than expected.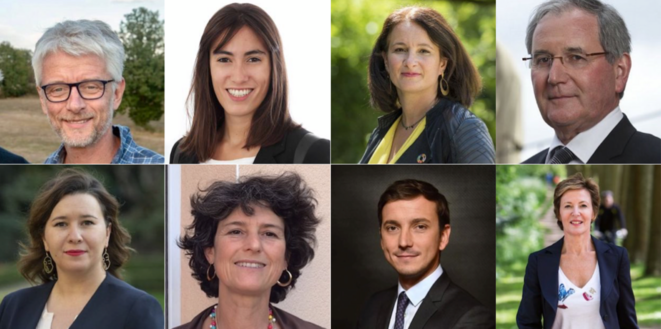 Some of the 30 MPs who have quit Emmanuel Macron's ruling La République en Marche party. © DR
Since the Parliamentary elections held in 2017 around 30 Members of Parliament have deserted the ranks of Emmanuel Macron's ruling La République en Marche party. Some have joined other movements, a few have set up their own groups while others simply sit as independents. A year before the next presidential and Parliamentary elections, Mediapart's Ellen Salvi talked to some of these MPs about why they supported Emmanuel Macron in 2017 but are not prepared to do so in 2022.
The new group, Ecology, Democracy, Solidarity, will be largely formed of seven MPs from La République en Marche and other ex-supporters of the president.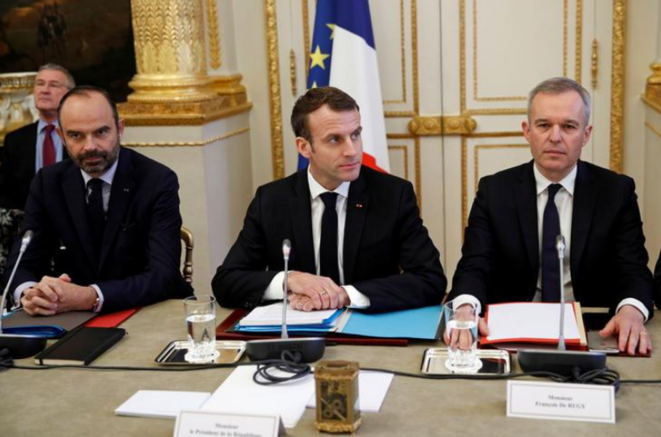 François de Rugy, right, with President Emmanuel Macron and Prime Minister Édoaurd Philippe, December 10th 2018. © Reuters
When the affair over environment minister François de Rugy's use of public money first broke, President Emmanuel Macron was determined to hold firm and keep his minister in government. He did not want to "give an inch" to Mediapart he was reported as saying, and initially insisted that unless and until a criminal investigation was opened his minister should stay. But in the end, because of the impact the story was having among the public, and despite the fact that there was little real prospect of legal proceedings being started, President Macron bowed to political reality – and de Rugy left the government. Ellen Salvi reports.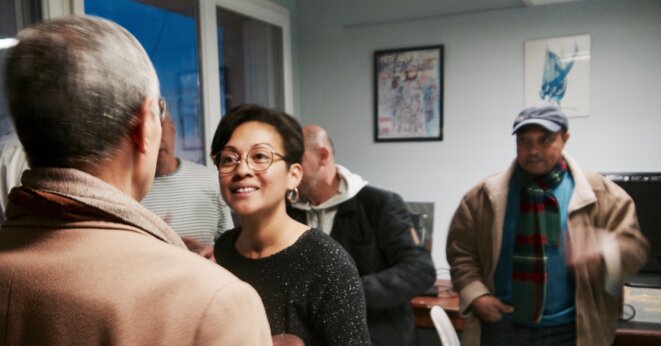 MP Aina Kuric at a meeting in Reims, November 16th, 2018. © MJ
Aina Kuric is a Member of Parliament for France's ruling La République en Marche party east of Paris and last week she held meetings with members of local volunteer groups, small-town mayors and councillors just as the "gilets jaunes" or yellow hi-vis jacket protests over fuel prices swept across France. In doing so she experienced at first hand the deep divide that is growing between the government and a section of the population increasingly gripped by despair. Mediapart's Manuel Jardinaud joined the MP on the trip to meet her constituents.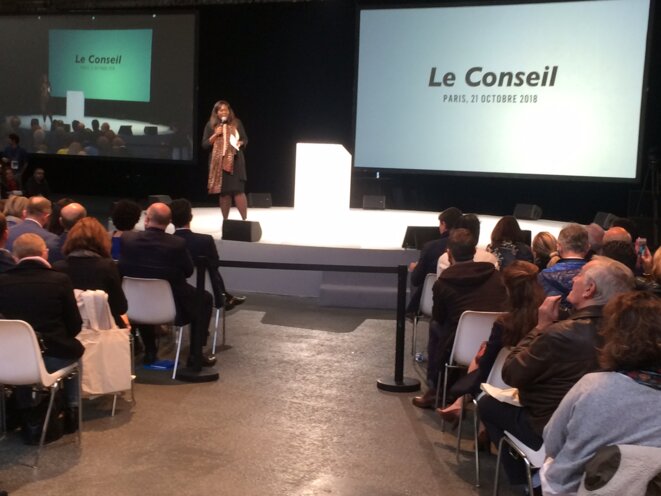 The La République en Marche party conference was held in Paris on October 21st, 2018. © MJ
The governing party set up by President Emmanuel Macron, La République en Marche (LREM), is seeking to mobilise and enthuse its activists as important elections approach. As part of that process it has developed a range of tools and documents inspired by business and management culture in which everyone is called upon to run grassroots initiatives. But as Manuel Jardinaud reports, these 'kit form' methods are not to everyone's tastes.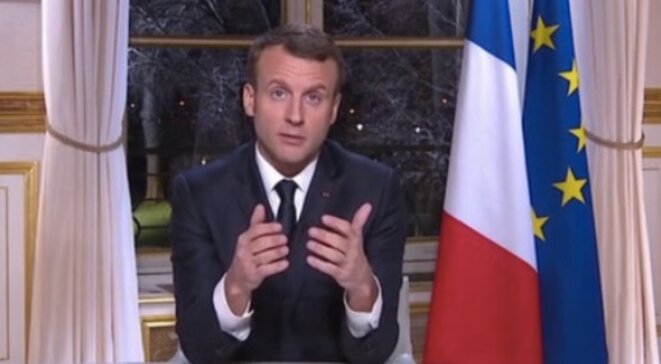 Addressing the nation: Presisdent Emmanuel Macron on December 31st, 2017.
"I did it in 2017....I will do it in 2018". On Sunday December 31st, President Emmanuel Macron delivered his first New Year goodwill message to the French people. Just 12 months ago no one imagined that he would be the occupant of the Élysée. Even last summer, when he had been elected, no one thought he would be in a strong position. Yet here he is, and his political situation looks robust. But it is a little too early for the new president to get out the bunting just yet. For Hubert Huertas argues that President Macron is about to face his biggest political 'opponent' – himself.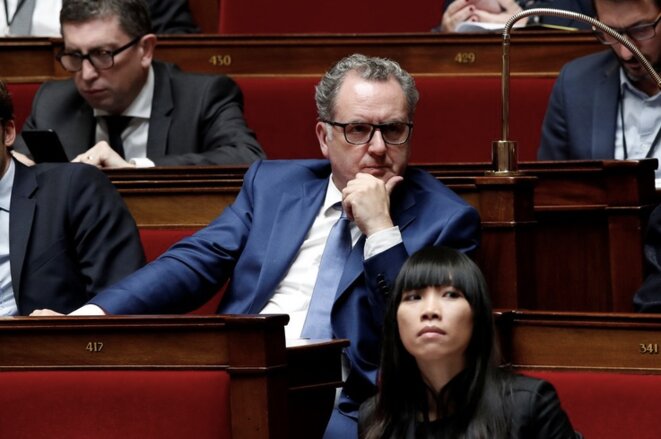 Richard Ferrand, centre, head of the Parliamentary group of Emmanuel Macron's LREM party. © Reuters
According to information seen by Mediapart an architect friend of senior politician Richard Ferrand won several public contracts from a local authority at the start of the 2000s just after the latter was elected to that council. Earlier this year Ferrand, a close ally of Emmanuel Macron and currently head of the president's La République en Marche party at the National Assembly, faced questions over a property deal by his partner involving a mutual health firm of which he was then managing director. The prosecution authorities later dropped their investigation. Mathilde Mathieu reports on the latest revelations.
Christophe Castaner, 51, who last year swapped political allegiance to join Emmanuel Macron's centrist bid for the French presidency has been appointed as head of the latter's fledgling political party in a move driven by the president and which has been criticised as ignoring traditional democratic party practices.
The new Members of Parliament have taken up their seats in the National Assembly following the Parliamentary elections and they consist of new faces, new groups and a new social demographic. Many of them are from a non-political, civic society background, with their own habits, customs and beliefs and bringing with them, too, a desire to circumvent the old political obstacles and delays of the past. But, says Hubert Huertas, this new group may themselves soon end up personifying those very same old political ways.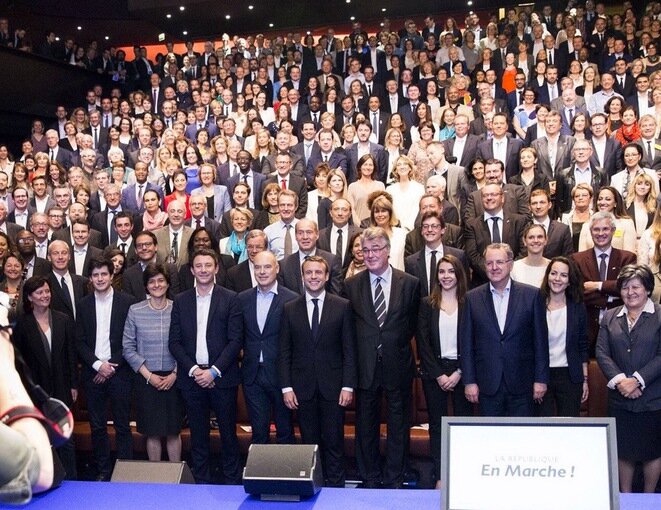 Emmanuel Macron surrounded by his party's candidates, Paris May 13th. © AudreyDufeuSchubert via Twitter
French President Emmanuel Macron's newly founded centrist party La République En Marche (LREM) is forecast to gain as many as 455 out of parliament's 577 seats in next Sunday's second and final round of legislative elections. It emerged from the first round this weekend with massive support across the country, to the backdrop of a record low turnout of less than one in two voters. Macron now appears certain to wield a crushing power to enact his promised major structural reforms, and to be completely untied to his electoral alliance with the centre-right MoDem party. Mathieu Magnaudeix and Ellen Salvi report.
His La République en Marche party came top in 10 out of 11 constituencies among voters who live abroad, ahead of mainland voting on Sunday.
The newly renamed La République En Marche (Republic on the Move) movement of French president-elect Emmanuel Macron has revealed a list of 428 candidates it will field in parliamentary elections next month, with a precise parity of men and women, a majority of individuals from civil society and an age gap ranging from 24 to 72, while it has yet to find another 149 in order to fight every constituency.