Related keywords
Departure of EELV's Senate leader Jean-Vincent Placé follows decision by a senior MP to quit the environmental party.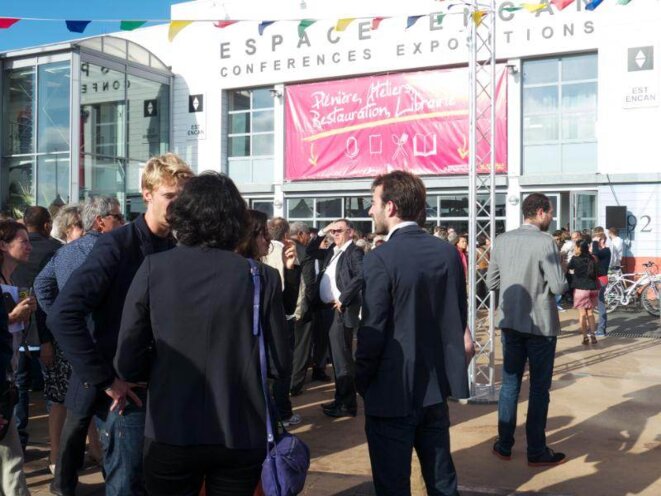 La Rochelle,dimanche. © Yannick Sanchez
Amid deepening divisions over government economic policy, France's ruling Socialist Party held its annual end-of-summer conference this weekend at the port of La Rochelle, in south-west France, culminating with a much awaited speech by prime Minister Manuel Valls. The long-planned venue coincided with the government reshuffle earlier this week which saw the exit from the cabinet of party left-wingers, and notably the arrival of a former banker, Emmanuel Macron, as economy minister in replacement of the outspoken anti-austerity leftist Arnaud Montebourg. Valls, who earlier this week told a conference of the French employers' federation of his "love" of business, was promised a fiery reception from the rebel Left of his party at his Sunday appearance. From a tense conference hall in La Rochelle, Stéphane Alliès reports on the address by Valls, who defiantly told a small group of journalists afterwards: "A speech will not be sufficient [...] but I'm continuing, I'm not giving up on anything."
Manuel Valls was met by a booing crowd when he arrived in La Rochelle for his party's annual national meeting of militants and officials.
Restaurants relying on foreign imports and west coast growers call for emergency state aid as mussel production plummets 90 per cent.
No DNA from 539 male pupils and staff matched genetic material on the clothing of a teenage girl who said she was raped in a dark bathroom.
Police investigating rape at lycée in La Rochelle say the student, aged over 18, declined to give sample for personal reasons.
In a controversial move more than 500 male staff and pupils face genetic testing at Catholic school in La Rochelle after a 16-year-old girl was raped.
The fight against the far-right Front national was the central theme of the ruling Socialist Party's summer conference that took place at the weekend. Some on the Left fear that if they do not start campaigning now, Marine Le Pen's party could attract the largest share of the popular vote at next year's European elections. However, as Lénaïg Bredoux reports, just what form the 'crusade' against extremism will take is still unclear.