Related keywords
French Labour Ministry will this week unveil outcome of months of talks with unions and bosses as part of a plan to reinvigorate the economy.
Party boss Jean-Christophe Cambadélis said militants were threatening to attack party members in Nantes where conference was due to be held.
Move by Paris police to ban Thursday's march could increases tension between socialist government and unions opposed to labour reforms.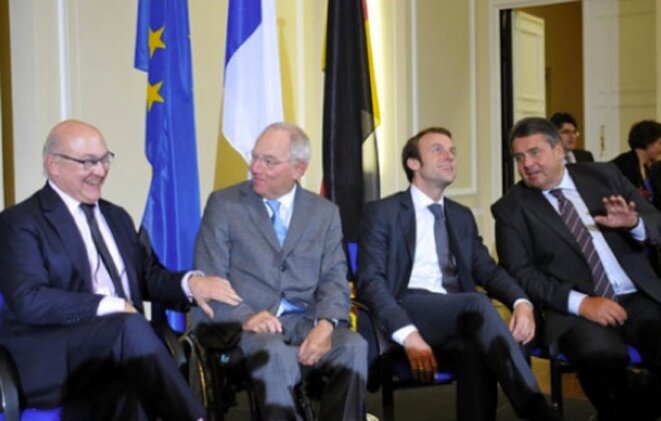 Crucial meeting? French and German finance and economy ministers meeting in Berlin, October 2014. © france-allemagne.fr
The French government's labour law reform bill, now being debated in the Senate, has prompted fierce opposition from several trades unions, massive demonstrations across the country, and a deep political and social crisis. Opinion polls show a majority of the population are opposed to the bill, which reduces current protection for employees with measures that include easing conditions for firing staff and placing a ceiling on compensation sums awarded by industrial tribunals. But the government is adamant it will not negotiate the bill's contents. Martine Orange investigates the reasons for its unusual intransigence, and discovers evidence that the most controversial texts of the bill were demanded by European Union economic liberals.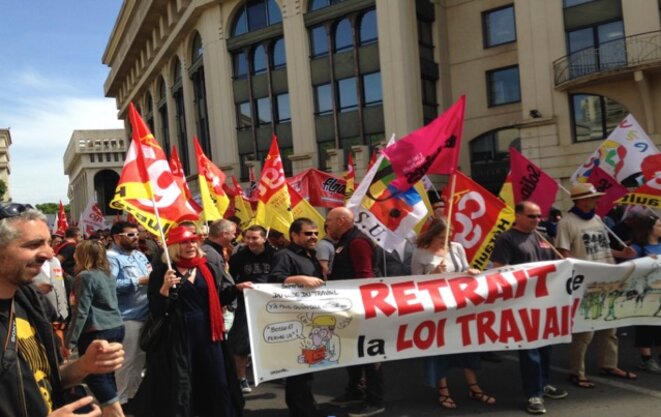 The protest against the labour law reforms held in Montpellier on May 26th, 2016. © T.A
Amid blockades of oil depots and strikes in a number of key sectors in France, opponents against planned labour law reforms in France took to the streets again on Thursday May 26th. Mediapart spoke to people taking part in a march in the city of Montpellier, in the south of France, to find out why they are protesting. The demonstrators say they fully back the strikes and blockades which they see as their equivalent of article 49-3 of the French Constitution which is being used to force the deeply-controversial reforms through Parliament. Timothée Aldebert reports.
The bill, which has prompted weeks of nationwide protsests from unions and student groups, would free up hire and fire conditions for employers.
Police responded with tear gas when youths began throwing missiles, bringing the protest march in Paris to a standstill.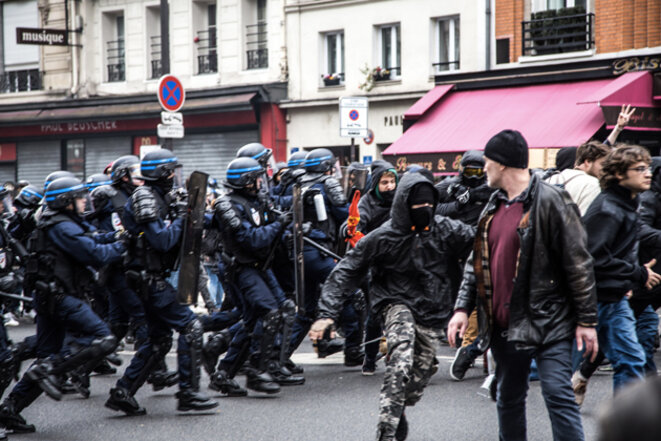 A clash during a protest in Paris on April 10th, 2016. © Jérôme Chobeaux
There have been claims of police brutality during some of the many protests that have taken place in France in recent weeks against labour law reforms. Yet the police have also been applauded by sections of the public for their role in dealing with terrorist attacks over the past year or so. Meanwhile police officers themselves increasingly resent being painted as defenders of unpopular policies such as the employment law proposals. Matthieu Suc reports on the evolving role of the forces of law and order.
Protests against labour reforms and action over unemployment benefits for entertainment workers take place across France.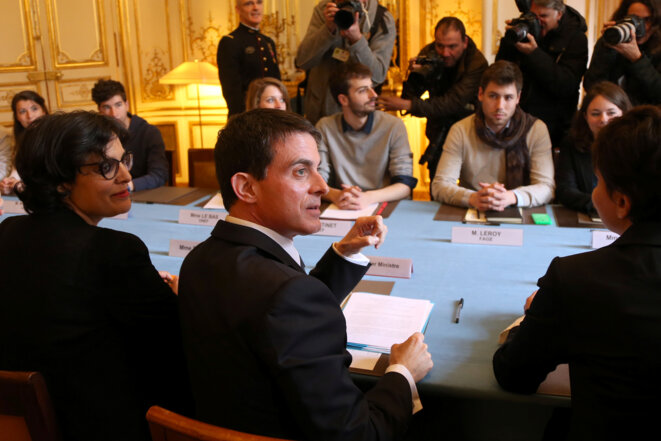 Manuel Valls, with labour minister Myriam El Khomri (l) and education minister Najat Vallaud-Belkacem, meeting with student representatives on Monday. © Reuters
François Hollande's expected bid for a new term of office in presidential elections next year is facing a serious threat from growing student anger over his government's proposed new labour law. A string of national protests have brought student and trades unions onto the streets in recent weeks against what they see as a pro-business, retrograde reform that heightens job insecurity at a time of record unemployment. The perspective of a spring revolt prompted the government to present a package of measures for the young on Monday, worth a yearly 500 million euros and aimed at easing access to the labour market and to provide financial aid for the worst off. But while the measures were broadly met with approval, the student unions vowed to continue the battle against the reform. Faïza Zerouala reports.
A package of financial measures for students and first-time job seekers, costing around 500 million euros, met with approval from main students' union.
Trades and student unions took to the streets across France against reforms that put almost all of France's strictly codified labour relations up for negotiation.
Violence flared in latest nationwide protests by students and workers over proposed labour law reforms, which are set to continue on Wednesday.
Protests over planned employment law changes led by student groups and unions are yet another challenge for embattled President Hollande.