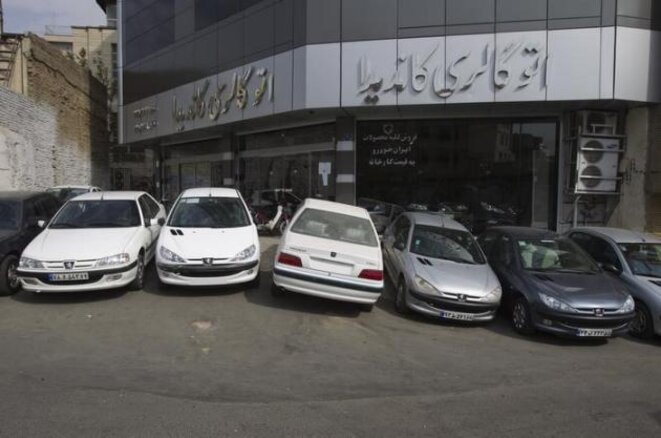 Devant un concessionnaire Peugeot-Citroën à Téhéran © Archives Reuters
The ink on the Iran nuclear deal is barely dry and no one is even yet sure if it will hold. But already France has joined other countries in the hunt for lucrative business deals with the oil-rich state and its market of 80 million inhabitants. But as René Backmann reports, there are potential pitfalls to overcome before French firms can hit the Iranian jackpot.
Laurent Fabius passes on an invitation from President François Hollande for Iran's head of state Hassan Rouhani to visit France in November.
Laurent Fabius said he was against 'any boycott of Israel' after claims that French mobile operator's exit from Israel was a 'miserable statement'.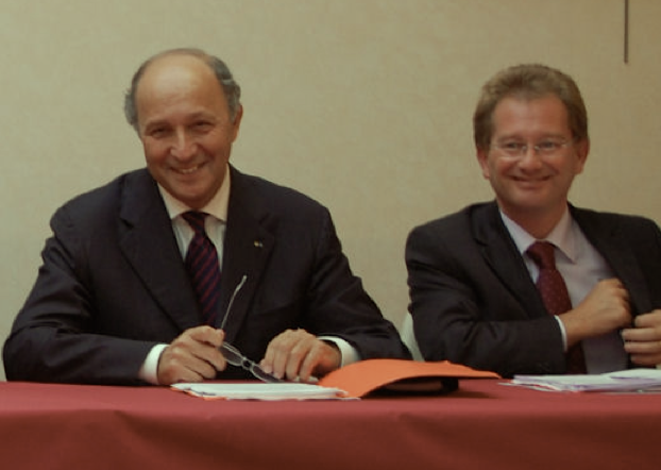 Laurent Fabius et Didier Marie © DR
French foreign minister Laurent Fabius is the country's longest-serving socialist politician in government, having previously headed four ministries and becoming, in 1984, France's youngest ever prime minister at the age of 37. Elected president of the National Assembly, the lower house, on two occasions, he has served as head of the Socialist Party and remains one of its leading officials in a career that spans 40 years. During that period, he has built up a powerful political base in the Seine-Maritime département (county) in northern France, where he has also held numerous local posts, as a Member of Parliament, mayor and councillor. In the run-up to this weekend's Socialist Party congress in Poitiers, Stéphane Alliès and Mathilde Mathieu have investigated the workings of Fabius's fiefdom, interviewing local party officials past and present, and uncovered disturbing evidence of a lucrative 'jobs for the boys' system of rewards for loyalty. Here they report on how Didier Marie, one of the foreign minister's faithful local circle of allies, was able to earn 12,000 euros per month over several years from a catalogue of jobs that would, to all appearances, test even the most ardent workaholic.
Foreign minister Laurent Fabius said Paris will not accept deal unless inspections can be done at all Iranian installations, including military.
French foreign minister Laurent Fabius says if death sentence is carried out on Serge Atlaoui it will have 'consequences' for bilateral relations.
Also gunned down in the attack on a restaurant in the capital Bamako was a Belgian security officer with the EU delegation in Mali.
The US Secretary of State and French counterpart Laurent Fabius underlined that important obstacles remain before the talks close on Monday.
Foreign minister Laurent Fabius says new climate aid pledges to poor countries are an 'absolute precondition' for next year's summit.
Foreign minister calls for international mobilization against militants from Islamic State group whom he described as a 'transnational danger'.
France's foreign minister called for Arab states and Iran, along with all five UN Security Council members, to join fight against the jihadists.
Laurent Fabius pledged French aid for displaced populations and met with Iraqi prime minister before flying to Irbil in the Kurdish region.
French foreign minister reacts to British PM's attack, citing sizeable presence of Russian oligarchs in London and the 'financial sector'.
Foreign minister Laurent Fabius calls for shelving of an increase in the tax on hotel stays he says will harm attempts to promote tourism.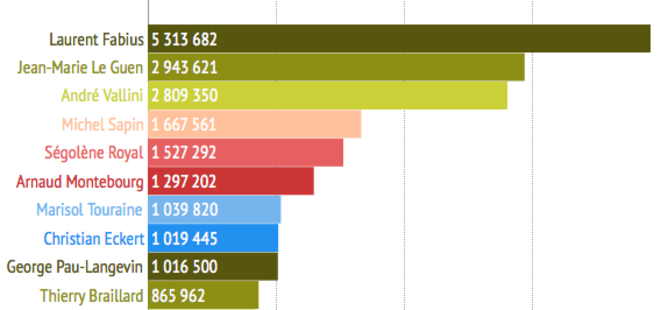 The new watchdog overseeing the probity of France's elected representatives and officials has just published a report on the property and financial interests of government ministers. As expected the foreign minister Laurent Fabius came out top in the net worth stakes, followed by parliamentary relations minister Jean-Marie Le Guen who was obliged by the watchdog to re-evaluate upwards the value of his property, while Europe minister Harlem Désir emerges as the least well-off member of the government. But while the publication of the list is a welcome step towards transparency in public life after the débâcle of the Jérome Cahuzac affair, there are still some puzzling gaps and omissions on the list.