Paris-based campaign group Reporters Without Borders says the website breaks its own terms by failing to protect users against hate speech.
French artist Xavier Marabout is being sued for copyright infringement by the company representing the heirs of late Belgian cartoonist Hergé, creator of The Adventures of Tintin series, over his canvases which feature Tintin in 'an erotic universe' that pastiches the work of US artist Edward Hopper.
Basque pelota player Bixente Larralde, who was filmed biting off the head of a live cockerel during a dinner party, is being sued by the animal rights foundation of former French cinema star Brigitte Bardot for his 'shocking and sickening' behaviour.
Four French NGOs, including Greenpeace France and Oxfam France, have filed a lawsuit against the French government accusing it of failing to act upon its environmental obligations, a move that was backed by 2.1 million signatures in an online petition.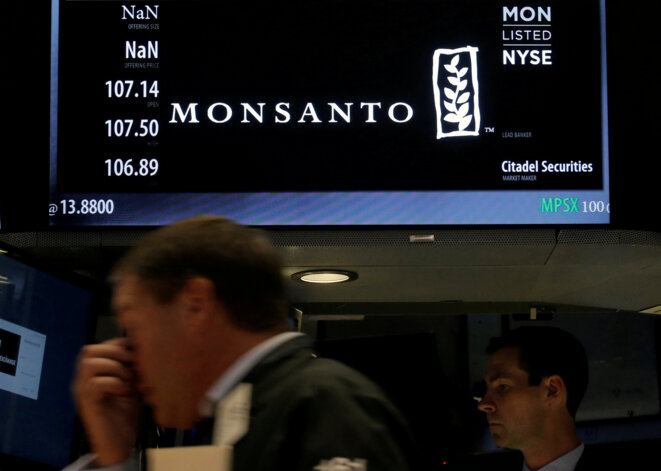 Monsanto shares tracked on the New York Stock Exchange © Reuters.
Glyphosate, the compound used in the herbicide Roundup manufactured by US agrochemical corporation Monsanto, which earlier this month was acquired by German pharmaceuticals and chemicals giant Bayer, is suspected by several scientific studies of being carcinogenic, and notably of causing non-Hodgkin lymphoma. But now a French couple have launched a lawsuit against the firm over serious malformations of their son's digestive and respiratory systems which they argue was caused by his mother's exposure to glyphosate in the early weeks of pregnancy. Crucially, they say that Monsanto knew of the compound's potential dangers, but failed to warn of them in product labelling. Dorothée Moisan reports.
A Paris appeal court has ordered estranged US cinema actors Brad Pitt and Angelina Jolie to pay French interior designer Odile Soudant a total of 565,000 euros for unpaid work on a project of a lighting design for their 40-room, 17th-century French chateau in Provence.
Clotilde Nonnez, a 56-year-old yoga teacher who has lived in Paris  for 30 years, claims that she suffers numerous health problems, ranging from chronic asthma to pneumonia, because of the French state's failure to contain pollution in the capital.
Lawyer for Salah Abdeslam, held in Belgium and fighting extradition to France, said weekend comments by French official violated probe's confidentiality.
The Swiss canton, or state, of Geneva has launched legal action aimed at forcing the closure of the ageing, accident-prone French nuclear plant at Bugey, which lies just 70 kilometres from the border with Switzerland. The lawsuit is for "the deliberate endangering of lives" and "water pollution". If successful, this extraordinary move could encourage other countries bordering France and its network of 58 nuclear reactors to take similar action. Agathe Duparc reports from Geneva where the local authorities presented their case at a press conference on Monday.
Mother of 26-year-old murdered at the Bataclan theatre in attack by a group of mostly Belgian gunmen said Belgium could have arrested them earlier.
Former IMF chief presided bankrupt Leyne-Strauss-Kahn Partners investment firm against which clients have lodged legal action in France.
TV and radio stations revealed the presence of Lilian Lepère hiding in a cupboard at a printing plant where the two gunman were under seige.
Anne Hidalgo said an interview with a so-called security expert who claimed parts of Paris were like Baghdad had "prejudiced" the city's image.
Eric Zemmour, a controversial political commentator, is being sued for incitement of racial hatred over comments published in the Italian press.