Related keywords
Earlier this month, telecommunications company Alcatel-Lucent announced it was to axe 1,430 jobs in France, representing 15% of its French workforce, and affecting every site in the country. Mediapart finance and business writer Martine Orange analyses the steady decline of a former flagship of French industry since its merger with America's Lucent, when what was supposed to be a new, world giant has crumbled amid a series of strategic errors and the fratricidal effects of Europe's deregulated telecommunications market.  
Fralib, a plant making teas and infusions near Marseille which Unilever wants to close, has become a focus for union battles against downsizing.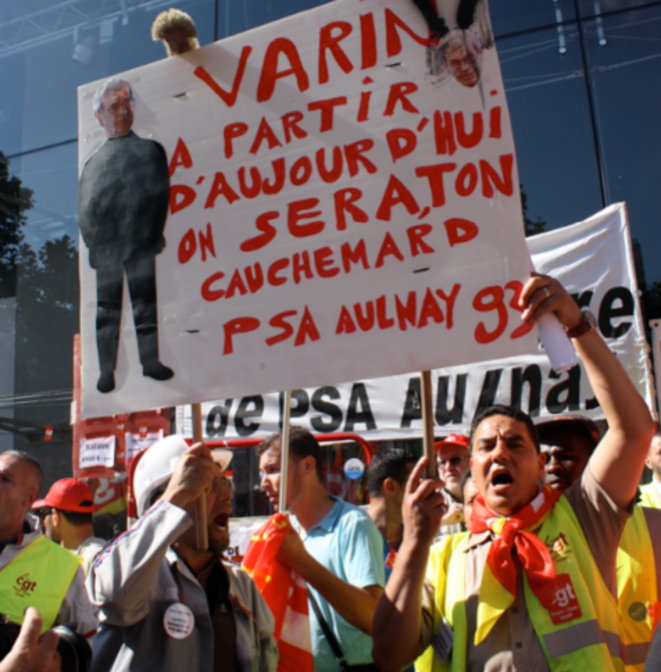 © E.S.
The ailing French car industry has given President François Hollande and his government their first major social and industrial challenge since coming to power in May. Earlier this month, the country's largest manufacturer, PSA Peugeot Citroën, announced it was to slash 8,000 jobs and close its major plant at Aulnay-sous-Bois, near Paris, ending months of rumour and company denials. This week, just as the new cash-strapped socialist government announced a modest plan of aid for the car-making sector, a programme described by one expert as "trying to put out an immense fire with a glass of water", PSA revealed first-half losses of 819 million euros.  Meanwhile, PSA workers mounted a demonstration outside the company's Paris headquarters (photo) to vent their anger at the future lay-offs and their frustration at the government's hitherto refusal to block the plan. Ellen Salvi and Stéphane Alliès report on a disastrous week for what was once a proud flagship of French industry.
Air France has announced it is to shed 5,000 jobs by 2013, equal to a tenth of its workforce, in the French carrier's latest bid to return to profit.
 Francois Hollande says he is expecting a wave of lay-offs to follow next weekend's election, but pledged his government would not stand idly by.