Related keywords
The former French president, eyeing a return to power, scored less in the UMP party election than expected, collecting 64.5% of votes cast.
Some party members may have been prevented from voting in the leadership election fought by three candidates, including Nicolas Sarkozy.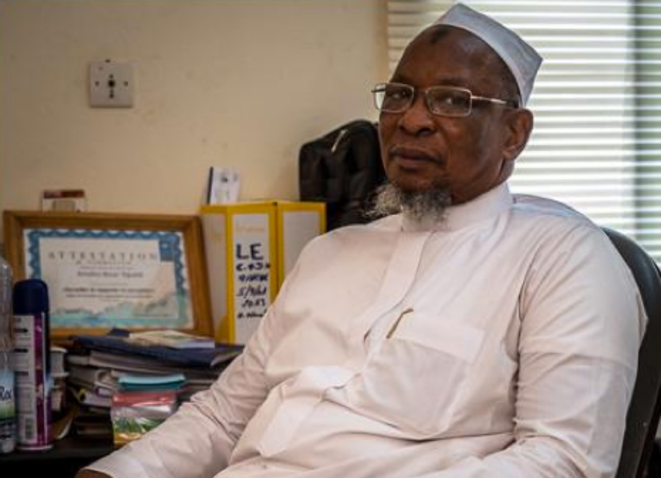 Amadou Bocar Teguete, de la Commission des droits de l'homme. © (T.C.)
As Mali begins its slow process of reconstruction, the country's political elites are already preparing for a presidential election in July. Western observers say this election is an essential step in Mali's attempts to find stability. But, as Thomas Cantaloube reports from the capital Bamako, those same observers also fear that the elections will come too soon for the new and younger breed of emerging politicians that the country so desperately needs. And that the old self-serving elites may find themselves back in power.
The opposition UMP party, which has been locked in an acrimonious leadership struggle, has agreed to hold a new vote before October 2013.
The main French right-wing opposition party the UMP has been in turmoil following a disastrous leadership election last month that saw both candidates claiming victory and which led to a formal split among its Members of Parliament. There are signs that the two sides may be close to finding a way out of the immediate crisis amid talk of a new contest next year. But, as Marine Turchi reports, the party has not even begun to address its fundamental problems of ideology and strategy faced with the Far Right.
After a month of bitter recriminations the two rivals for presidency of right-wing UMP appear to agree on a fresh leadership vote in September.
Country's main conservative party edges closer to resolving crisis as former minister backs calls for new poll to pick a leader.
The right-wing opposition party, the UMP, has been very publicly falling apart after a disastrous leadership election. In the ranks of the ruling Socialist Party MPs and officials have had some fun at the expense of their bitter rivals, and the government has been able to press forward with legislation almost unopposed. But some socialist MPs fear the squabbles in the UMP will reflect badly on all political parties. Others are increasingly concerned that the government is adopting the wrong strategy in the face of the opposition's melt-down, and favouring social democratic policies over genuine socialist measures. Stéphane Alliès and Mathieu Magnaudeix assess the mood in Parliament.
Former French PM François Fillon demands a recount of elections he narrowly lost for leadership of conservative UMP party, which was at an 'impasse'.
Jean-François Copé is winner of elections for leadership of France's conservative UMP party, but his short victory threatens a future split on the Right.
With Europe in crisis, François Hollande wants to use reaction against austerity to reinvigorate its moribund centre-left, says NYT's Stephen Castle.