Related keywords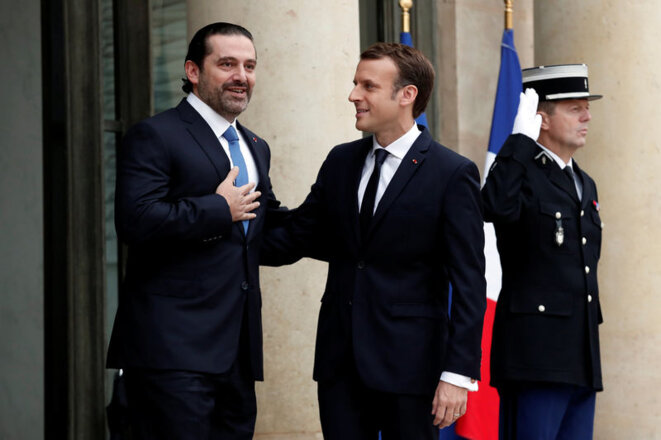 A friend in need: Saad Hariri with French President Emmanuel Macron at the Elsée Palace on November 18th. © Reuters
A degree of mystery continues to surround what appears to have been a forced sojourn of Lebanese Prime Minister Saad Hariri in Saudi Arabia last month, to the backdrop of heightened tensions in the Middle East centred on the Saudi kingdom's rivalry with Iran. French President Emmanuel Macron played what Hariri has called a "historic" role that secured his departure from Riyadh, but the financial difficulties of the Lebanese politician's extensive business interests may also be part of the complex plot leading up to the November events. Karl Laske reports.

Lebanese prime minister Saad al-Hariri, whose prolonged stay in Saudi Arabia since announcing his resignation on November 3rd was described as a hostage-taking by the Lebanese president, is expected to fly to France after intense diplomatic negotiations between Paris and Riyadh.
French Prime Minister Edouard Philippe on Tuesday said Lebanese Prime Minister Saad Hariri must be 'freely' allowed to leave Saudi Arabia, where he has been staying in mysterious circumstances since announcing from there earlier this month that he was stepping down from his post, so that he can 'clarify his situation in accordance with the Lebanese constitution'.
Unscheduled visit to kingdom came amid growing crisis between it and Lebanon after Lebanese premier Saad Hariri resigned while in Riyadh.
French far-right presidential election candidate Marine Le Pen, on a visit to Lebanon where she has met with a number of officials, cancelled her planned meeting with the head of the Lebanese Sunni Muslim authority Dar al-Fatwa, after she refused to wear a headscarf when she arrived for the encounter, despite having been previously notified of the requirement.
Front National part leader and presidential candidate Marine Le Pen began a two-day visit to Lebanon by meeting with Lebanese President Michel Aoun and Prime Minister Saad Hariri on Monday ahead of talks with business and religious leaders.
Arriving in Beirut ahead of visits to Egypt and Jordan, the French president pledged increased financial and military aid for Lebanon, home to 1m Syrian refugees.
The Saudi financing ended last month over Shia military group Hezbollah's support of Syrian President Bashar Assad and its actions inside Lebanon.
Helicopters, warships, combat and transport vehicles and missiles are part of the Saudi-funded French weapons which start arriving on Monday.
Romain Caillet, a researcher with the French Institute for the Near East, denies links with terror groups and blames Hezbollah for entry ban.
Salman bin Abdul-Aziz and President François Hollande will discuss a Saudi-financed French weapons deal to help counter jihadist threat.
French foreign minister Laurent Fabius, speaking in Jordan, said France would back moves to place Lebanese Shia militant group on terror list.
Crew of an Air France Paris-Beirut flight re-routed for security reasons to Damascus sought cash from passengers for refuelling to reach Cyprus.
A roadside bomb struck a vehicle carrying UN peacekeepers in southern Lebanon on Friday, wounding five French soldiers and a Lebanese bystander.