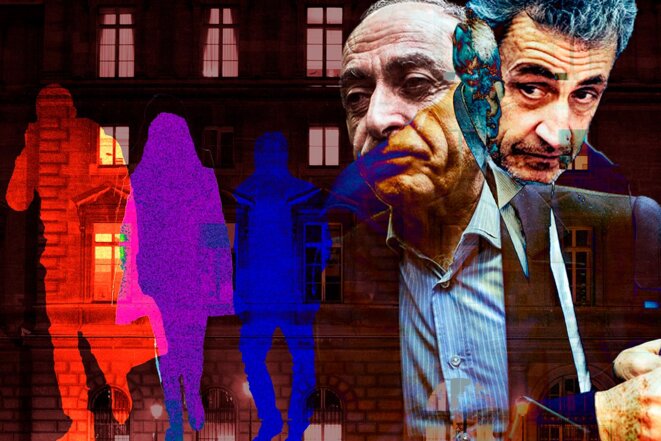 Top right Nicolas Sarkozy; centre-right Ziad Takieddine. © Photo illustration Sébastien Calvet / Mediapart
Two people have been remanded in custody in the aftermath of the operation in which Ziad Takieddine, a key witness in the Nicolas Sarkozy-Libyan funding affair, made a false retraction of his evidence. One of the men in detention is the wealthy businessman Pierre Reynaud. As Mediapart can reveal, aspects of the saga have taken on the appearance of a Martin Scorsese crime movie. Fabrice Arfi, Karl Laske and Antton Rouget report.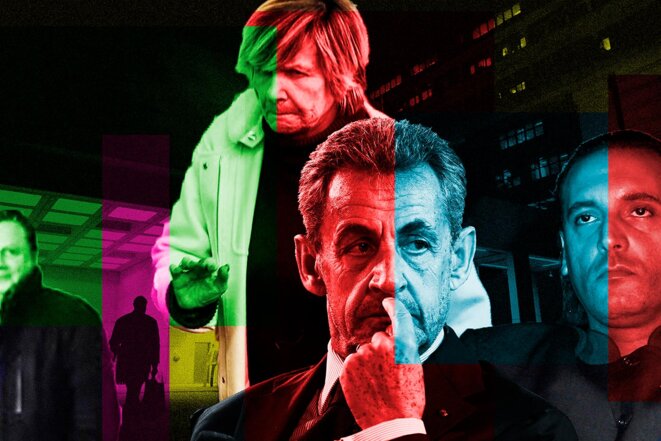 Noël Dubus, 'Mimi' Marchand, Nicolas Sarkozy and Hannibal Gaddafi. © Photomontage Sébastien Calvet / Mediapart avec AFP
France's financial prosecution unit the Parquet National Financier (PNF) has broadened the scope of its investigation into claims that Ziad Takieddine, a key witness over allegations that Libya helped fund Nicolas Sarkozy's 2007 presidential campaign, was induced to change his evidence. Well-connected Paris paparazzi boss Michèle 'Mimi' Marchand is one of those under investigation over the allegations. Prosecutors now also want to look at suspicions of an extraordinary plan to bribe judges in order to free one of the late Libyan dictator Muammar Gaddafi's sons from prison in Lebanon. The idea was that, in exchange, a grateful Hannibal Gaddafi would then speak out and clear the former president's name over the 2007 election funding allegations. As Fabrice Arfi, Karl Laske and Antton Rouget report, the affair could potentially now become an international scandal.
Hosting an international donors' conference by video link to raise funds to help rebuild infrastructures in debt-crippled Lebanon, French President Emmanuel Macron slammed the Middle East country's political leaders for a 'historic and moral failure' to enact urgent reforms.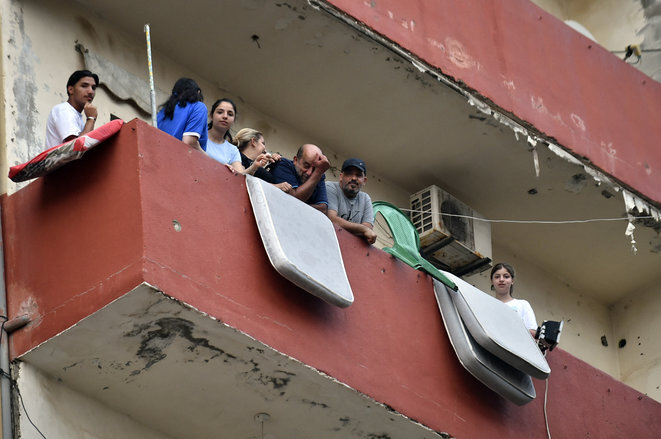 Beirut residents without power to air conditioning units escape to their balconies. © Houssam Shbaro / Anadolu Agency via AFP
August 4th marks the anniversary of the devastating explosion last year in the port of Beirut of 2,750 tonnes of ammonium nitrate unsafely stored in a warehouse, causing the deaths of more than 200 people and injuring more than 6,500 others. The blast accentuated an already severe economic and financial crisis in Lebanon, and has left it politically rudderless ever since. Amid high unemployment, soaring poverty and shortages of basic commodities, the population is now also struggling from constant power cuts, the result of withering institutional corruption which has all but paralysed its electricity network. Nada Maucourant Atallah reports from Beirut.
Takieddine was once an accuser in the inquiry into suspected Libyan financing of Sarkozy's 2007 election campaign but recently suddenly retracted his claim.
Lebanese author Charif Majdalani has put aside fiction to write an account of the profound economic and social crisis of his country, so tragically illustrated by the deadly mega-blast in the port of Beirut in August, with the publication in France this autumn of a diary, Beyrouth 2020; journal d'un effondrement (Beirut 2020; the diary of a collapse). Lucie Delaporte reviews this moving and nostalgic reflection on the demise of Lebanon, once dubbed "the Switzerland of the Middle East", which nevertheless sees a spark of hope amid the rubble.
French President Emmanuel Macron on Sunday notably slammed Hezbollah but also the whole of the ruling Lebanese political class, saying he was 'ashamed' of their inability to put an end to the political deadlock in the country, prone to a social and economic crisis, in an ill-tempered news conference after Saturday's resignation of its prime minister-designate and which has halted his own intervention in the former French procetorate.  
More than 30 international leaders and government officials took part in a video conference co-organised by France and the United Nations on Sunday to raise emergency aide funding for Lebanon after devastating explosions in its capital Beirut last week added further hardship for a population suffering a harsh economic and social crisis.
French President Emmanuel Macron visited blast-torn Beirut on Thursday, the first foreign leader to do so, when he announced that France will organize an international fundraising conference with other international donors to provide food, medicine, housing and other urgent aid, but warned  that 'if reforms are not made, Lebanon will continue to sink'.
French President Emmanuel Macron will visit Lebanon on Thursday to meet with the country's political leaders, 48 hours after a huge explosion devastated parts of Beirut where France has already sent teams of rescuse workers, engineers and medical equipment.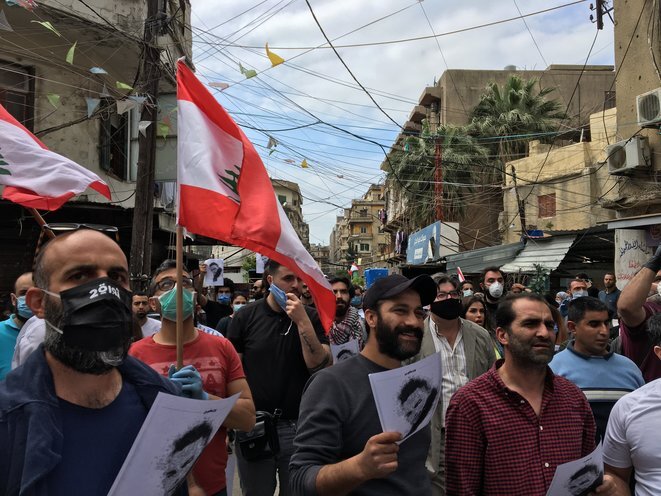 A march in the Lebanese city of Tripoli on April 3rd in homage to a demonstrator killed by security forces. © NMA
In Lebanon, the lockdown to contain the coronavirus pandemic came as the final blow to the Middle East nation's collapsed economy which has left half of the population living in poverty. Mass anti-government demonstrations which erupted last autumn have now flared up again amid food shortages and galloping inflation. Their anger has now turned on Lebanon's banks for having acted as the burning fuse for the financial meltdown. Justine Babin and Nada Maucourant Atallah report from the capital Beirut.
Speaking at a news conference in Lebanon, Ghosn described himself as a 'hostage' in Japan with a choice between dying there - or running.
One Lebanese TV channel reported that Ghosn fled his residence in Tokyo with help of paramilitary group disguised among a band of musicians.
Carlos Ghosn, who was awaiting trial in Japan on financial misconduct charges, says he is in Lebanon to avoid a 'rigged Japanese justice system'.