Related keywords
The French parliament has approved legislation imposing on websites and social media the requirement to delete posts posts inciting hatred, violence, racism, and sexual harassment within 24 hours, or face a fine in each case of up to 1.25 million euros, amid concern from rights groups and opposition politicians that the new law could impede the right to free expression.
Just days after the rider of an electric scooter was killed in a collision with a motorbike on a motorway near Paris, French transport ministry officials met on Monday with victims of accidents involving scooters amid preparations for stricter legislation regarding the use of the machines which have become a popular form of locomotion in cities around the country.
Constitutional Council struck down measure that would have let authorities ban certain individuals from protesting, a key element of new law.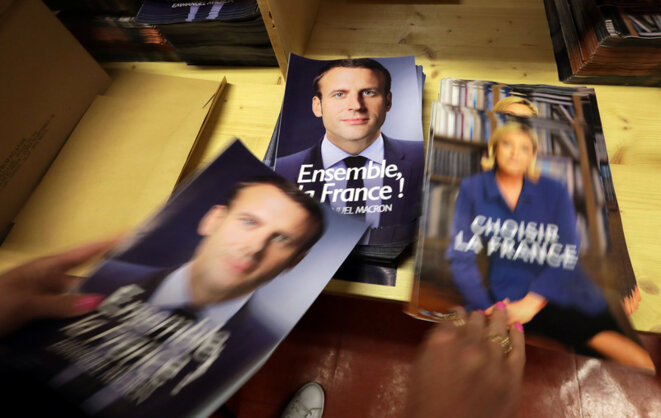 The 'Macron Leaks' data dump came 48 hours before Emmanuel Macron faced the final contest against far-right leader Marine Le Pen. © Reuters
The French government has drafted legislation, dubbed the "anti-fake news law", aimed at combatting the proliferation of false information during election campaigns. It was prompted by a mass data dump of confidential emails and fake documents relating to Emmanuel Macron and his campaign staff shortly before the final round of last year's presidential elections, which became known as the "Macron Leaks". The bill, which would empower judges to order the de-publication of information ruled to be fake, and even to block foreign media in France, has created such controversy that the parliamentary debates have now been postponed until later this summer to allow for more than 200 amendments to be considered. Here, Fabrice Arfi and Antton Rouget argue why the new legislation, if it becomes law, would in fact severely curb the freedom of the press, as in fact demonstrated by the very history of the "Macron Leaks".
Draft legislation which allows for a magistrate to ban publication of information during electoral campaigns that appears false or 'implausible'  has met with fierce criticism as debating began in the French parliament, with MPs from Left and Right denouncing dangers of censorship and abuses by 'thought police'.
The French government's proposed legislation to reform immigration and asylum laws has begun its passage through parliament this week, to fierce attacks from opposition MPs of both the Left and the Right. The conservatives, whose policies under their new leader have veered towards the hard-right, claim the bill is little more than soft tinkering of current laws, while the Left denounce an unjustified clampdown on migrants' rights, a view shared by some among President Macron's ruling LREM party. Mathilde Mathieu was in parliament to witness the early exchanges of what promises to be a week of inflamed debate.
French President Emmanuel Macron on Tuesday visited the Channel port of Calais, which for years has been a magnet for thousands of migrants from Africa and the Middle East seeking a passage to Britain from makeshift camps set up around the town. While his presence was ostensibly to address the local crisis, Macron's visit also served as a platform to present his government's proposed toughening up of immigration laws. But the planned clampdown on so-called economic migrants, who face mass deportations, has met with outrage not only from organisations defending migrants' rights, but also from Macron's own allies.
At the start of the New Year President Emmanuel Macron told a gathering of journalists that his government was preparing a new law to clamp down on 'fake news' on social media. But already the French media are wondering whether an attack on 'fake news', however desirable, would not end up damaging freedom of information in general. Hubert Huertas looks at the pitfalls presented by the plan.
The legislation, which inscribes into law tough security measures borrowed from the state of emergency powers introduced after the 2015 Paris terrorist attacks and due to end on November 1st, has been approved by the National Assembly, the lower house, before a final text is agreed with the upper house, the Senate, later this month.
Major divide between MPs on the Right who want the bill to go further, and those on the Left who fear a 'permanent state of emergency'.
France's National Assembly, the lower house, on Tuesday approved the government's proposed legislation that aims to significantly reduce the glaring social and economic inequalities between France's overseas territories and the mainland over a period of two decades. The move was one of President François Hollande's election pledges, and is set to be his last major reform before the next presidential elections in April 2017. The bill will now go before the upper house, the Senate, before returning to the National Assembly for its final adoption. Julien Sartre reports.
French President François Hollande on Wednesday told French parliament leaders that he will seek a third extension of state of emergency powers introduced immediately after the November 13th terrorist attacks in Paris which left 130 people dead. The announcement followed two separate and fiercely critical reports published this week, one by the government's own official consultative committee on human rights which denounced "abuses" and the "devastating damage" of the special powers the government has granted itself, and another by a panel of United Nations rights experts who said the measure had created "excessive and disproportionate restrictions". Jérôme Hourdeaux reports.
Press reports say the US firm would be required to reveal its formula for ranking websites under new legislation now before parliament.
The proposed new legislation aims to install sweeping spying powers to tackle terrorism, but which critics say place human rights under threat.