The French parliament's lower house, the National Assembly, has approved by a clear majority legislation presented as a needy curb of the 'separatism' of radical Islamist activities, expanding state powers to close places of worship and religious schools, and to ban extremist preachers, while opponents say it further stigmatises Muslims and limits free speech.
Demonstrators protested in Paris on Sunday against draft legislation to be put to a vote in parliament on Tuesday which the government says is aimed against Islamic 'separatism' and which includes restricting clandestine schooling and foreign funding of religious activities, and increasing powers to crackdown on hate speech both online and in mosques. 
The French lower house, the National Assembly, has adopted legislation making linguistic discrimination an offence along with racism, sexism and other outlawed bigotry.
In a definitive ruling, France's Constitutional Council has thrown out legislation adopted by parliament late last month which imposed restrictions on the movement of prisoners released after serving sentences for terrorism-related offences. The ruling by the Council, which found the law to be unconstitutional for its infringement of fundamental freedoms, represents a significant blow for both President Emmanuel Macron's governing LREM party, and in particular for justice minister Éric Dupond-Moretti, a high-profile defence lawyer until his appointment in early July.
The Constitutional Council said the measure put the onus for analyzing content solely on tech platforms without the involvement of a judge, within a very short time frame, and with the threat of hefty penalties.
The French parliament has approved legislation imposing on websites and social media the requirement to delete posts posts inciting hatred, violence, racism, and sexual harassment within 24 hours, or face a fine in each case of up to 1.25 million euros, amid concern from rights groups and opposition politicians that the new law could impede the right to free expression.
Just days after the rider of an electric scooter was killed in a collision with a motorbike on a motorway near Paris, French transport ministry officials met on Monday with victims of accidents involving scooters amid preparations for stricter legislation regarding the use of the machines which have become a popular form of locomotion in cities around the country.
Constitutional Council struck down measure that would have let authorities ban certain individuals from protesting, a key element of new law.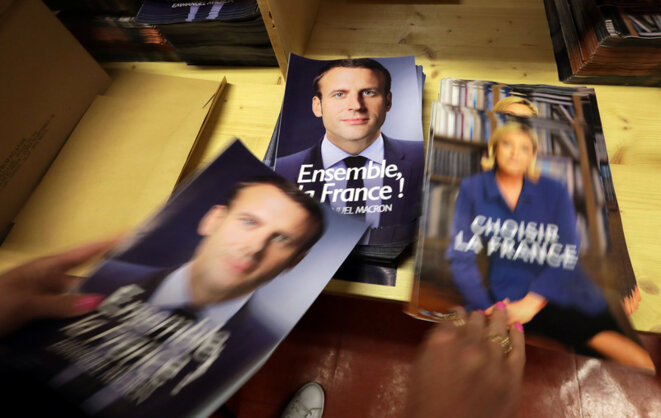 The 'Macron Leaks' data dump came 48 hours before Emmanuel Macron faced the final contest against far-right leader Marine Le Pen. © Reuters
The French government has drafted legislation, dubbed the "anti-fake news law", aimed at combatting the proliferation of false information during election campaigns. It was prompted by a mass data dump of confidential emails and fake documents relating to Emmanuel Macron and his campaign staff shortly before the final round of last year's presidential elections, which became known as the "Macron Leaks". The bill, which would empower judges to order the de-publication of information ruled to be fake, and even to block foreign media in France, has created such controversy that the parliamentary debates have now been postponed until later this summer to allow for more than 200 amendments to be considered. Here, Fabrice Arfi and Antton Rouget argue why the new legislation, if it becomes law, would in fact severely curb the freedom of the press, as in fact demonstrated by the very history of the "Macron Leaks".
Draft legislation which allows for a magistrate to ban publication of information during electoral campaigns that appears false or 'implausible'  has met with fierce criticism as debating began in the French parliament, with MPs from Left and Right denouncing dangers of censorship and abuses by 'thought police'.
The French government's proposed legislation to reform immigration and asylum laws has begun its passage through parliament this week, to fierce attacks from opposition MPs of both the Left and the Right. The conservatives, whose policies under their new leader have veered towards the hard-right, claim the bill is little more than soft tinkering of current laws, while the Left denounce an unjustified clampdown on migrants' rights, a view shared by some among President Macron's ruling LREM party. Mathilde Mathieu was in parliament to witness the early exchanges of what promises to be a week of inflamed debate.
French President Emmanuel Macron on Tuesday visited the Channel port of Calais, which for years has been a magnet for thousands of migrants from Africa and the Middle East seeking a passage to Britain from makeshift camps set up around the town. While his presence was ostensibly to address the local crisis, Macron's visit also served as a platform to present his government's proposed toughening up of immigration laws. But the planned clampdown on so-called economic migrants, who face mass deportations, has met with outrage not only from organisations defending migrants' rights, but also from Macron's own allies.
At the start of the New Year President Emmanuel Macron told a gathering of journalists that his government was preparing a new law to clamp down on 'fake news' on social media. But already the French media are wondering whether an attack on 'fake news', however desirable, would not end up damaging freedom of information in general. Hubert Huertas looks at the pitfalls presented by the plan.
The legislation, which inscribes into law tough security measures borrowed from the state of emergency powers introduced after the 2015 Paris terrorist attacks and due to end on November 1st, has been approved by the National Assembly, the lower house, before a final text is agreed with the upper house, the Senate, later this month.