Keyword: Leonardo da Vinci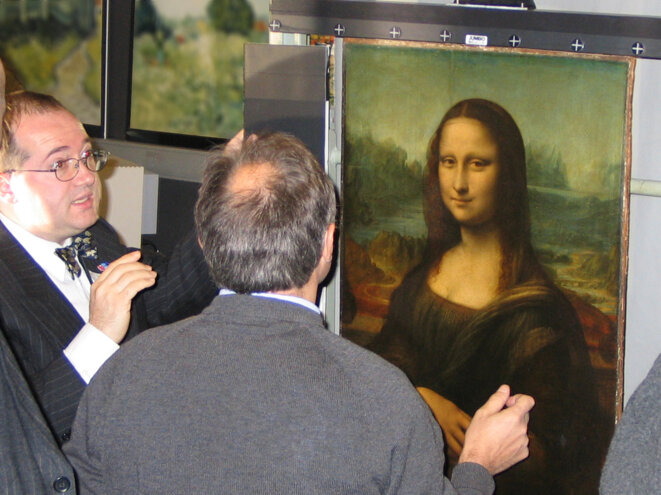 Expert Pascal Cotte during the digitisation project on the 'Mona Lisa' in 2004. © DR
Pascal Cotte, a French scientist who has written several studies and two books on the 'Mona Lisa', and who has digitised several works by Leonardo da Vinci, has accused the Louvre Museum of "parasitism" in relation to his work. Cotte claims that in its major exhibition on the artist, which ends on February 24th, the Paris museum has not credited his discoveries and ground-breaking work on the artist and his most famous painting. Karl Laske reports.
After a court battle in Italy to prevent its transfer, Leonardo da Vinci's celebrated ink drawing work 'The Vitruvian Man', based on the writings of the ancient Roman architect Vitruvius who correlated the measurements and design of the human body into architecture, a loan has finally been approved to the Louvre museum in Paris for a major upcoming exhibition  marking the 500th anniversary of the Italian polymath's death.
After the replacement earlier this month of Italy's populist and far-right government for one that is largely Left-leaning and pro-EU, the easing of a previously tense relationship between Rome and Paris was illustrated in a decision by the Italian culture minister to overturn an earlier refusal to lend France works by Leonardo da Vinci for an exhibition marking his death 500 years ago, while France will send paintings by Raphael for a similar exhibition next year in Italy.   
Drawing valued at €15m was unveiled in Paris after the doctor brought the lost work to auction house amongst a jumble of unknown sketches.
A French scientist claims that years of high-tech study of Leonardo da Vinci's celebrated portrait has revealed another below it of a different sitter.
Works by Leonardo da Vinci and Claude Monet will be among those on display at €500m new art museum due to open in December 2015.