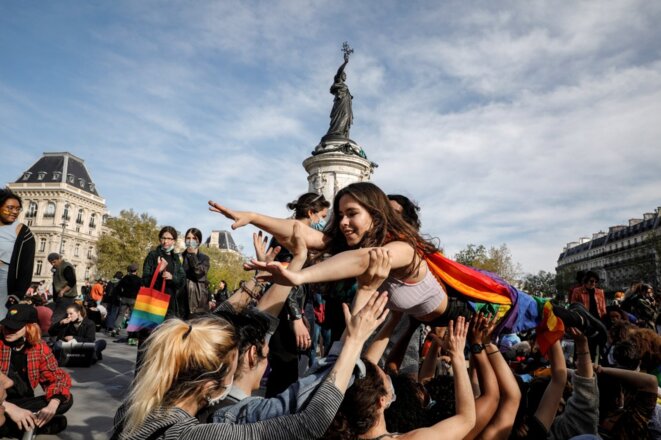 A 'lesbian march' rally at the Place de la République in central Paris calling for access for all women to assisted reproductive technology (ART), April 25th 2021. © GEOFFROY VAN DER HASSELT / AFP
A series of studies in France suggest that lesbians and bisexual women are far more exposed to sexual violence than heterosexual women, as a result of sexist and lesphobic behaviour in both their domestic and societal environments. Rozenn Le Carboulec analyses the available data.
Thousands marched in Paris to oppose new law aimed at extending reproductive rights and organizers claimed it was a 'warning' to government.
French MPs approved a controversial draft bioethics law in a move that has already sparked outrage from defenders of the traditional family unit.
Extension of in vitro fertilisation (IVF) to all women would mark the first major social reform of President Macron's five-year term.
The Cour de Cassation ruled that children born to a woman through medically assisted reproduction can be adopted by her female spouse.
Last Friday a minister insisted that the government's bill on the family was going ahead as planned. Then on Sunday a pro-family march by right-wingers attracted around 100,000 protesters and was hailed a success. By Monday morning the government had announced it would oppose any controversial amendments to the new bill – and in the afternoon it declared it was dropping the entire measure for at least a year. Lénaïg Bredoux and Mathieu Magnaudeix report on a retreat by the government in the face of protests.
The couple have now asked regional officials to force the mayor in south-east France, Marie-Claude Bompard, to comply with the law.
After Sunday's last-ditch demonstration against a law legalising same-sex marriage, protest organisers already have their sights set on future battles.
For weeks it has been an issue that has divided not just public opinion but also the ruling Socialist Party. Should lesbians who want children should get access to medically-assisted procreation - by in vitro fertilization or artificial insemination? After changes of stance and tactics, the government has finally announced that the measure will now included in new family legislation later in 2013. But some critics fear that time is being lost – while others say that it has simply opened up a second front for opponents. Mathieu Magnaudeix reports.