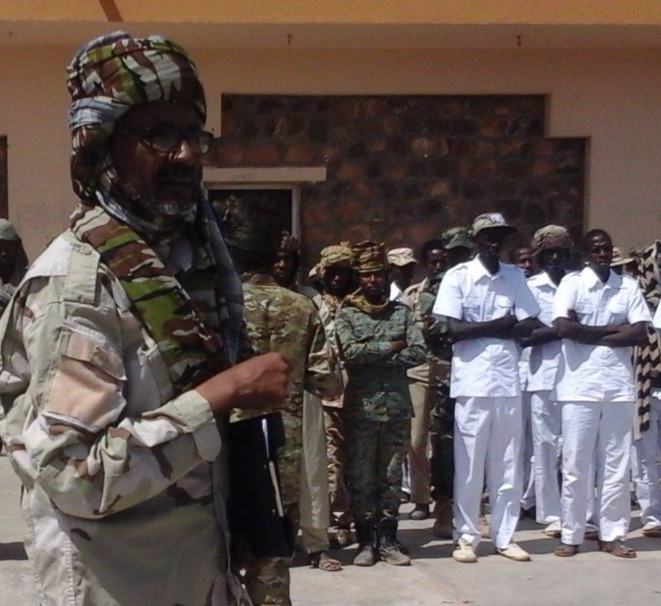 Mahdi Ali Mahamat in 2017. © Capture d'écran/Facebook
The veteran Chad leader Idriss Déby Itno, a close ally of France for many years, died in April, reportedly after being wounded on the battlefield fighting against an armed rebel group in the country. That group is the Front for Change and Concord in Chad (FACT), led by a man called Mahamat Mahdi Ali. The rebel leader has close links with France; he spent part of his life here and his family still lives in Reims, north east of Paris. He was also a member of the Socialist Party before he says he was "betrayed" by his former comrades when they were in government; he was subject to financial sanctions from the authorities in Paris over what he says are unfounded claims of links to terrorist groups. Some observers see the targeting of Mahamat Mahdi Ali as a favour by the authorities in Paris to the Déby regime, which has been a stalwart supporter of France's anti-terrorism strategy in the region. Rémi Carayol reports.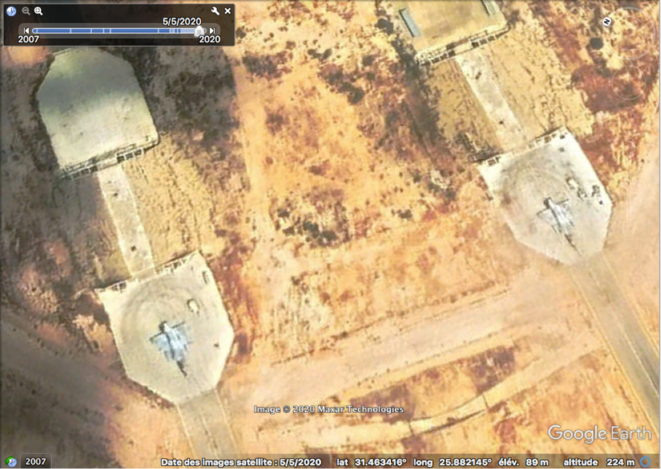 Two UAE Mirage fighters pictured at the Sidi Barrani base in Egypt on May 5th 2020. © Satellite image © 2020 Maxar Technologies
The United Arab Emirates (UAE) is actively involved in Libya's civil war in support of warlord Khalifa Haftar's campaign to topple the UN-recognised Government of National Accord in Tripoli. That military support involves the deployment of the UAE's French-built Mirage fighter planes, which are suspected of firing missiles at civilian sites, representing potential war crimes. Those same aircraft are given technical maintenance and upgrades by French defence firms acting with government approval, raising serious questions about France's compliance with international law.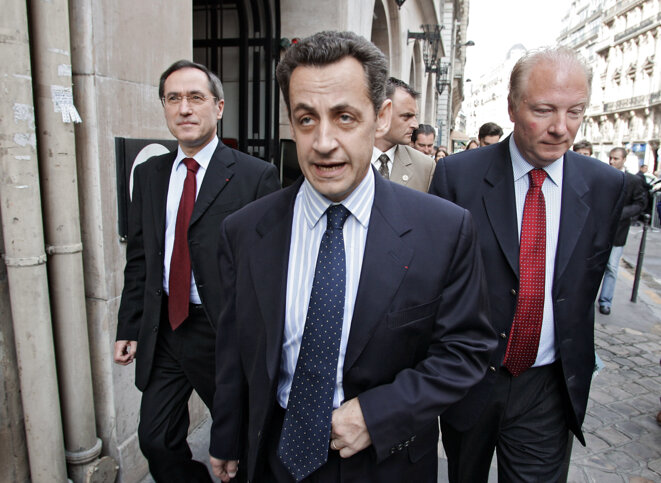 Left to right: Claude Guéant, Nicolas Sarkozy and Brice Hortefeux in June 2005. © PASCAL PAVANI / AFP
Former French president Nicolas Sarkozy was subjected to four days of questioning earlier this month by judges leading a complex investigation into evidence of Libyan funding of his 2007 election campaign, at the end of which he was formally placed under investigation for "criminal conspiracy". Mediapart has obtained access to the transcripts of the interrogation, during which he insisted on his innocence and laid responsibility for any wrongdoing on his two longstanding, loyal right-hand men, Claude Guéant and Brice Hortefeux, describing their dealings with Libya and intermediaries as, variously, "incomprehensible", an "error" and a "mistake". Fabrice Arfi and Karl Laske report.
Weeks after an incident in which France accused Turkish warships of intimidating one of its frigates, the French defence ministry has announced it is suspending its role in Nato's Mediterranean operation Sea Guardian, accusing Turkey of violating an arms embargo against Libya.
France sees Ankara as an obstacle to securing a cease-fire in the conflict-torn country.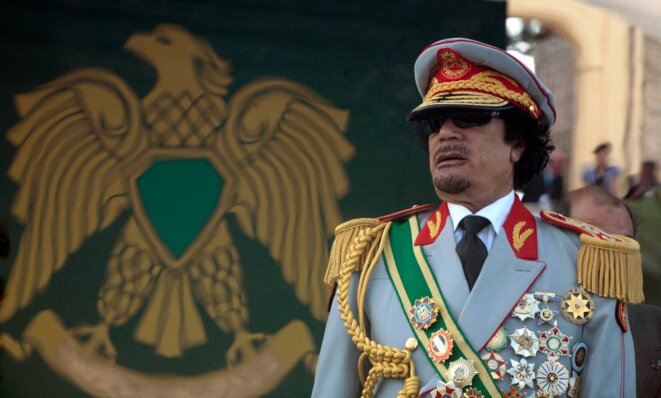 The SocGen operation involved officials of the regime of late Libyan dictator Muammar Gaddafi. © Reuters.
Giant French banking group Société Générale has admitted corrupting Libyan officials under the regime of late dictator Muammar Gaddafi to gain contracts worth more than 2 billion dollars. The scam involved paying vast secret commissions to a businessman intermediary via his offshore company based in Panama. In a 2017 statement recognising its role, the bank said that it "wishes to place on record its regret about the lack of caution of some of its employees", but documents now obtained by Mediapart suggest the operation may have been validated at the highest level of the group's management. Fabrice Arfi reports.
The French government has finally announced it will not supply the Libyan coastguard with six speedboats destined to be used against clandestine crossings to Europe after several NGOs mounted a legal challenge to the sale, arguing that France was contributing to human rights violations in Libya where captured migrants face notorious internment camps, torture and being used as slave labour.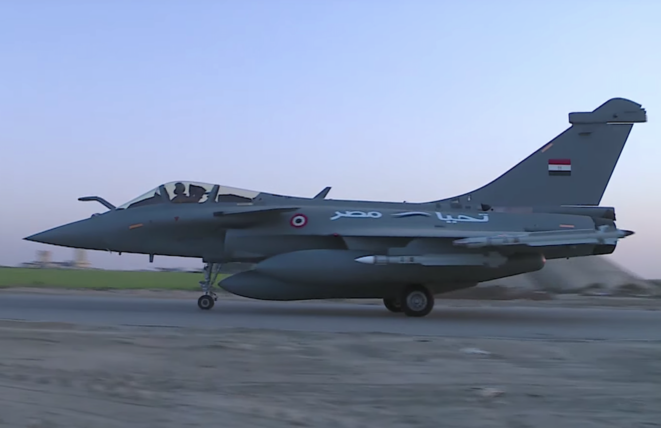 A French-made Egyptian air force Rafale fighter plane taking off as part of an air raid in Libya in 2017.
In April 2019 the self-styled 'Field Marshal' Khalifa Haftar launched an offensive against the regime in Tripoli which is acknowledged by the international community as Libya's legitimate government. Yet during his recent military campaign to control the east of the country, the warlord has had the discreet help of several important allies, including France. And as Yann Philippin, René Backmann and Antton Rouget report, Haftar also received air support from French-made Rafale jets which had been sold to Egypt.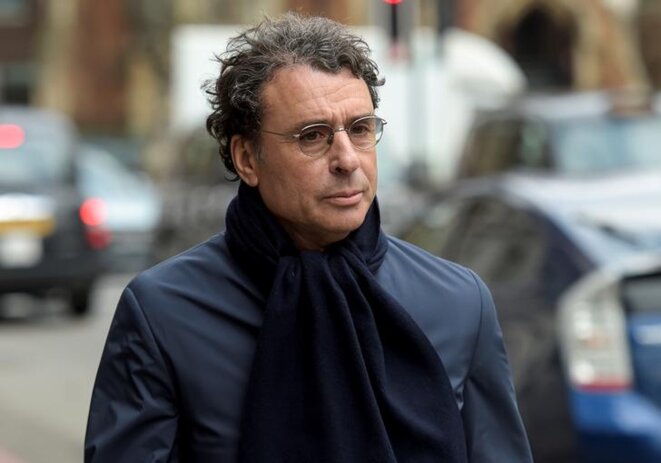 Middleman Alexandre Djouhri in London, where he is fighting against extradition to France.
French detectives and judges investigating the financial links between former President Nicolas Sarkozy's entourage and the Libyan regime of dictator Muammar Gaddafi are making progress in relation to a key figure in the affair. He is businessman Alexandre Djouhri, currently living in London, whom French judges are trying to extradite for questioning. His right-hand man, banker Wahib Nacer, was placed under formal investigation in the affair earlier this year. Fabrice Arfi reports on the latest judicial developments that are causing concern for the Sarkozy clan.
Faycal, from Sudan, is now applying for asylum in Tunisia. © Lilia Blaise
The authorities in Tunisia have been overwhelmed following the shipwreck off neighbouring Libya on July 1st 2019 which left 90 migrants drowned. Graveyards are full, migrant reception centres cannot cope and there is no overall integration plan to welcome migrants into society. The Tunisian government is also critical of the inaction of European countries over the issue. Lilia Blaise reports from Medenine in south-west Tunisia.
Four US-made Javelin anti-tank missiles, bought by France and discovered by forces loyal to the UN-backed Libyan government in a camp used by enemy troops serving Libya's eastern commander Khalifa Haftar, were left by a French military unit on 'counter-terrorism operations' and were 'damaged and unusable' according the defence ministry in Paris.

The 12-metre '1200 Rafale' speedboat made by French firm Sillinger similar to those being sent to Libya. © Sillinger
Eight human rights and refugee associations have joined together to take legal action over France's decision to give a number of fast boats to the Libyan navy. At the launch of their legal process on Thursday April 25th, the groups said France's actions would "contribute to blatant violations" of migrants' fundamental rights. Mathilde Mathieu reports.
A statement from the Government of National Accord (GNA), the Tripoli-based authorities recognised by the UN as Libya's governement, said its interior ministry had suspended 'all relations' with France because 'support of the criminal Haftar', a reference to rebel commander Khalifa Haftar, based in the east of the country, whose forces have launched an ongoing military offensive to overthrow the GNA.
A planned European Union statement calling on military strongman Khalifa Haftar to halt his Libyan National Army's offensive against the UN-backed Government of National Accord in Tripoli was vetoed by France, which has provided military assistance in past years to Haftar in his eastern stronghold.