Related keywords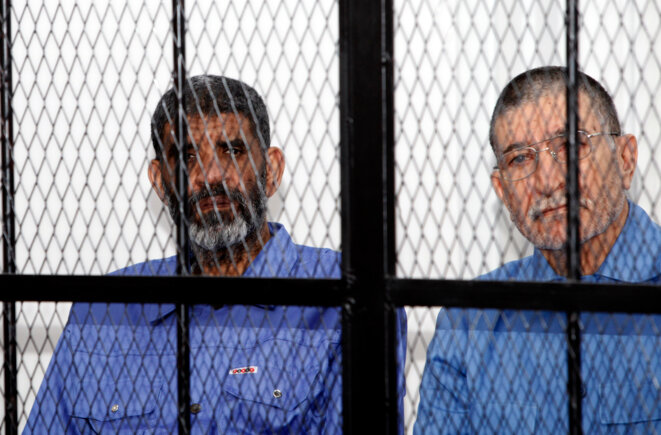 Mohamed Abdulla Senussi (left) during his trial in Tripoli in April 2014. © Reuters
As part of their investigation into the suspected funding by the Gaddafi regime in Libya of Nicolas Sarkozy's 2007 presidential election campaign, two French judges travelled to Tripoli earlier this month when they questioned, for the first time face-to-face, Gaddafi's former spy chief, and brother-in-law, Mohamed Abdulla Senussi. Mediapart has gained access to extracts from the statements provided by Senussi, who detailed how he oversaw the payment of 7 million euros for Sarkozy's campaign, as ordered by Gaddafi. He also confirmed that, as part of the deal, the former French president's personal lawyer and friend Thierry Herzog was involved in moves to overturn an international arrest warrant issued against Senussi after his conviction in absentia by a Paris court for his part in the blowing up of a French airliner in 1989.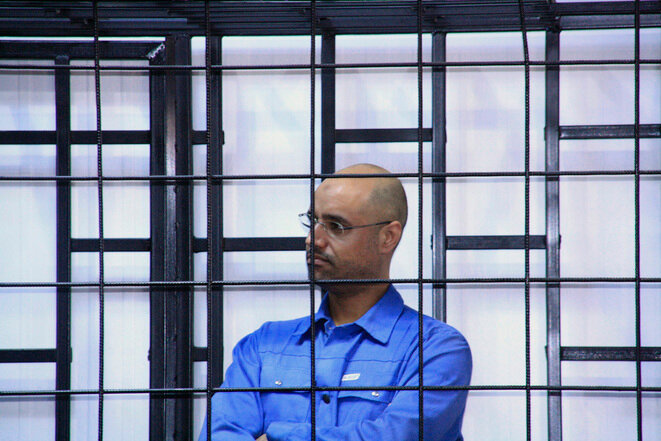 Saïf al-Islam Gaddafi appearing before a court in Zintan, Libya, on May 15th 2014. © Reuters
In August this year, Saïf al-Islam Gaddafi, son of the late Libyan dictator Muammar Gaddafi, sent a lengthy written statement to French magistrates investigating evidence that France's former president Nicolas Sarkozy secretly received millions of euros from the dictator's regime to finance his 2007 election campaign. Mediapart has gained access to the statement in full, and reveals here the most notable extracts, in which he corroborates the accounts of the illegal funding, details how it was organised, and relates how Sarkozy and his close entourage sought, as a return favour, to overturn a life sentence handed by a Paris court to Gaddafi's intelligence chief in absentia for his role in the 1989 bombing of a French airliner which killed 170 passengers and crew. Karl Laske and Fabrice Arfi report.
Defence minister said it was 'undeniable' Libya is in crisis because in 2011 someone put their own interests ahead of those of Libyan people.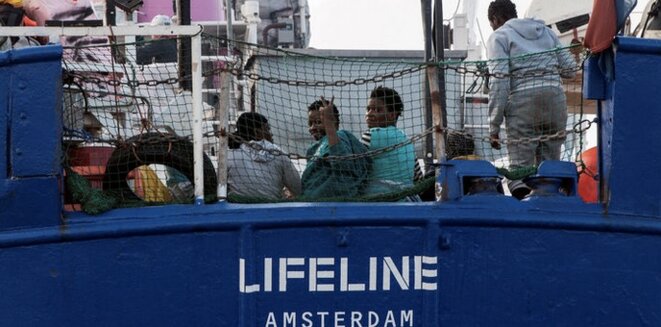 Rescued migrants on board the MV Lifeline shortly before disembarking in Malta. © Reuters
Late in June, after days of diplomatic wrangling, 234 migrants rescued off the Libyan coast while attempting to reach Europe in flimsy dinghies were finally allowed to disembark in Malta after several countries agreed to receive quotas from the group. Earlier this month, 51 of them arrived in France. Mediapart travelled to Toulouse, where some were given provisional accommodation, to listen to the harrowing stories of their experiences in Libya, where black Africans are subject to endemic racism and many become the prey and prisoner of vicious local militias. "If an Arab catches you, he sells you," said one of the survivors. "When you are black, you are a commodity, you're bought and sold on." Mathilde Mathieu reports.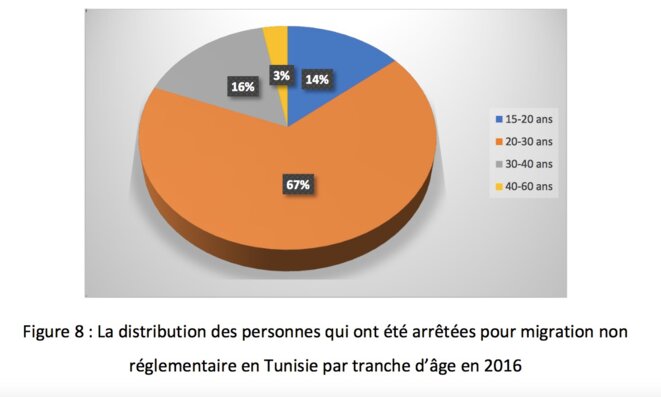 A 2017 report showing the breakdown in ages of Tunisians seeking to leave the country clandestinely. © dr
Migration has fashioned Tunisia for over two decades, most notably after the uprising that sparked the Arab Spring in 2011, when tens of thousands left a country riddled with unemployment and inequality once old restrictions were lifted. Now Tunisia finds itself in a double bind. It is resisting pressure to house migrants from other African countries trying to reach Europe via its territory, even as a new exodus of its own citizens gathers pace, prompted by economic, political and social distress. Rachida El Azzouzi reports.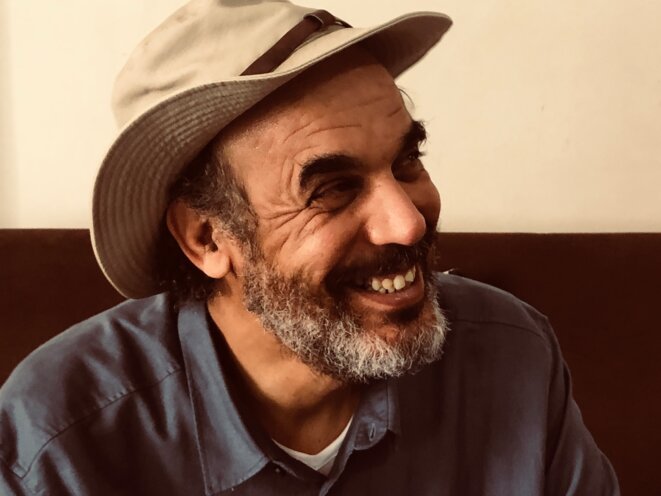 Samir Shegwara, who has unearthed key documents relating to the bombing of a French airliner in 1989. © Mediapart
The recent revelations by Mediapart about the secret plot by Nicolas Sarkozy's followers to clear the name of a Libyan spy chief owe a great deal to one man: Samir Shegwara. It was this city councillor from Libya who sifted through the regime's old archives after the fall of Colonel Muammar Gaddafi in the 2011 revolution. There he unearthed key documents about the bombing of the UTA DC 10 carried out by Libyans in 1989, and about the subsequent efforts by Sarkozy's team to help the man convicted over the terror attack - Gaddafi's brother-in-law and security chief Abdullah Senussi. Mediapart went to meet him. Fabrice Arfi and Karl Laske report.
A spokesman, for Khalifa Haftar, whose Libyan National Army controls much of eastern Libya and who press reports last week said was in a coma after suffering a stroke, claimed on Twitter on Friday that he had visited a Paris hospital 'for normal checkups' and would 'be back in Libya within few days'.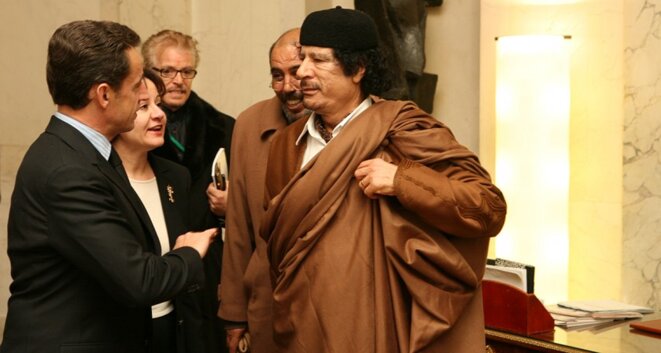 Moftah Missouri, standing behind Mummar Gaddafi during a meeeting with Nicolas Sarkozy. © DR
In a lengthy interview with Mediapart earlier this month in Tunisia, where he now lives in exile, Moftah Missouri, who served for 15 years as the personal advisor and interpreter of the late Libyan dictator Muammar Gaddafi, details his first-hand knowledge of Nicolas Sarkozy's confidential dealings with the Gaddafi regime, before and after he became president. Sarkozy was last month placed under formal investigation in a French judicial probe into Gaddafi's suspected secret funding of his 2007 election campaign, and Missouri, who told Mediapart the Libyan leader confirmed to him in person the illicit financing, says he is willing to testify before the French magistrates.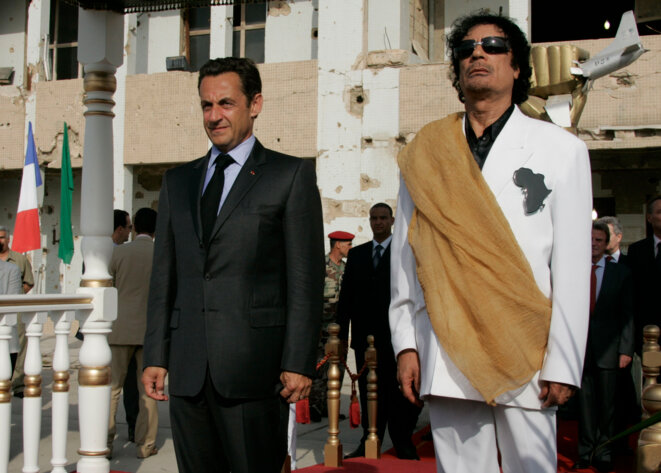 Standingtogether: Nicolas Sarkozy and Muammar Gaddafi in Libya. © Reuters
Nicolas Sarkozy, who has been placed under formal investigation for corruption over Libyan funding of his election campaign, has denied claims that he took money as part of a corrupt arrangement with Muammar Gaddafi's regime. He has also sought to rubbish accusations that as part of a corrupt pact he helped further the cause of Libya and some of its key figures. But here Fabrice Arfi and Karl Laske detail the evidence showing that the former head of state did indeed serve the interests of Gaddafi's dictatorial regime.
Barely a week after Nicolas Sarkozy was placed under formal investigation over Libyan funding of his 2007 presidential campaign, the former president has been hit by a new legal blow. Judges have ruled he must stand trial on corruption and influence peddling charges over claims that he tried to get a senior judge to leak him crucial information about the progress of a case involving him. In return the ex-head of state is said to have promised to help get the judge a plum post in Monaco. Mediapart's legal affairs correspondent Michel Deléan explains the background.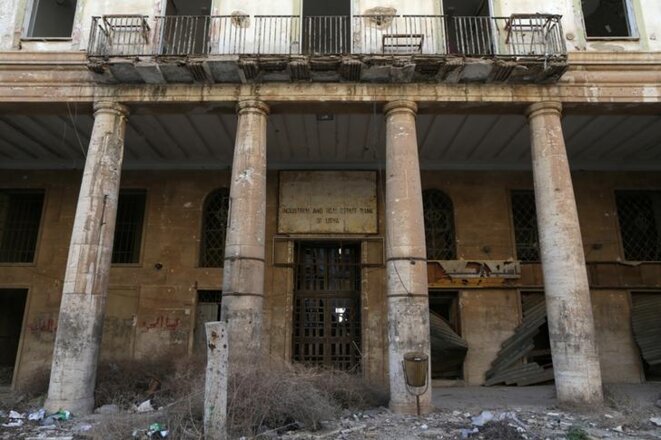 Aftermath of the French and allied intervention in Libya: Benghazi in March 2018. © Reuters
The role of President Nicolas Sarkozy in the military intervention in Libya in 2011 that led to the removal from power and death of Colonel Muammar Gaddafi in 2011 continues to raise many unanswered questions. The original United Nations mandate that Sarkozy and certain other leaders obtained was subsequently hijacked and use to change the regime. As a result the country was left in chaos, helping to empower jihadist groups across various African countries who are still suffering instability as a result. President Emmanuel Macron considers the intervention to have been a "major error". But is he ready to identify those responsible for it? René Backman reports.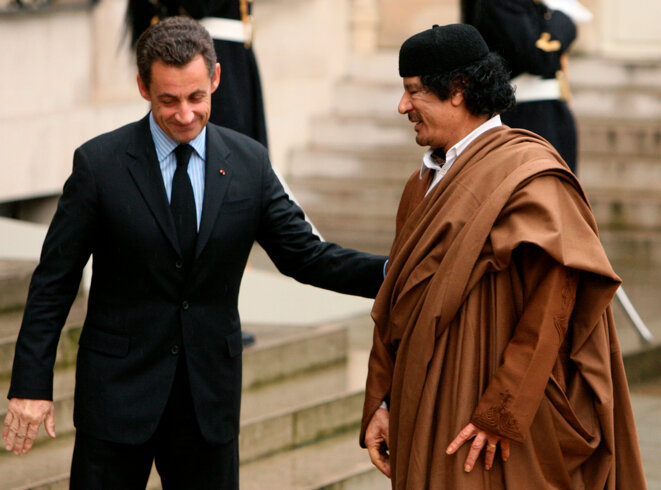 December 10th 2007: Nicolas Sarkozy welcomes Libtyan dictator Muammar Gaddafi on his first official visit to France. © Reuters
Mediapart has obtained access to extracts of the transcripts of the questioning last week of former French president Nicolas Sarkozy by officers of France's anti-corruption police agency, OCLCIFF, and also by the magistrates in charge of their investigation into the suspected financing of his 2007 presidential election campaign by the late Libyan dictator Muammar Gaddafi. They reveal how Sarkozy, who after more than 30 hours of questioning was placed under investigation on March 21st for "illicit funding of an electoral campaign", "receiving and embezzling public funds" from Libya, and "passive corruption", was unable to provide convincing answers on a number of key questions, and how also he appeared to place responsibility for some of the most compromising evidence of collusion with Gaddafi's regime on his close staff, including lifelong allies and friends Claude Guéant and Brice Hortefeux. Fabrice Arfi and Karle Laske report.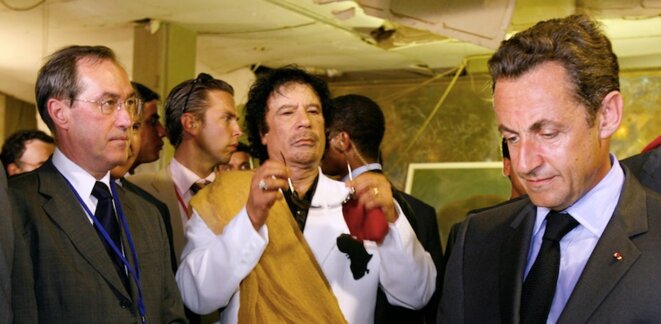 Left to right: Nicolas Sarkozy's chief of staff Claude Guéant, Muammar Gaddafi and the newly elected president Sarkozy in Tripoli in July 2007. © Reuters
Former French president Nicolas Sarkozy appeared on French television on Thursday in an attempt to dismiss evidence that this week led to him being placed under investigation for "illicit funding of an electoral campaign", "receiving and embezzling public funds" from Libya and "passive corruption" by magistrates leading a probe into the alleged funding of his 2007 election campaign by  late Libyan dictator Muammar Gaddafi. Sarkozy adopted the stance of victim, claiming that a Libyan document approving the secret funding,  revealed by Mediapart in 2012, was a "forgery", when he misled viewers about expert findings on its veracity and even denied the fact that their conclusions led to his suit against Mediapart being thrown out twice by judges. Mediapart reporters Fabrice Arfi and Karl Laske detail here the hard facts about the evidence that the former president knowingly chose to ignore.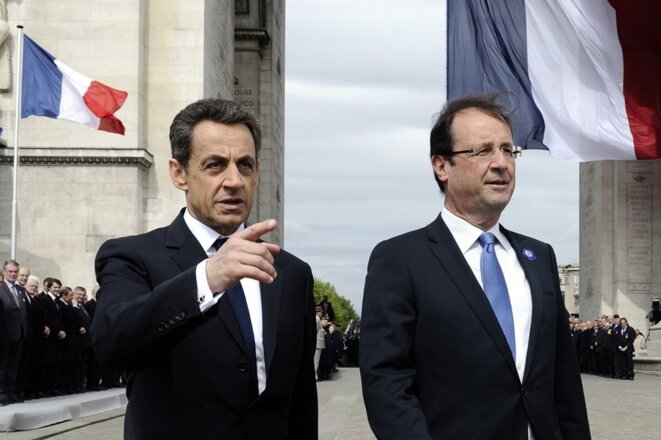 Nicolas Sarkozy with then-president François Hollande at a ceremony marking V-E Day on May 8th 2013. © Reuters
The placing under investigation of Nicolas Sarkozy on Wednesday for corruption, embezzling public funds and illegal electoral funding by the regime of late Libyan dictator Muammar Gaddafi has come about as the judicial investigation is in its fifth year, and seven years after Mediapart first revealed the former conservative president's dealings with Tripoli. During the entire period, which includes five years of socialist government, the political powers have regularly turned their backs on the disturbing questions raised by the mounting evidence of Sarkozy's dubious relations with the dictator, and also the circumstances of France's subsequent military intervention in Libya, to the point of dismissing repeated calls for a parliamentary inquiry. Antton Rouget reports.