Related keywords
The French government has finally announced it will not supply the Libyan coastguard with six speedboats destined to be used against clandestine crossings to Europe after several NGOs mounted a legal challenge to the sale, arguing that France was contributing to human rights violations in Libya where captured migrants face notorious internment camps, torture and being used as slave labour.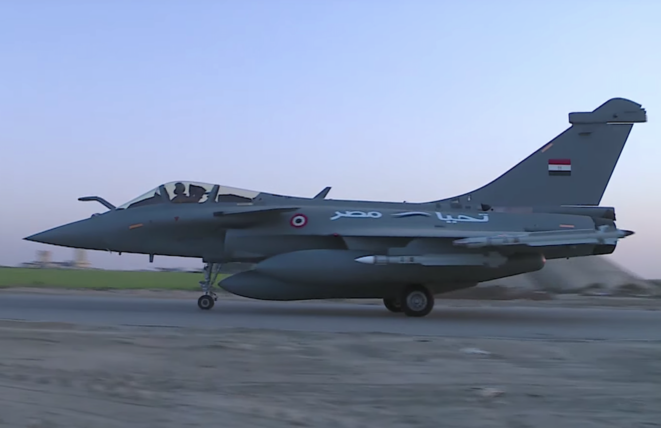 A French-made Egyptian air force Rafale fighter plane taking off as part of an air raid in Libya in 2017.
In April 2019 the self-styled 'Field Marshal' Khalifa Haftar launched an offensive against the regime in Tripoli which is acknowledged by the international community as Libya's legitimate government. Yet during his recent military campaign to control the east of the country, the warlord has had the discreet help of several important allies, including France. And as Yann Philippin, René Backmann and Antton Rouget report, Haftar also received air support from French-made Rafale jets which had been sold to Egypt.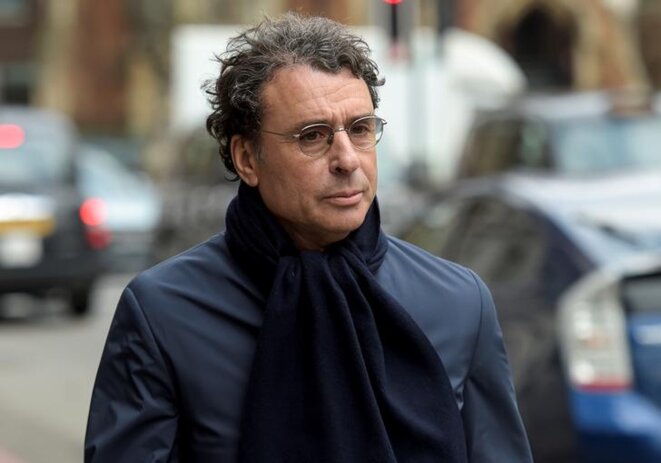 Middleman Alexandre Djouhri in London, where he is fighting against extradition to France.
French detectives and judges investigating the financial links between former President Nicolas Sarkozy's entourage and the Libyan regime of dictator Muammar Gaddafi are making progress in relation to a key figure in the affair. He is businessman Alexandre Djouhri, currently living in London, whom French judges are trying to extradite for questioning. His right-hand man, banker Wahib Nacer, was placed under formal investigation in the affair earlier this year. Fabrice Arfi reports on the latest judicial developments that are causing concern for the Sarkozy clan.
Faycal, from Sudan, is now applying for asylum in Tunisia. © Lilia Blaise
The authorities in Tunisia have been overwhelmed following the shipwreck off neighbouring Libya on July 1st 2019 which left 90 migrants drowned. Graveyards are full, migrant reception centres cannot cope and there is no overall integration plan to welcome migrants into society. The Tunisian government is also critical of the inaction of European countries over the issue. Lilia Blaise reports from Medenine in south-west Tunisia.
Four US-made Javelin anti-tank missiles, bought by France and discovered by forces loyal to the UN-backed Libyan government in a camp used by enemy troops serving Libya's eastern commander Khalifa Haftar, were left by a French military unit on 'counter-terrorism operations' and were 'damaged and unusable' according the defence ministry in Paris.

The 12-metre '1200 Rafale' speedboat made by French firm Sillinger similar to those being sent to Libya. © Sillinger
Eight human rights and refugee associations have joined together to take legal action over France's decision to give a number of fast boats to the Libyan navy. At the launch of their legal process on Thursday April 25th, the groups said France's actions would "contribute to blatant violations" of migrants' fundamental rights. Mathilde Mathieu reports.
A statement from the Government of National Accord (GNA), the Tripoli-based authorities recognised by the UN as Libya's governement, said its interior ministry had suspended 'all relations' with France because 'support of the criminal Haftar', a reference to rebel commander Khalifa Haftar, based in the east of the country, whose forces have launched an ongoing military offensive to overthrow the GNA.
A planned European Union statement calling on military strongman Khalifa Haftar to halt his Libyan National Army's offensive against the UN-backed Government of National Accord in Tripoli was vetoed by France, which has provided military assistance in past years to Haftar in his eastern stronghold.
France is to supply the Libyan navy with six speedboats destined for coastguard operations to intercept migrants attempting to cross the Mediterranean to Europe. The move was described as "scandalous" by medical aid NGO Doctors without Borders, which underlined the horrific fate that awaits intercepted migrants, who are placed in notorious internment camps in Libya. A recent report by UN agencies denounced the camps for practices of violence, torture and rape, and solemnly called on EU countries to ensure they give "no support" to the Libyan coastguard that "contributes to bringing rescued migrants and refugees back to Libya".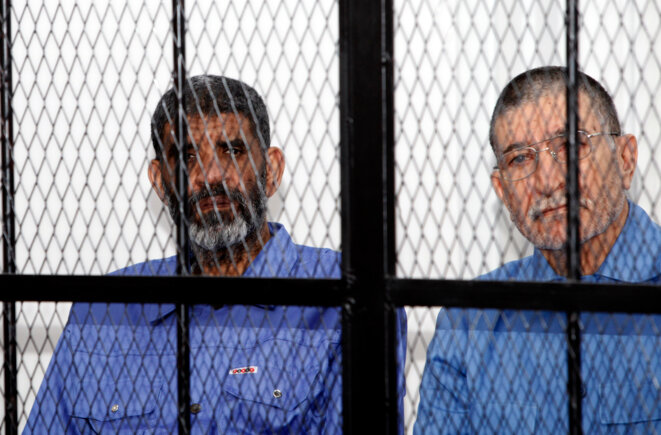 Mohamed Abdulla Senussi (left) during his trial in Tripoli in April 2014. © Reuters
As part of their investigation into the suspected funding by the Gaddafi regime in Libya of Nicolas Sarkozy's 2007 presidential election campaign, two French judges travelled to Tripoli earlier this month when they questioned, for the first time face-to-face, Gaddafi's former spy chief, and brother-in-law, Mohamed Abdulla Senussi. Mediapart has gained access to extracts from the statements provided by Senussi, who detailed how he oversaw the payment of 7 million euros for Sarkozy's campaign, as ordered by Gaddafi. He also confirmed that, as part of the deal, the former French president's personal lawyer and friend Thierry Herzog was involved in moves to overturn an international arrest warrant issued against Senussi after his conviction in absentia by a Paris court for his part in the blowing up of a French airliner in 1989.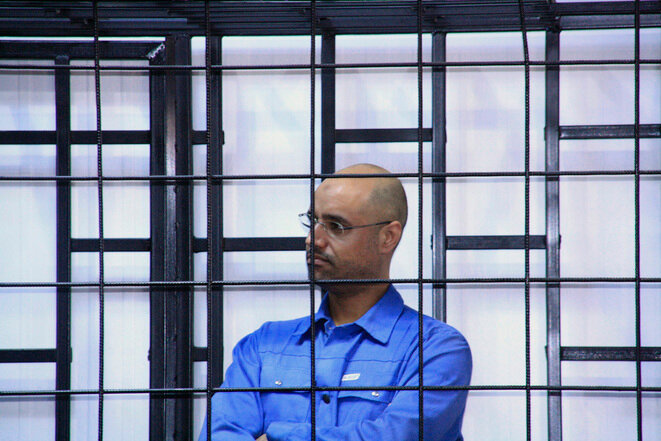 Saïf al-Islam Gaddafi appearing before a court in Zintan, Libya, on May 15th 2014. © Reuters
In August this year, Saïf al-Islam Gaddafi, son of the late Libyan dictator Muammar Gaddafi, sent a lengthy written statement to French magistrates investigating evidence that France's former president Nicolas Sarkozy secretly received millions of euros from the dictator's regime to finance his 2007 election campaign. Mediapart has gained access to the statement in full, and reveals here the most notable extracts, in which he corroborates the accounts of the illegal funding, details how it was organised, and relates how Sarkozy and his close entourage sought, as a return favour, to overturn a life sentence handed by a Paris court to Gaddafi's intelligence chief in absentia for his role in the 1989 bombing of a French airliner which killed 170 passengers and crew. Karl Laske and Fabrice Arfi report.
Defence minister said it was 'undeniable' Libya is in crisis because in 2011 someone put their own interests ahead of those of Libyan people.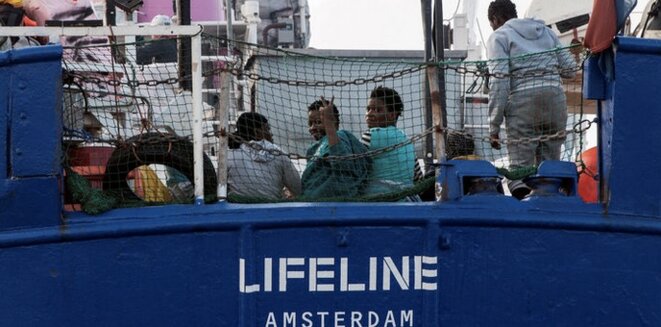 Rescued migrants on board the MV Lifeline shortly before disembarking in Malta. © Reuters
Late in June, after days of diplomatic wrangling, 234 migrants rescued off the Libyan coast while attempting to reach Europe in flimsy dinghies were finally allowed to disembark in Malta after several countries agreed to receive quotas from the group. Earlier this month, 51 of them arrived in France. Mediapart travelled to Toulouse, where some were given provisional accommodation, to listen to the harrowing stories of their experiences in Libya, where black Africans are subject to endemic racism and many become the prey and prisoner of vicious local militias. "If an Arab catches you, he sells you," said one of the survivors. "When you are black, you are a commodity, you're bought and sold on." Mathilde Mathieu reports.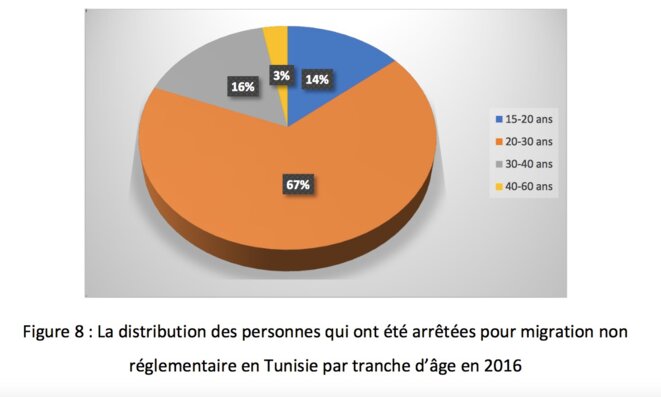 A 2017 report showing the breakdown in ages of Tunisians seeking to leave the country clandestinely. © dr
Migration has fashioned Tunisia for over two decades, most notably after the uprising that sparked the Arab Spring in 2011, when tens of thousands left a country riddled with unemployment and inequality once old restrictions were lifted. Now Tunisia finds itself in a double bind. It is resisting pressure to house migrants from other African countries trying to reach Europe via its territory, even as a new exodus of its own citizens gathers pace, prompted by economic, political and social distress. Rachida El Azzouzi reports.