Vessel was sent on Tuesday to reinforce EU's surveillance operation after a series of migrant tragedies in which nearly 5,000 have drowned.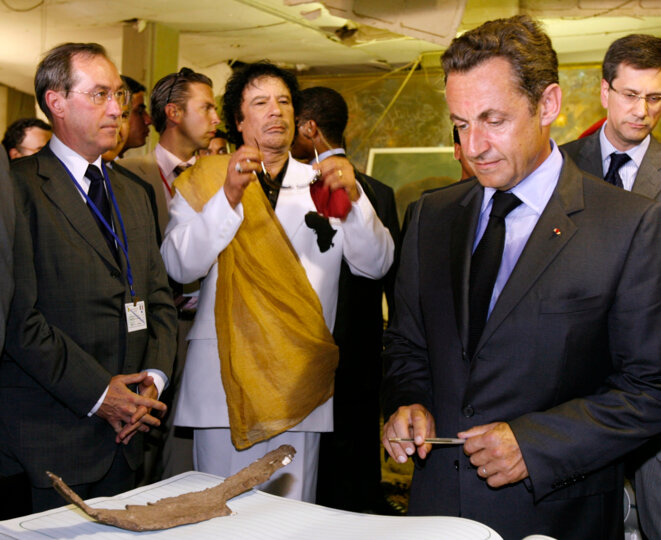 Claude Guéant, Mouammar Kadhafi et Nicolas Sarkozy à Tripoli, en 2007. © Reuters
In a dramatic development Claude Guéant, ex-chief of staff to President Nicolas Sarkozy and a former interior minister, has been placed under formal investigation for "laundering of the proceeds of tax fraud as part of an organised gang", "forgery" and "use of false instruments" in connection with the probe into claims that the late Libyan leader Muammar Gaddafi illegally funded Sarkozy's successful 2007 presidential election campaign. Investigators want to know the origin of more than 500,000 euros that was transferred into his bank account in 2008 and part of which he later used to buy a flat in Paris. Experts in the art world have cast doubt on Guéant's explanation that the money came from the sale of two paintings by 17th century Dutch artist Andries Van Eertvelt.
Former interior minister Claude Guéant is being quizzed over 500,000 euro payment which he says came from sale of a 17th century painting.
A senior French military official has said troops are to move to a desert outpost close to the Libyan border to obstruct arms trafficking.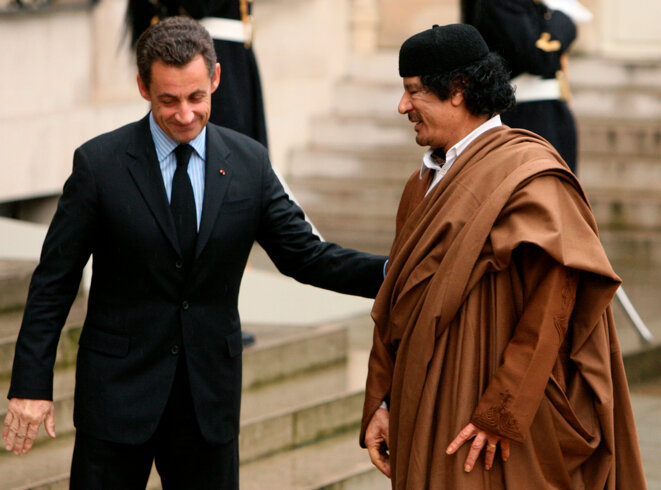 Nicolas Sarkozy et Mouammar Kadhafi sur le perron de l'Elysée, en 2007. © Reuters
The story of the covert Libyan funding of Nicolas Sarkozy's 2007 election campaign started two years earlier with a meeting between Colonel Muammar Gaddafi and the then presidential hopeful Sarkozy himself, Mediapart can reveal. According to arms dealer Ziad Takieddine, who was in Tripoli at the time, Sarkozy directly asked Gaddafi for financial help during an official visit to the North African country in October 2005. A short time later Sarkozy's close political friend and ally Brice Hortefeux made a visit to Tripoli in which he had an off-diary meeting with Gadaffi's security chief Abdullah Senussi, a key figure in the corruption allegations involving Libya and France. Judges investigating the Libyan funding of Sarkozy's campaign are now painstakingly piecing together the background to the affair. Fabrice Arfi and Karl Laske report.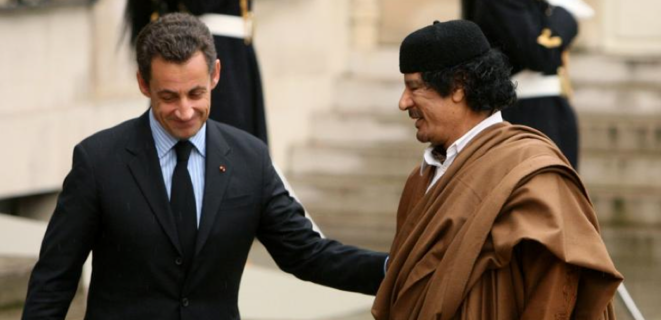 Dans la cour de l'Elysée en décembre 2007. © Reuters
In April 2012, Mediapart published an official Libyan document that revealed that the regime of the late Libyan dictator Muammar Gaddafi approved payment of 50 million euros to fund Nicolas Sarkozy's successful 2007 presidential election campaign. The publication of the document prompted the opening of a judicial investigation into the claims that Gaddafi illegally financed Sarkozy's campaign, and the ongoing probe represents a major threat to the former president who this month announced his return to active politics. "About Libya, the judges know that the documents are false," said Sarkozy in an interview published last weekend. But in fact, as Fabrice Arfi and Karl Laske report, the magistrates leading the investigation have collected statements from numerous experts whose testimony gives credence to the document published by Mediapart.
Defence minister Jean-Yves Le Drian says that the gathering chaos in the North African country means it is becoming a 'terrorist hub'.
President François Hollande urged UN intervention to end militia wars, warning that otherwise 'terrorism will spread across the region'.
Forty French nationals have been evacuated by ship along with seven British nationals as battles rage between government forces and militias.
French government follows example of other nations as fighting sweeps across the North African country three years after overthrow of Gaddafi.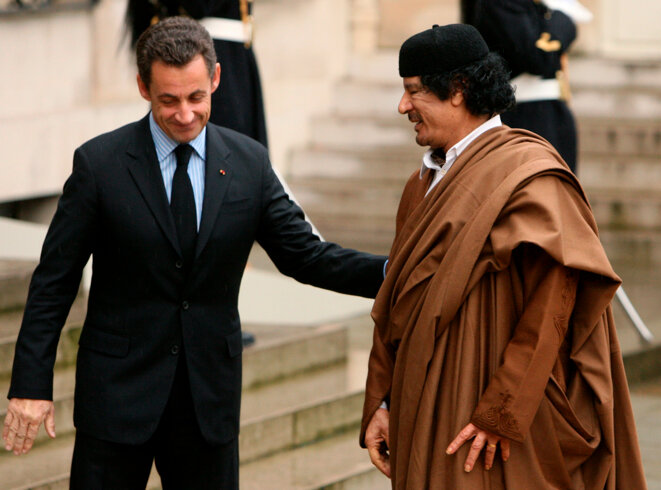 Dans la cour de l'Elysée en décembre 2007. © Reuters
Mediapart can disclose the content of more phone taps concerning former president Nicolas Sarkozy that show how he and his entourage have sought to glean information on the state of judicial probes from senior state officials. One conversation reveals that the ex-head of state was worried about the "loyalty" of the new head of France's domestic intelligence service, from whom he was trying to extract key details. Judges investigating the Libyan funding of Sarkozy's 2007 presidential campaign also believe they may have uncovered the identity of one of the former president's "moles" in the intelligence services. As Fabrice Arfi reports, the revelations provide further evidence about how far Nicolas Sarkozy and his aides seem willing to go in order to find out how judicial investigations are progressing.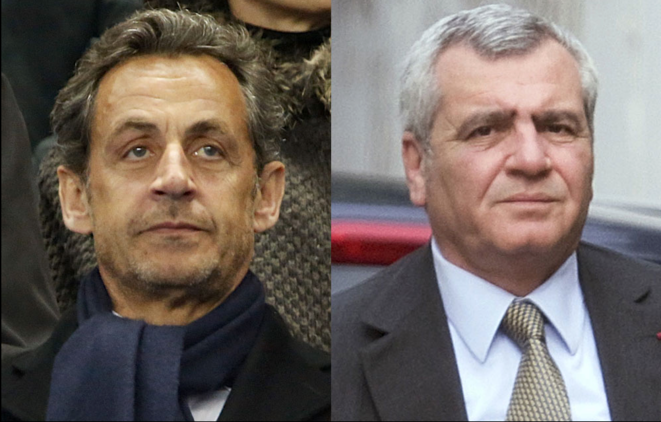 Nicolas Sarkozy et son avocat, Thierre Herzog. © Reuters
Mediapart can reveal the content of the controversial phone bugging carried out on former president Nicolas Sarkozy. Details of seven phone taps show that the ex-head of state set up what amounts to a dirty tricks operation to neutralise the judges who are investigating him. The extraordinary content of the calls confirm that Sarkozy's team used senior judge Gilbert Azibert to find out information about the Bettencourt affair. And that Sarkozy's lawyer Thierry Herzog was kept informed by a mole in the upper echelons of the state about the progress of the investigation over the Libyan funding of the former president's 2007 election campaign. As Fabrice Arfi and Karl Laske report, it is the start of a new state scandal involving Nicolas Sarkozy.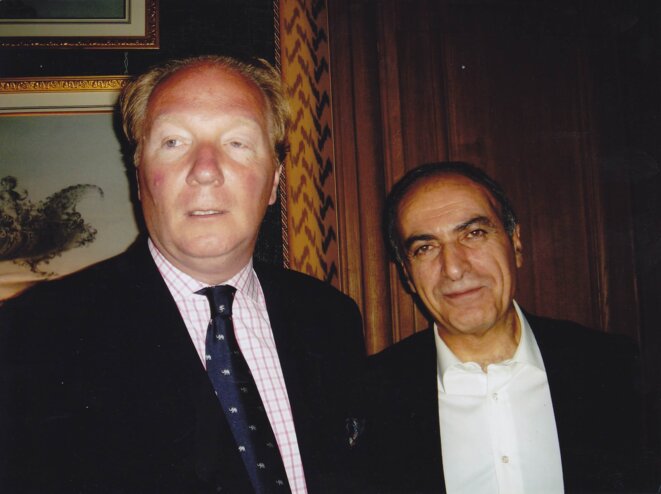 MM. Hortefeux et Takieddine, en 2005 © dr
Revelations about phone taps on Nicolas Sarkozy and his lawyer Thierry Herzog have caused a major legal and political row. Lawyers say the eavesdropping is a breach of lawyer-client privilege, right-wing politicians have claimed there is a plot to discredit the former French president, while the phone taps themselves suggest evidence of 'influence peddling'. But the judicially-approved eavesdropping also targeted former interior minister and close Sarkozy ally Brice Hortefeux as part of the investigation into illegal funding of the Sarkozy 2007 presidential campaign by the Libyan regime. Here Mediapart publishes extracts from some of those phone taps which show how a senior policeman phoned Hortefeux to warn him about details of the investigation and to coach him about how to prepare for questioning – in flagrant breach of procedural regulations. Fabrice Arfi and Karl Laske report.
The 49 year-old man, who was working on the modernisation of a hospital in Benghazi, was shot three times by unidentified assailants.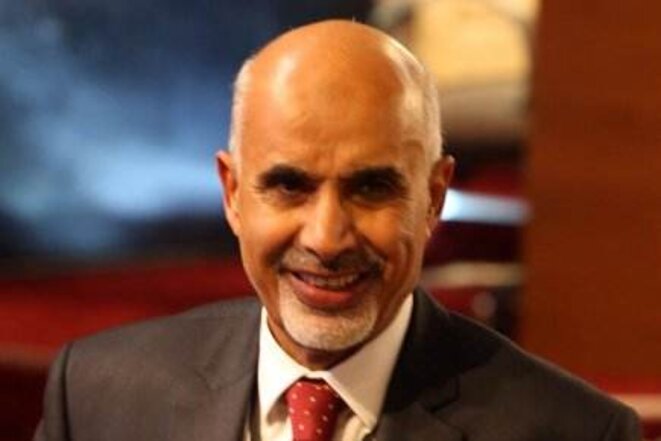 Mohamed el-Megaryef © Reuters
A prominent Libyan dissident who became his country's first head of state after the fall of Muammar Gaddafi in 2011 has confirmed that the dictator's regime paid millions of euros to support Nicolas Sarkozy's successful bid for the French presidency in 2007. Mohamed Al Magariaf, who spent many years in exile because of his opposition to the regime, is the first leading figure in post-Gaddafi Libya to acknowledge that his country illegally financed the Sarkozy campaign. Al Magariaf, who spent much of his exile in the United States, also says that payments continued until 2009. His revelations were made in sections of his recent book that were removed by his publisher just before publication. Fabrice Arfi and Karl Laske reveal their explosive content.