Keyword: Libyan funding affair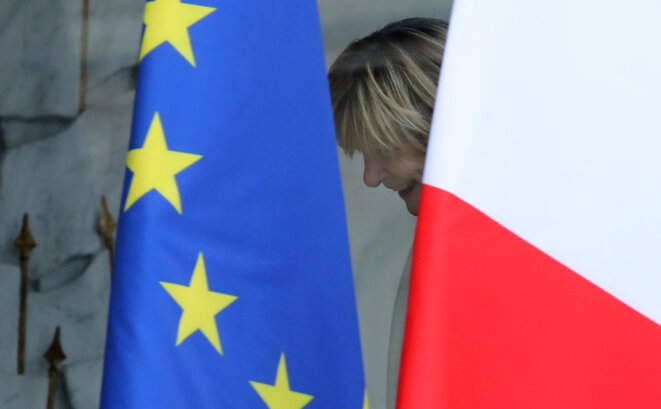 Michèle Marchand at the Élysée in November 2017. © Ludovic Marin/AFP
The "queen of the paparazzi" Michèle 'Mimi' Marchand, who is currently in the news in relation to aspects of the probe into Libyan funding of Nicolas Sarkozy's 2007 election campaign, is reported to be close to Brigitte and Emmanuel Macron. She was a regular visitor to the Élysée at the start of President Macron's term of office in 2017, though became a more discreet presence after July 2018 and the emergence of the Benalla affair, when the president's personal security advisor Alexandre Benalla was videoed beating up protestors. Yet the influential position that the presidential couple granted her at the centre of power in France continues to raise questions, reports Ellen Salvi.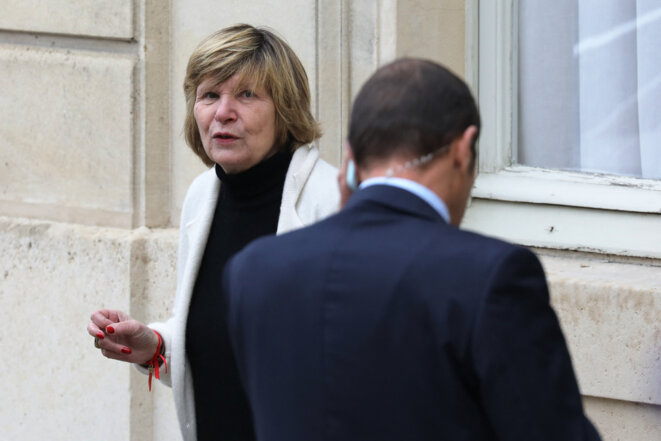 'Mimi' Marchand photographed at the Elysée, November 15th 2017. © Ludovic Marin / AFP
French paparazzi agency boss Michèle Marchand, an influential PR fixer for politicians and confidante of presidents, has been taken into custody for breaching bail conditions. Earlier in June Marchand, nicknamed 'Mimi', was placed under formal investigation for witness tampering and criminal conspiracy in relation to an aspect of the long-running investigation into suspected Libyan financing of Nicolas Sarkozy's 2007 presidential election campaign. But she was subsequently released on bail. However, Mediapart has learnt from several sources that she was taken into detention on Friday June 18th for apparently breaching a condition of that bail. Fabrice Arfi, Karl Laske, Yann Philippin and Antton Rouget report.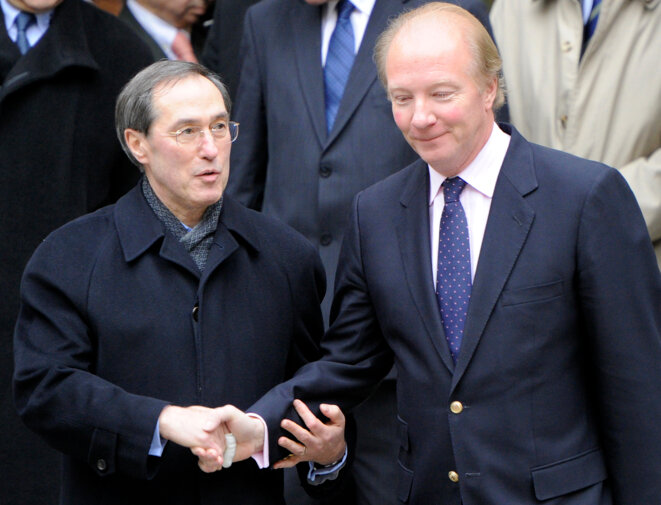 Key Sarkozy allies: Claude Guéant and Brice Hortefeux, in February 2011, at the Ministry of the Interior in Paris. © LIONEL BONAVENTURE/AFP
Two of former president Nicolas Sarkozy's closest allies, Brice Hortefeux and Claude Guéant, have recently been placed under formal investigation for "criminal conspiracy" over claims that the ex-head of state's 2007 election was part-funded by the Libyan regime. Mediapart can now reveal that during questioning by judges both men admitted to lapses in judgement in meeting a spy chief from Muammar Gaddafi's regime who was wanted by the French justice system after being convicted of a terrorist attack. Yet they deny there was any deal for the Libyans to help fund the election campaign. Both men also loyally continue to protect their former boss, who himself faces claims of criminal conspiracy and corruption in the case. Fabrice Arfi and Karl Laske report.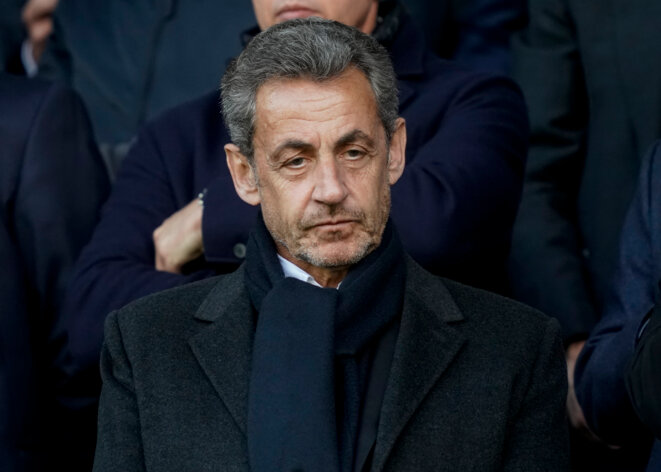 Nicolas Sarkozy at Nice in May 2019. © Lionel BONAVENTURE / AFP
When Nicolas Sarkozy was being questioned by judges over claims that his 2007 president election campaign was part-funded by the Libyan regime, he agreed to hand over his official diaries from that period. However, Mediapart understands that his lawyer has now told the judges that the former president is unable to provide any of them. This sudden about-face comes right in the middle of Nicolas Sarkozy's ongoing corruption trial, in which those very same diaries play a prominent role. Fabrice Arfi and Karl Laske report.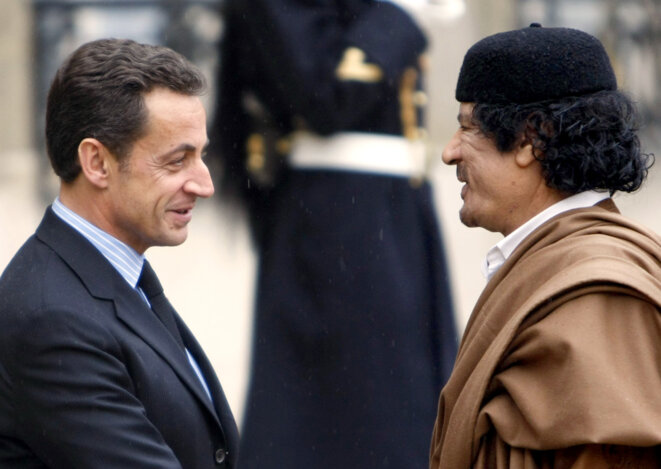 Nicolas Sarkozy and Muammar Gaddafi in Paris on December 10th 2007. © FRANCK FIFE / AFP
Ziad Takieddine, the ruined businessman who is on the run after being convicted in a separate political corruption case in France, has told Paris Match magazine and BFM-TV news channel that there was "no Libyan funding" of Nicolas Sarkozy's 2007 presidential campaign. This contradicts what he has previously told a judicial investigation into the affair and various media. But he maintains that he did hand over cash to Sarkozy's former chief of staff Claude Guéant. The former president himself immediately made clear his delight at Takieddine's retraction. Just a few days ago Sarkozy had described the middleman as a "madman" and a "manipulator". Fabrice Arfi and Karl Laske report.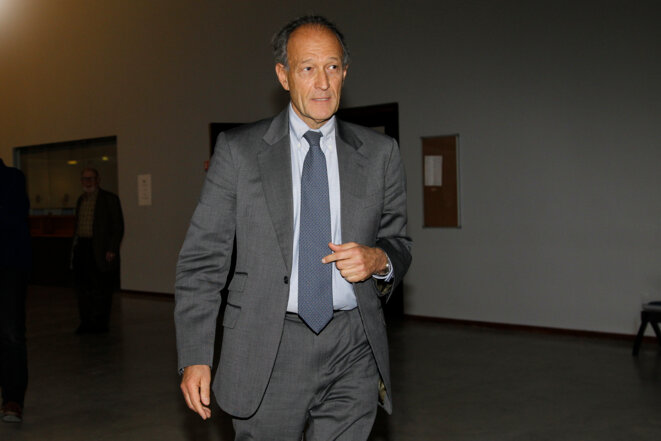 Thierry Gaubert at the court in Nanterre, west of Paris, in 2012 in an unrelated case. © Reuters
In January 2020 Thierry Gaubert, a former close aide to Nicolas Sarkozy, was arrested and then placed under formal investigation for "criminal conspiracy" in relation to claims that the former president's 2007 election campaign was funded with Libyan money. Gaubert is now free on bail, but banned from meeting with either Sarkozy or the ex-head of state's long-standing friend and ally Brice Hortefeux. As Fabrice Arfi and Karl Laske report, this move marks a major turning point in the long-running judge-led investigation.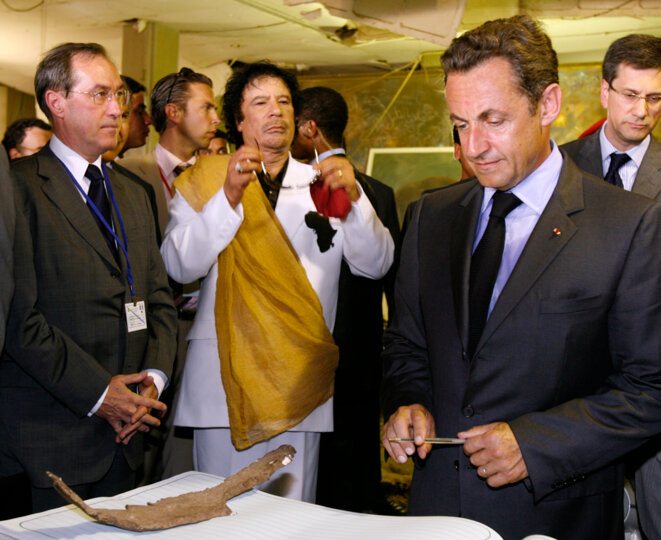 Left to right: the French president's chief aide Claude Guéant, Muammar Gaddafi and Nicolas Sarkozy inTripoli in 2007. © Reuters
France's highest appeal court, the Cour de Cassation, has rejected an appeal by former president Nicolas Sarkozy in a case against Mediapart relating to the authenticity of a key document showing he was promised Libyan funding for his 2007 election campaign. The judgement, published on Wednesday January 30th, means that the former president can no longer evade the election funding scandal revealed by this site, says Mediapart's publishing editor Edwy Plenel.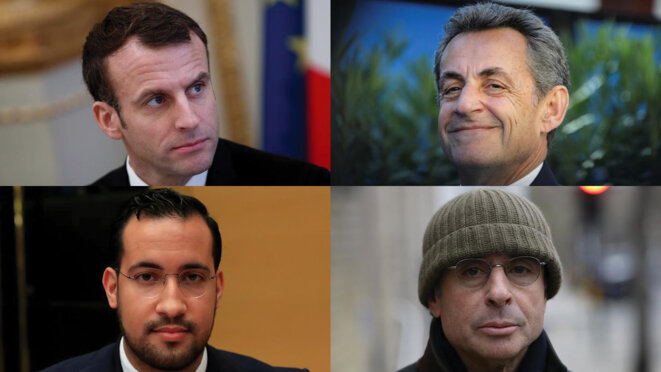 Clockwise from top left: Emmanuel Macron, Nicolas Sarkozy, Alexandre Djouhri and Alexandre Benalla. © Reuters
In recent weeks the current French president Emmanuel Macron has deepened his ties with former rightwing president Nicolas Sarkozy. The latter recently represented France at a ceremony in Georgia and the pair have lunched together. But by a curious coincidence two of their former allies, each of them facing judicial investigations in France, have also been meeting. They are Alexandre Benalla, President Macron's former security advisor who caused a scandal over the summer after he was filmed using violence against protestors in Paris on May 1st, and Alexandre Djouhri, a businessman and middleman who was close to Nicolas Sarkozy and who is awaiting extradition to France as part of the investigation into Libyan funding of Sarkozy's 2007 election campaign. Fabrice Arfi reports.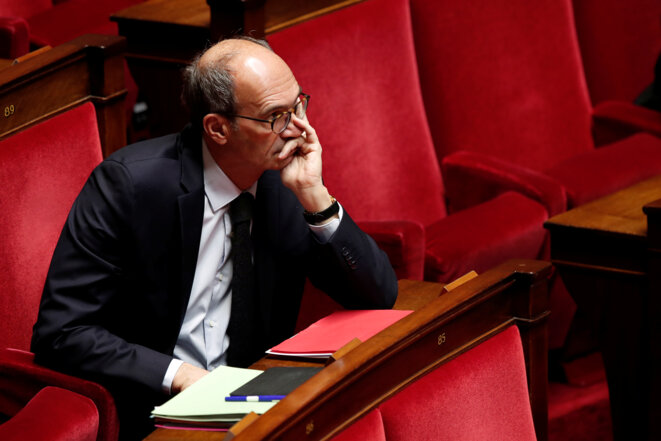 Senior conservative MP Éric Woerth in the National Assembly on November 15th, 2017. © Reuters
The former minister and current senior Member of Parliament Éric Woerth has been questioned by judges investigating claims that Nicolas Sarkozy's 2007 presidential election campaign was funded by Muammar Gaddafi's Libyan regime. Woerth, the treasurer of that campaign, sought to play down his role in handling envelopes stuffed full of cash at the election campaign headquarters. But according to a transcript of his evidence, seen by Mediapart, Woerth's explanations weakened his own defence. Fabrice Arfi and Karl Laske report