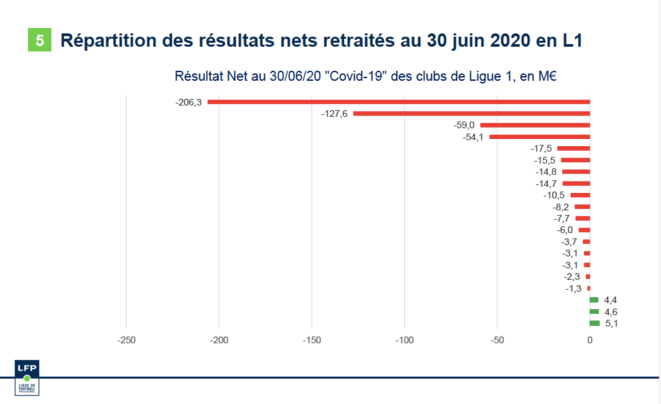 Most top-flight French football clubs are set to make an operating loss this season. © Document Mediapart
The Ligue de Football Professionnel (LFP), which runs the top-tier professional football leagues in France, has voted to obtain a 224.5 million-euro loan from the French state to help out its member clubs, especially those in the elite Ligue 1 division. But even despite this help some clubs are on the brink of going into administration. Mediapart can reveal confidential documents which show the risky nature of the loan arrangement, which the state agreed to without making any solvency checks. As Laurent Mauduit writes, there is a risk that French taxpayers could end up having to pay the bill for the excesses of the football industry.
Imran Aliev, 44, who used the pseudonym Mansur Staryi and was a vocal opponent of Chechnya's strongman president Ramzan Kadyrov, was found dead with knife wounds to his throat in a hotel close to the central railway station in Lille, north-east France.
Six people have been detained in the north-east French city of Lille in connection with a series of recent attacks on nine commercial businesses there, including against a butchers shop and a McDonald's fast-food branch, when windows were smashed and fake blood was daubed on walls.
A vegan festival due to be held in the centre of Lille in north-east France in early September has been called off by the City Hall for 'safety' reasons after a butchers' federation announced they would hold a nearby counter-barbeque for carnivors in anger at vanadalsim of several butchers' shops in the region allegedly by vegan acitivists.
Police said they believed a gangland dispute was behind the wounding of three people, including a teenager, outside an underground railway station in Lille, north-east France, by one or more assailants who fled the scene.

The bullet-shattered glass entrance of the Hyper Cacher store (left) and guns offered by the traffickers who armed Amedy Coulibaly.
In January 2015, a series of terrorist attacks in Paris left 17 people dead, including 11 at the offices of satirical magazine Charlie Hebdo, and four Jewish men in a kosher supermarket. The attack on the kosher store was carried out by Amedy Coulibaly in the name of the so-called Islamic State group. A number of weapons later found at the scene and at his home transited via an arms trafficking network in northern France which had been the object of several lengthy police surveillance operations. So why have magistrates in charge of investigating the itinerary of the arms still not questioned those involved in the surveillance? Karl Laske reports.
Mayor said move to cancel famous 'Braderie de Lille' - which attracted 2.5 million people in 2015 - was prompted by 'risks we cannot address'.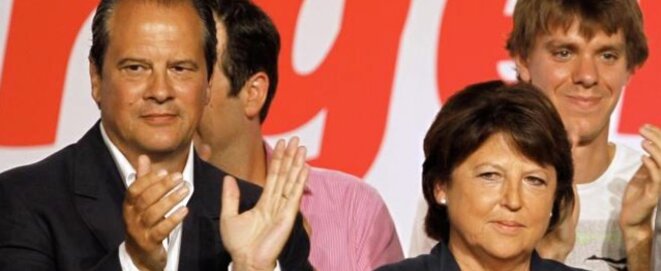 Martine Aubry on the warpath, seen here with current party boss Jean-Christophe Cambadélis.
The former first secretary of the French Socialist Party (PS), Martine Aubry, has launched a ferocious attack on the policies of President François Hollande and his prime minister Manuel Valls. Her trenchant comments in an article in Le Monde – seen by some as a call by Hollande to ditch his prime minister - in turn led to bitter criticism of her stance from government loyalists. It remains unclear where Aubry's initiative will lead. But as Mediapart's Stéphane Alliès reports, it looks as if support for the socialist government could now be in a minority within the Socialist Party itself.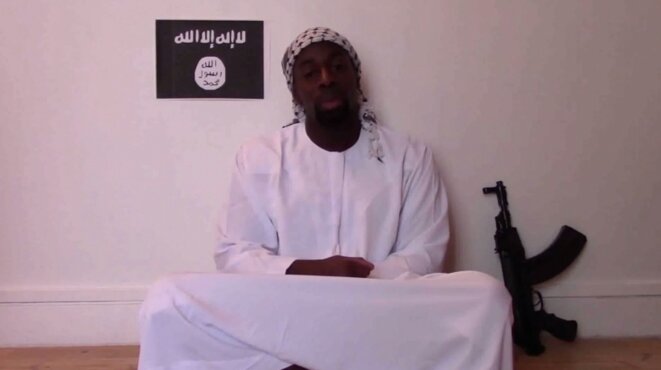 Vidéo posthume d'Amedy Coulibaly revendiquant son attaque. © DR
During the Paris terrorist attacks in January, four customers taken hostage in a kosher supermarket were shot dead, and four others seriously wounded, by a man claiming to have targeted the Jewish store in the name of Islamic State. The gunman, Amedy Coulibaly, was subsequently killed by police when they stormed the store. Mediapart can reveal that the automatic weapons found by his body were identified by Slovak police as having been bought late last year by a Lille-based dealer in decommissioned military arms, but who has astonishingly never been questioned about his eventual contact with Coulibaly. Karl Laske reports.
In January 2016 the number of regions in France will be reduced from 22 to 13 as part of a major reform of local government. Last week the government announced the names of the capital cities of these larger regions. But as Feriel Alouti reports, the debate over the way this reform was carried out and the likely impact of the changes still continues.
But colleagues of teacher at Muslim faith school at Lille in north France signed a joint communiqué attacking his 'slanderous lies'.
The women, some of whom had been abused as children, were passed around men in hotel rooms, apartments and as 'dessert' at business lunches.
The former IMF boss appeared in court in Lille in northern France on Monday accused of pimping for sex orgies at luxury hotels.
Investigating magistrates say Strauss-Kahn knew he was dealing with prostitutes when taking part in sex parties in Paris, Lille and Washington.