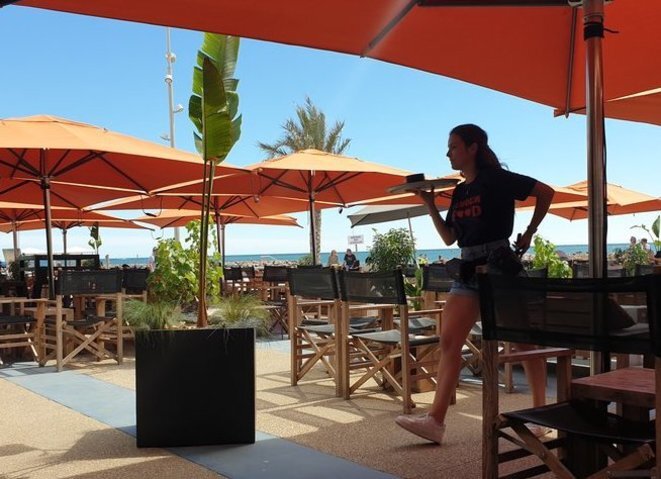 Margot, a waitress at the Café Jules in La Grande-Motte, southern France. © Cécile Hautefeuille
In a gradual lifting of the restrictions introduced to contain the Covid-19 epidemic in France, cafés and restaurants were allowed to re-open in June after a lengthy period of closure. But employers report increasing difficulties in finding staff, many of whom appear to have decided, after months laid off, to quit insecure and demanding jobs in which they complain of being exploited and undervalued. Cécile Hautefeuille reports from the Mediterranean resort of La Grande-Motte.
French health minister says Delta variant only made up between 2 and 4 per cent of confirmed cases in the country.
French statistics agency INSEE revised its GDP reading sharply down from +0.4% to -0.1%, saying data from the construction sector had been much weaker than its earlier figures had suggested.
As of today, groups of up to six people are allowed to eat together at outdoor restaurant terraces and France's nationwide curfew is also being pushed back from 7pm to 9pm.
From Wednesday May 19th non-essential retail outlets will be able to reopen to customers for the first time in six weeks as France gradually winds down its third national lockdown in little more than a year.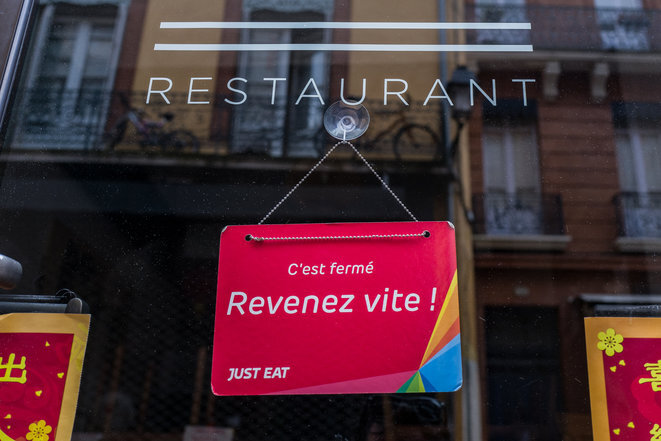 A French restaurant sign announcing "It's closed", "Come back quickly!". © Frédéric Scheiber/Hans Lucas/Hans Lucas via AFP
For a little more than a year now, the succession of on-off lockdowns and restrictions on public and economic activity have severely disrupted the personal and professional lives of many millions in France, notably for those placed on furlough. Mediapart asked readers to provide their personal accounts of the long months deprived of work and largely confined to their homes. Cécile Hautefeuille presents here a selection of the stories that came back; some are sad, some are funny, and nearly all have an underlining theme of a questioning of the sense of their lives and jobs.
France is currently experiencing its third lockdown as the government bets that by sacrificing the Easter holidays it can save the summer vacation period. 
Prosecutors have started an investigation after a television report about secret meals in luxury restaurants in Paris in breach of Covid-19 restrictions - some allegedly attended by French governemnt ministers.
 Finance minister Bruno Le Maire cut the country's 2021 GDP growth forecast to 5% from 6%, following an 8.1% contraction last year.
French president said in TV address that 'we will lose control if we do not move now', adding that France faces a 'race against the clock'.
There has been widespread condemnation by the French government, medical professionals and local politicians after more than 6,000 mostly young people, many unmasked, flouted lockdown measures in Marseille to join an illegal carnival through the streets of the southern port city.
French Prime Minister Jean Castex on Thursday evening annnounced an initial one-month lockdown on public movement in Paris and 15 other regions as of midnight Friday to stem a resurgence of the Covid-19 epidemic that is already challenging hospital capacity.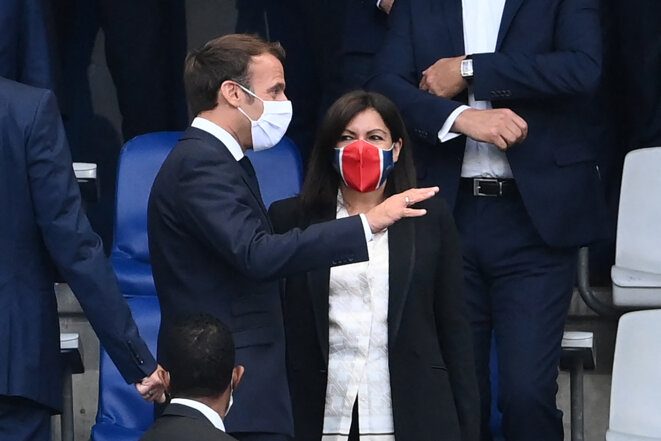 President Emmanuel Macron and Paris mayor Anne Hidalgo on July 24th 2020. © Franck Fife/AFP
The city authorities in Paris, led by mayor Anne Hidalgo, have suggested that the French capital and surrounding region be put under a new lockdown to tackle the worsening Covid-19 virus situation there. This has piled pressure on President Emmanuel Macron who has been described by some as the country's "epidemiologist-in-chief" and who has so far resisted growing calls for a lockdown not just in the capital but across France. As Ellen Salvi reports, the Paris authorities are effectively asking a question that the head of state's supporters are refusing to countenance: what if the French president has got it wrong?
In face of a surge in cases of coronavirus infections in south-east France, which are well above the national average, parts of the French Riviera, including the city of Nice and the town of Cannes, are to be subject to weekend lockdowns at least over the next fortnight,