Related keywords
French president Emmanuel Macron has announced a late night curfew for residents in Paris, Marseille and seven other cities: Grenoble, Lille, Lyon, Montpellier, Rouen, Saint-Etienne and Toulouse, covering 19 million people. The government also moved to reinstate its COVID-19 state of health emergency.
Jean Castex's warning came asFrench  health authorities reported about 43,000 new coronavirus infections over the weekend.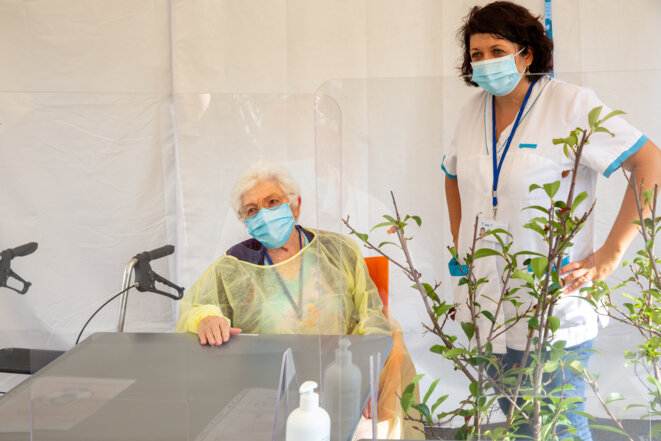 Rules have been put in place to allow visits to take place in care homes, as here in Nice in the south of France. © Hans Lucas via AFP
France's care home sector, which was on the front line of the Covid-19 crisis in the early part of the year, is now bracing itself for the second wave. A number of residential homes are already closed to visitors and in some areas staff have had to stop relatives climbing in through windows to see their loved ones. Amid the fear and anxiety about the rapid return of the Coronavirus, there is also growing bitterness among both care home staff and domestic carers that they have once again been overlooked. Angry representatives point out that their working conditions and pay have not been given the same priority as those of hospital staff. Mathilde Goanec reports.
Gyms and swimming pools will also all be closed for two weeks in a bid to curb the spread of the virus, the city's police chief said, but restaurants will remain open if strict hygiene rules are in place.
The French health ministry on Sunday reported 4,897 new COVID-19 cases over the past 24 hours, which is a jump from Saturday's numbers when 3,602 cases were reported.
French ravers speak of 'resistance' against a crackdown by security forces encouraged by locals to restore order.
Farmers in the French region of Hérault have succeeded in continuing or expanding direct sales to their customers through new channels.
The French president warned of the 'considerable ... collateral damage' of a lockdown, as he held talks with German leader Angela Merkel.
Jobless rate fell to 7.1%, from 7.8% in the first quarter, hitting its lowest level since the second quarter of 1983, when it stood at 7.0%.
Newly appointed French Prime Minister Jean Castex said his government is preparing for a second wave of the Covid-19 epidemic, but ruled out a repeat of the near-total lockdown on public movement which was applied at a national level between March and May, and instead locking down specific areas of any resurgence, because 'the economic and human consequences from a total lockdown are disastrous'. 
Casinos will  welcome gamblers from Monday while stadiums and racetracks will reopen on July 11, subject to a limit of 5,000 people, the government announced late on Friday.
Three weeks after lifting the total lockdown intoduced in March to contain the Covid-19 virus epidemic, France will as of Tuesday further reduce limits placed on public movement, including a return to unlimited travel around the country, although the partial easing will be more limited in areas where the slowing epidemic is realtively high, including the Paris region.  
Of the 4,600 jobs to go in France, many would be through a voluntary departure plan and a retirement scheme, said Franck Daout of the CFDT trade union.
A ban on travelling more than 100km (60 miles) has also been relaxed, but the bar on gatherings of more than 10 people remains in France.