Related keywords
 Finance minister Bruno Le Maire cut the country's 2021 GDP growth forecast to 5% from 6%, following an 8.1% contraction last year.
French president said in TV address that 'we will lose control if we do not move now', adding that France faces a 'race against the clock'.
There has been widespread condemnation by the French government, medical professionals and local politicians after more than 6,000 mostly young people, many unmasked, flouted lockdown measures in Marseille to join an illegal carnival through the streets of the southern port city.
French Prime Minister Jean Castex on Thursday evening annnounced an initial one-month lockdown on public movement in Paris and 15 other regions as of midnight Friday to stem a resurgence of the Covid-19 epidemic that is already challenging hospital capacity.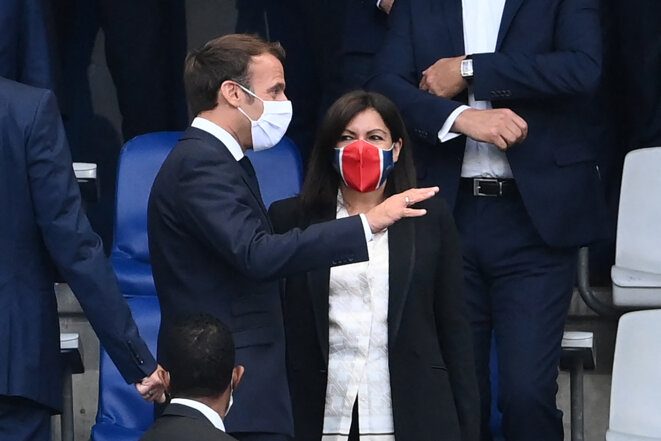 President Emmanuel Macron and Paris mayor Anne Hidalgo on July 24th 2020. © Franck Fife/AFP
The city authorities in Paris, led by mayor Anne Hidalgo, have suggested that the French capital and surrounding region be put under a new lockdown to tackle the worsening Covid-19 virus situation there. This has piled pressure on President Emmanuel Macron who has been described by some as the country's "epidemiologist-in-chief" and who has so far resisted growing calls for a lockdown not just in the capital but across France. As Ellen Salvi reports, the Paris authorities are effectively asking a question that the head of state's supporters are refusing to countenance: what if the French president has got it wrong?
In face of a surge in cases of coronavirus infections in south-east France, which are well above the national average, parts of the French Riviera, including the city of Nice and the town of Cannes, are to be subject to weekend lockdowns at least over the next fortnight,
A senior French epidemiologist and advisor to the French government on management of the Covid-19 pandemic has warned President Emmanuel Macron against further delaying a third public lockdown as the highly transmissible coronavirus variant first recorded in the UK threatens an 'exponential' rise in Covid-19 cases. 
Jean Castex said that the rate of infection had not significantly strengthened over the past two weeks, even if the pressure on French hospitals remained strong.
The Covid death toll was up by 455,and seven-day moving average of daily new cases now stands at 20,515, a high since November 23rd.
One health expert said the new measures - imposed instead of another lockdown and which include closing shopping centres - are 'almost meaningless'.
Move comes as French government concedes that a tougher nightly curfew has largely failed to control the spread of the virus.
Doctors and researchers are raising the alarm as new, more contagious variants of the coronavirus circulate in France and the prime minister has hinted that tougher measures might be needed.
As of Sunday, people arriving in France from EU countries must produce a negative coronavirus PCR test obtained in the previous 72 hours, a measure already imposed on non-EU arrivals, while a growing number of experts advise that the high new rates of Covid-19 infections, hospitalisations and deaths registered in the country require a third lockdown on public movement.
The awards for the 2021 Michelin Guide for France were based on reviews of restaurants that have spent much of the past year completely closed, a director explaining that its anonymous reviews were squeezed into a reduced six-month period between lockdowns.