Related keywords
The French health ministry reported 26,457 new coronavirus infections over the past 24 hours on Wednesday, but the number of persons hospitalised for the disease declined by 183.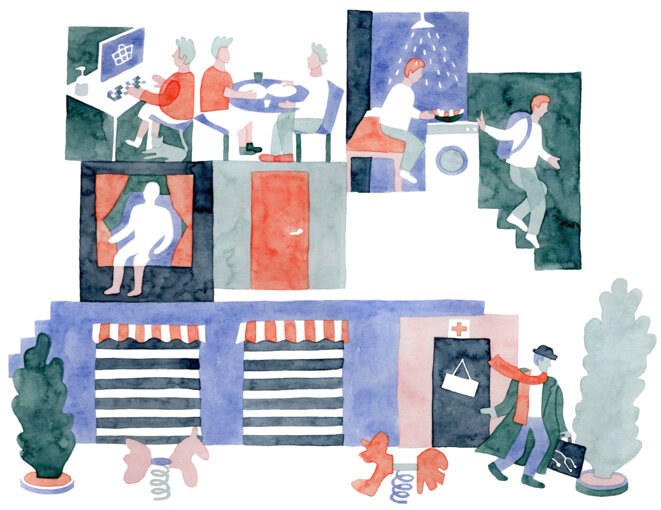 © Fanny Monier
As 2020 draws to a close amid the continuing coronavirus pandemic, Mediapart knocked on the doors of the inhabitants of an apartment block in the town of Meaux, east of Paris, to ask them about their experiences living through a year unlike any other. The lurking threat of the virus was of course a constant angst, but for many, it is the social and economic consequences that have marked them, and which leave them fearful for the future. Mathilde Goanec reports (illustrations by Fanny Monier).  
Health minister Olivier Véran spoke as authorities in France fear arrival of a third wave in the weeks following the Christmas holidays.
PM Jean Castex said that families would be allowed to travel to celebrate Christmas together in France but that museums, theatres and cinemas will remain closed for an extra three weeks as the number of new Covid-19 infections begins to slowly rise again.
One month after the second lockdown was imposed in France to contain the resurge in Covid-19 cases, non-essntial shops and businesses, except bars and restaurants, were allowed to re-open as of Saturday amid a slow but regular fall in recorded deaths and new infections nationwide.    
In a televised speech to the nation on Tuesday evening, French President Emmanuel Macron announced measures to ease the second firm lockdown on public movement introduced at the end of October to attempt to contain a resurgence in the coronavirus epidemic, with shops and entertainment venues to be reopened as of next weekend, but cafés and restaurants will have to wait at least until Januarty 20th before resuming business.
Amazon France and major hypermarket chains have agreed to postpone their yearly "Black Friday" discounted sales to December 4th in face of growing anger from small retailers who have been forced to close under public lockdown rules and who hope to be allowed to reopen next month.
While slight improvements on numbers of Covid-19 virus infections and hospitalisations have begun emerging across France, the government's spokesman on Wednesday said 'we're still far from' lifting the lockdown imposed for a second time at the end of October, dampening hopes of small high-street businesses for a re-opening of trading before Christmas.
Prime minister Jean Castex has said people are not abiding by the rules as strictly as during the first lockdown back in the spring.
France is averaging more than 500 coronavirus deaths a day, though daily new cases have begun to fall in recent days.
While mainland France went into lockdown last Friday in an attempt to stem a new surge of the coronavirus epidemic, its overseas territories, with the exception of the Caribbean island of La Martinique, were exempted. The dire structural economic and social problems many have long been struggling with were exacerbated by the first total lockdown introduced earlier this year. But as the virus rapidly spreads, the overseas territories, with a total population of close to three million, face a dilemma that for many could end in a hammer blow. Julien Sartre reports.
Traffic jams in and around the French capital on Sunday were estimated to stretch to a cumulative total of at least 700 kilometres as residents who could fled the city for a rural environment before new national lockdown measures came into force as of midnight on Thursday.
President Emmanuel Macron has announced a national lockdown on public movement in France beginning on Friday and which will last at least until December 1st, as the country witnesses a sharp rise in Covid-19 infections and deaths.
There were growing calls from French medical professionals and politicians on Monday for the re-introduction of a general lockdown of public movement to combat the soaring numbers of Covid-19 infections across the country, now at more than one million, and which has seen a significant rise in people hospitalised with the disease.