Related keywords
Workers at the Louvre in Paris - the most visited museum in world - voted not to open on Sunday as France reported 100 cases of the Covid-19 disease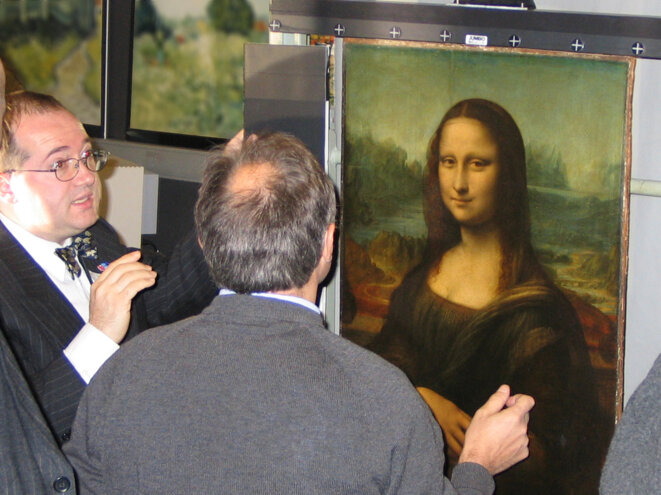 Expert Pascal Cotte during the digitisation project on the 'Mona Lisa' in 2004. © DR
Pascal Cotte, a French scientist who has written several studies and two books on the 'Mona Lisa', and who has digitised several works by Leonardo da Vinci, has accused the Louvre Museum of "parasitism" in relation to his work. Cotte claims that in its major exhibition on the artist, which ends on February 24th, the Paris museum has not credited his discoveries and ground-breaking work on the artist and his most famous painting. Karl Laske reports.
After a court battle in Italy to prevent its transfer, Leonardo da Vinci's celebrated ink drawing work 'The Vitruvian Man', based on the writings of the ancient Roman architect Vitruvius who correlated the measurements and design of the human body into architecture, a loan has finally been approved to the Louvre museum in Paris for a major upcoming exhibition  marking the 500th anniversary of the Italian polymath's death.
Plans to take painting on tour now 'on back burner' after Louvre came up with 'astronomical' figure in transport costs and lost tourist revenue. 
Suspect who shouted 'Allahu Akbar' is said by police to be an Egyptian visitor who arrived in France in January on a visa from Dubai.
Police say the man who was shot and injured had tried to attack a security patrol with a machete shouting "Allahu Akbar".
A French scientist claims that years of high-tech study of Leonardo da Vinci's celebrated portrait has revealed another below it of a different sitter.
In groundbreaking deal, culture minister says France and Holland have each agreed to buy one of two full-length portraits painted in 1634.
Total number of tourists who came in 2014 to admire works of art and antiquities including Da Vinci's Mona Lisa was 9.3 million.
Works by Leonardo da Vinci and Claude Monet will be among those on display at €500m new art museum due to open in December 2015.
Ministers say two-year trial period, which starts in 2015, will 'allow more access to the works' as well as creating jobs and saving money.
Area has become infested with the animals which are often seen scampering across grass just yards from picnicking tourists and Parisians.
Targets revealed in online messages between a 29-year-old French citizen and a 'senior member' of al-Qaeda offshoot group.
Two Parisian restaurants are said to seat guests according to how good-looking they are to raise the tone of the establishments.