French President Emmanuel Macron has told a meeting of MPs from his ruling LREM party that it must shed its middle-class image and adopt a hard line towards illegal immigration which he said was pushing the working class 'who live with it' into the arms of the far-right.
Farmers in south-west France angry at parliament's approval of the 'CETA' EU-Canada trade deal, which they claim will threaten their livelihoods by allowing the importation of agricultural products that do not meet current EU standards, have attacked the offices of MPs from President Emmanuel Macron's LREM party by bricking up one and dumping manure outside another.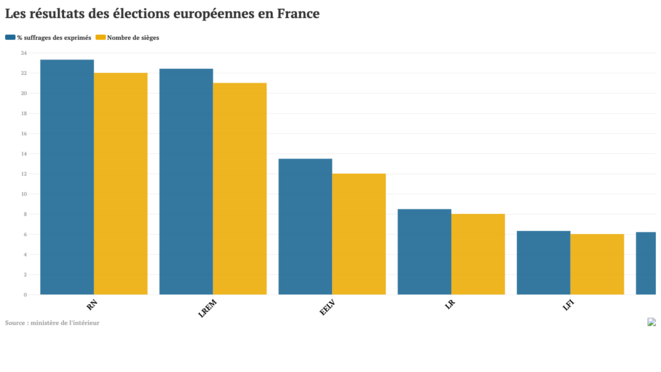 Results of the European Elections in France, in vote share and seats won. © Mediapart
The European Election results in France have confirmed that Marine Le Pen's Rassemblement National – the former Front National – is once again the main opposition in the country to President Emmanuel Macron and his ruling La République en Marche. But outside of that polarised duel the rest of the French political landscape has been shattered,with an abstention rate of 49%. On the Left the environmentalists came top with 13% while on the Right the conservative Les Républicains – the party of former president Nicolas Sarkozy – has collapsed, picking up just 8% of the vote. Stéphane Alliès and Lénaïg Bredoux analyse the results in France.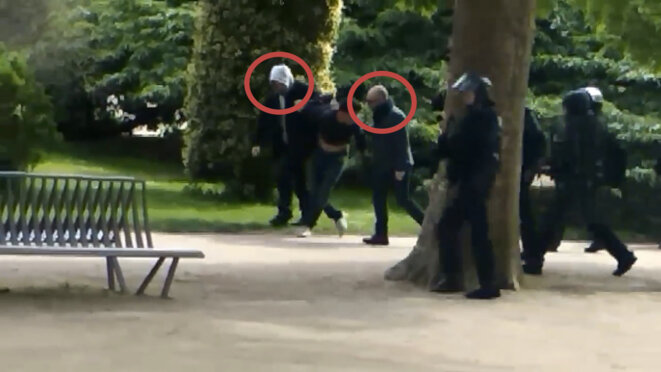 Alexandre Benalla (circled, with white hood) and Vincent Crase (circled right) during the arrest of a man in the Jardin des plantes on May 1st.
French President Emmanuel Macron's security aide Alexandre Benalla, together with an employee of Macron's ruling LREM party, Vincent Crase, were involved on May 1st in other incidents before they assaulted a man among May Day crowds at a square in the Latin Quarter of Paris. In a new video obtained by Mediapart, the two men, officially present alongside police as civilian "observers" of crowd-control operations that day, can be seen heavy-handedly joining in the arrest of a man at a public park. The new evidence of their violent and illegal behaviour that day further deepens the scandal of a suspected cover-up of their actions by the presidential office and senior police hierarchy.
A bill of law on asylum and immigration placed before French parliament's lower house, the National Assembly, by President Emmanuel Macron's government, which includes allowing the children of failed asylum seekers to be detained before being expelled and for people to be prosecuted for helping illegal immigrants enter or stay in France, has prompted the first rebellion among MPs from his his ruling LREM party.
Most of the MPs representing French President Emmanuel Macron's new centrist party LREM are political novices, and a number are complaining of their comparatively reduced salaries and long working hours, prompting the party's parliamentary group leader to tell them to keep their "useless babble" and "qualms" to themselves. 
Christophe Castaner, 51, who last year swapped political allegiance to join Emmanuel Macron's centrist bid for the French presidency has been appointed as head of the latter's fledgling political party in a move driven by the president and which has been criticised as ignoring traditional democratic party practices.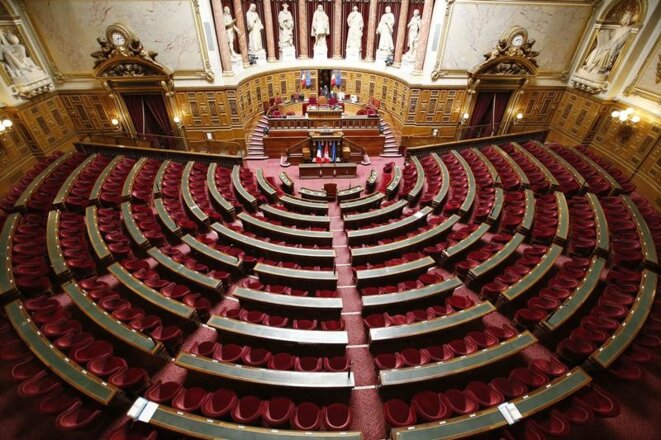 The chamber of the French Senate. © Reuters
The events of last weekend have been revealing about the state of French politics and the balance of political power. The elections for the Senate, in which the Right consolidated its position in France's upper chamber, showed the limits and weakness of President Emmanuel Macron's government. At the same time the relatively modest turnout for a protest march in Paris organised by the radical left La France Insoumise highlighted the lack of major political opposition. But as Hubert Huertas says, this does not mean that opposition to the government's measures has melted away.
When the MPs who make up President Emmanuel Macron's ruling majority got their first taste of Parliamentary life this summer it was widely agreed that the representatives, many of them novices in politics, had not performed brilliantly. Now, just days before the next Parliamentary session opens, the La République en Marche (LREM) MPs have gone on a two-day "seminar" in a bid to give them an insight into how they should work both in the National Assembly and their constituencies. But as Christophe Gueugneau and Ellen Salvi report, the event was not an unqualified success, partly due to the lack of a common ideology to bind them together.

Mj'id El Guerrab from Macron's LREM party reportedly hit socialist Boris Faure with his motorcycle helmet after altercation in Paris street.

Facing problems: President Emmanuel Macron.
The first series of the Macron show has come to an end. Now, as the political world returns after the summer break, the show threatens to become more of a (grim) reality TV series. President Macron is confronted by three main issues: his economic policy is right-wing, many of his key measures are unpopular and he lacks heavyweight communicators in his party's ranks. As a result the new head of state seems set to change his communication strategy and get more involved in the fray. Mediapart's editor François Bonnet reports.