Related keywords
Alexandre Benalla (left) with President Emmanuel Macron in April 2018. © CHARLY TRIBALLEAU / AFP
A key witness in a judicial investigation into the disappearance of a safe belonging to President Emmanuel Macron's disgraced former security aide Alexandre Benalla has this week given a statement to police that he saw two Élysée Palace staff in possession of the safe, together with Benalla, hours after the latter was forced into hiding in July 2018, Mediapart can reveal. The witness said he was told that the contents of another safe in Benalla's Élysée office and emptied at around the same time contained "sensitive" information relating to both Macron's election campaign and personal matters. Fabrice Arfi, Antton Rouget and Marine Turchi report.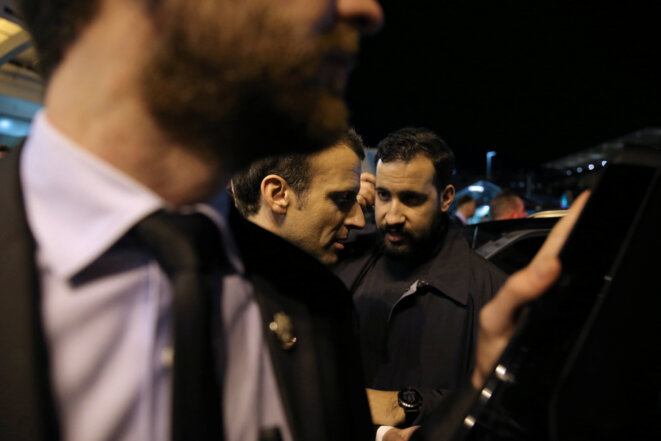 Emmanuel Macron and Alexandre Benalla. © Reuters
A year and a half after the gun safe owned by Alexandre Benalla went missing, prosecutors in Paris have finally opened a judge-led investigation into the "removal of documents or objects … with the aim of hindering the truth from coming out". With the support of the investigating judge, the probe could also now look into the disappearance of the contents of a second safe. This was the one that President Emmanuel Macron's former security aide used when he worked at the Élysée, before he was eventually sacked after being caught on video beating up a MayDay protestor in 2018. Fabrice Arfi, Antton Rouget and Marine Turchi report on the latest twist in the Benalla affair.