Real Madrid star Cristiano Ronaldo scoring a decisive goal on April 11th that sent his club into the semi-finals of the European Chamions League. © Reuters
Portuguese football star Cristiano Ronaldo, currently under investigation in Spain, where he resides, over his alleged wilful evasion of 14.7 million euros in tax payments between 2011 and 2014, created a trust in Jersey in 2015 from which millions of euros were transferred to a subsidiary in Luxembourg and which did not appear in his 2015 tax declaration, according to confidential documents analysed by Mediapart and its partners in the journalistic consortium European Investigative Collaborations (EIC). The trust was abruptly wound down last week, just 24 hours after the EIC contacted the footballer and his agent for comment on the documents.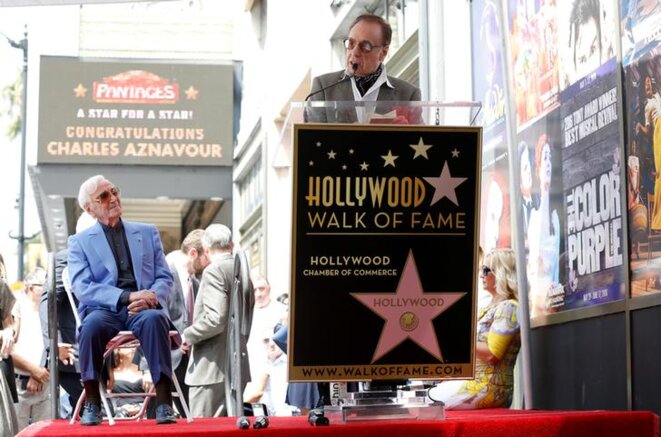 Charles Aznavour in Hollywood on August 24th, 2017, as his star is unveiled on the 'Walk of Fame'. © Reuters
In 2007 the famous French singer Charles Aznavour set up a holding company in Luxembourg to receive the dividends he gets from French companies that handle his royalties. More recently members of his family also became involved in this perfectly legal set-up. The result is that this veteran French entertainer, who is resident in Switzerland, and some of his family now pay little tax in France on the proceeds from his music. Romaric Godin reports.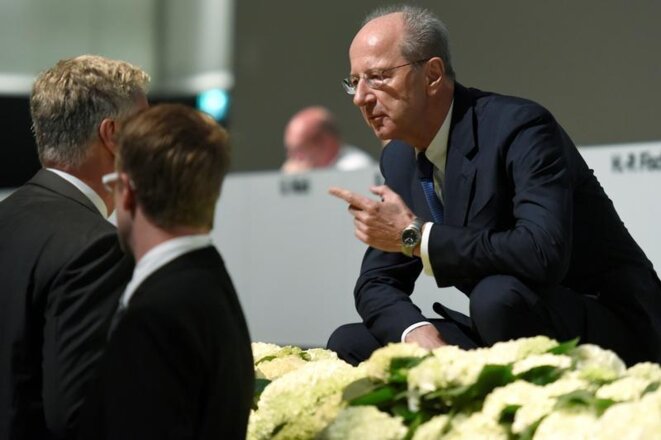 Volkswagen supervisory board chairman Hans Dieter Pötsch. © Reuters
Between 2014 and 2016, German carmaker Volkswagen placed 5.8 billion euros into a financial structure, run by a staff of five, it registered in Luxembourg, and which paid just 1.7 million euros in taxes on the sum. It is one example of an elaborate system of 'tax optimisation' created by the giant group in 2012, despite assurances by its supervisory board chairman, Hans Dieter Pötsch, when he was financial director, that "we have never played such games". Yann Philippin, Martin Hesse, Simon Hage and Blaz Zgaga report.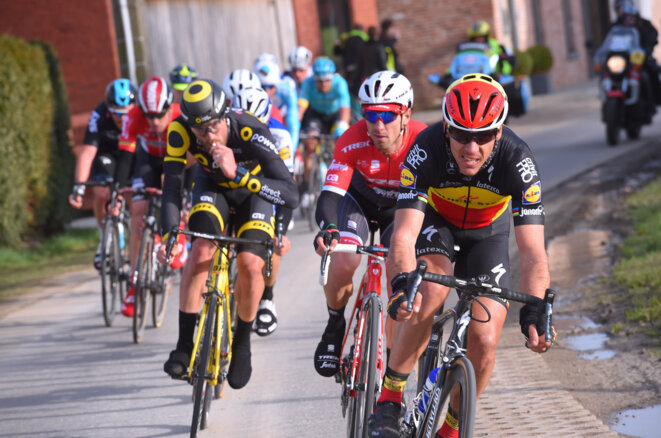 Belgian cyclist Philippe Gilbert, in lead, who had a company based in Luxembourg. © Quick step
As the Tour de France gets underway, Mediapart has examined the way that key figures in the world of cycling minimise their tax payments by putting money earned from image rights into companies based in Cyprus, Switzerland or Luxembourg. Some major names such as the Belgian cyclist Philippe Gilbert and the French star Tony Gallopin have taken advantage of this tax route. Antton Rouget reports.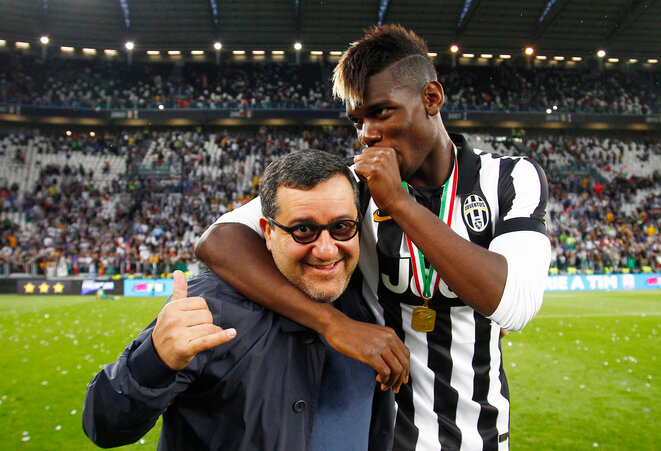 Paul Pogba (right) with his agent Mino Raiola.
Paul Pogba, the world's most expensive football player, has provided rich pickings in commissions for his agents. Beyond the lucrative returns on his transfer fees, the 23-year-old French midfielder's image rights represent a major source of revenue both for the player and his intermediaries. In the space of two years, and amid a bitter dispute between two of his agents, Pogba's image rights have been managed by a company in Luxembourg, subsequently by another in Ireland, and are now held by a shell company in the Channel Island tax haven of Jersey, according to documents obtained by the journalistic collective European Investigative Collaborations, of which Mediapart is a founding member. Yann Philippin, Michaël Hajdenberg and Michel Henry report.
The European Commission said the utility giant, formerly called GDF Suez, may have received significant tax breaks that gave it and unfair advantage over other companies and in breach of EU state aid rules.
Serge Dassault, the head of the aviation and defence group that bears his name, a right-wing senator and France's sixth richest person, is accused of laundering the proceeds of tax fraud and of hiding part of his wealth from Parliamentary authorities. The trial, which started on Monday July 4th, focuses on cash hidden in offshore accounts which was allegedly later used to buy votes in the town near Paris where Dassault was mayor. As Yann Philippin reports, the origins of some of these accounts goes back to the days of Serge Dassault's father Marcel, who founded the aviation group.
Magazine L'Expansion says French demand is for unpaid taxes on profits believed to have been funnelled through Luxembourg and Switzerland.
Luxembourg's PM Xavier Bettel told his visiting French counterpart that a problem at the nearby Cattenom plant could "wipe the duchy off the map".
Edouard Perrin broke story which exposed tax deals that saved some of world's top companies, including Apple and Pepsi, billions of dollars.
Paris, Berlin and Rome want new EU law to ban 'aggressive tax planning' in move seen as an attack on current practices in Luxembourg.
The former Luxembourg prime minister has just been voted by Europe's mainstream right-wing parties to be their lead candidate ahead of May's European elections. Under new EU rules now in place this means the veteran politician could well become the president of the European Commission later this year. But for many observers Jean-Claude Juncker is indelibly linked to a dated vision of Europe that belongs to the last century. And as Dan Israel and Ludovic Lamant report, he is also closely identified with the financial secrecy of his native country.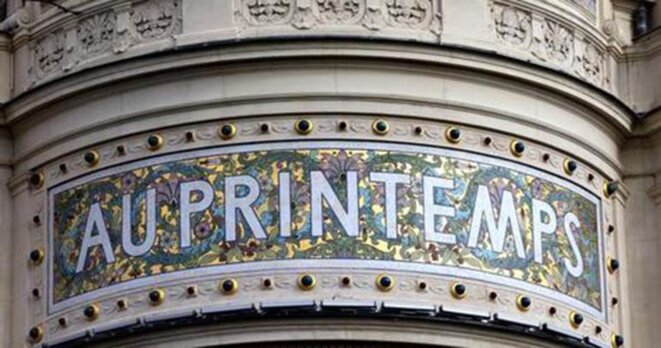 © Reuters
The Printemps department store chain, one of France's oldest and most famous, was last week bought by a Qatari investment fund for a reported 1.75 billion euros after months of secret negotiations with the group's principal shareholders and amid bitter opposition by unions representing its staff of 3,000. France's competition regulator gave the green light despite a preliminary investigation opened in June by the Paris public prosecutor's office into allegations that the transaction process involved fraud, money laundering and tax evasion. In this opinion article, Mediapart economy and finance specialist Martine Orange argues that the deal illustrates the recurrent impotence of  French law, and the unwillingness of government, to effectively rein in the excesses of rich and powerful wheeler-dealers.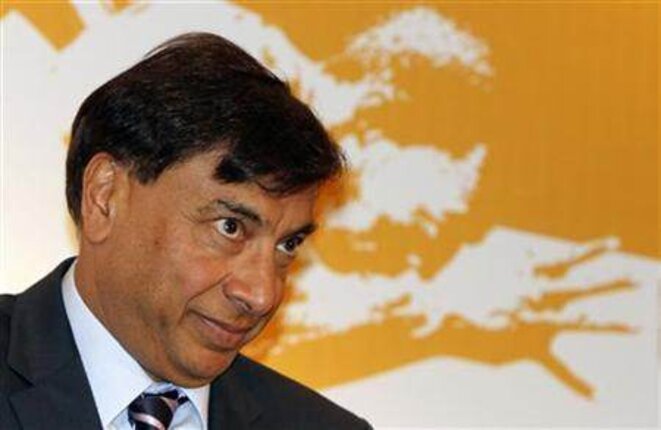 Lakshmi Mittal © Reuters
ArcelorMittal, the world's largest steel producer whose chairman and CEO is London-based Indian tycoon Lakshmi Mittal (pictured), pays hardly any taxes in Europe. Making the most of the tax-break competition between European Union countries, the group juggles transfer pricing and optimal fiscal gains for its financial flow. But behind what may appear to be a common sense business approach that makes the most of what's on offer lies a secretive organisation that prevents any proper scrutiny of the real economic performance of ArcelorMittal's plants or subsidiary companies. In this first of a two-part investigation, Martine Orange traces the steel giant's history and lifts the veil on its hidden practices.