Related keywords
Prosecutors suspect that about €500,000 in public money may have been embezzled to benefit ex-partner of Gérard Collomb, the mayor of Lyon.
The 24-year old man is suspected of being behind last week's bomb blast in the central city of Lyon that injured 13 people.
French police have issued images from CCTV footage of the man thought to have placed and triggered a nail-bomb device on a busy pedestrian street in the south-east city of Lyon on Friday, which wounded 13 passers-by but for which no-one has claimed responsibility.
Eye witnesses reported seeing a man leave a package outside a bakery store on a pedestrian street in the city of Lyon, south-east France, shortly before an explosion that wounded 13 passers-by, including a child.
Protesters express concern over pollution and protected species in construction of huge centre for packing and delivery beside Lyon airport.
Cardinal Philippe Barbarin, the archbishop of Lyon, is to stand trial along with five others over claims they helped cover up abuse in local parish.
The head of the Lyon-based agency, Meng Hongwei, has been reported missing after traveling to his native China last week.
A man was arrested on Monday after driving a Mercedes saloon into a terminal building at the airport serving Lyon, France's second-largest city, and then speeding onto the runway area chased by several police cars and an overhead helicopter before he was wrestled to the ground when attempting to flee on foot.
Thieves stole up to 30m Swiss francs ($32mor £23m) on French-Swiss border after first kidnapping the daughter of a cash van delivery driver.
The giant skeleton of a male, which was discovered in permafrost in Siberia ten years ago and is believed to be the largest in private ownership, was sold at an auction in Lyon. 
Site unearthed on land awaiting construction of housing complex south of Lyon is labelled an 'exceptional find' by culture ministry.
Fans from Corsican side Bastia twice invaded the pitch during the League 1 match against Lyon, when a steward was suspected of joining a group who attacked the visiting players, forcing the match to be delayed and finally abandoned. 
Fighting between fans at the Europa League quarter final tie in France between Lyon and Turkish side Besiktas was marred by ugly scenes of violence between fans both before the game and during it, causing a delay in the match as crowds fled onto the pitch to escape the mayhem in the stands.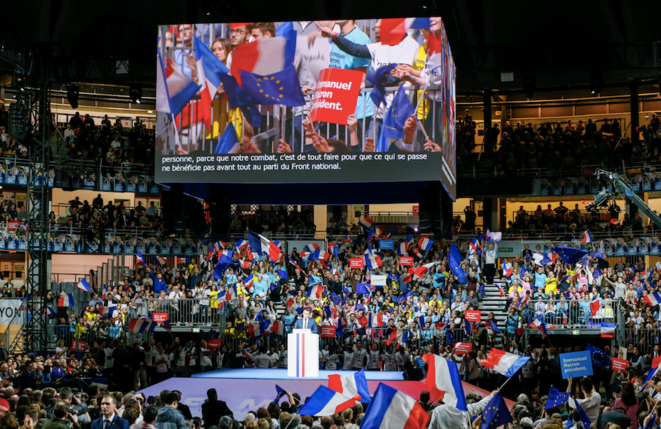 The glitzy Emmanuel Macron rally at Lyon on Saturday February 4th, 2017. © Reuters
With just over 70 days to go before the first round of the French presidential election, former economy minister Emmanuel Macron continues to attract large crowds to his rallies and is doing well in the opinion polls. Yet what does the founder of the 'En Marche!' political movement - who keeps talking about "bringing people together" - actually plan to do if he is elected president? Mathieu Magnaudeix attended Macron's latest gathering but came away little the wiser.