Related keywords
For the third day running, French university students continued to mount protests on Wednesday over poor living conditions, prompted by the self-immolation of a student in Lyon who had cited his financial problems as the reason for his act.
The 22-year-old, studying at university in the south-east city of Lyon, posted a message about his dire financial problems on Facebook shortly before setting himself alight in front of a student canteen when he sustained 90% burns.
Police have arrested one suspect after stabbings in Villeurbanne, near Lyon in eastern France.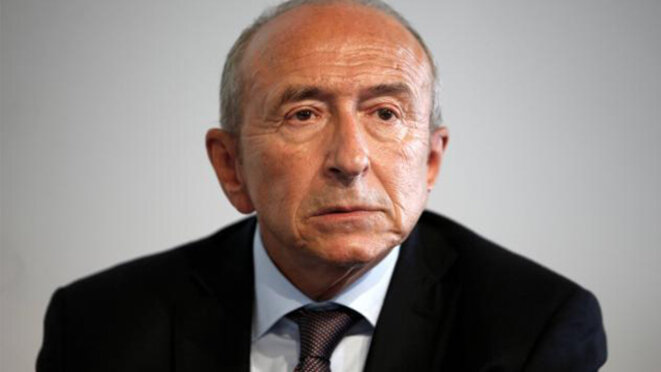 Lyon mayor and former minister of the interior Gérard Collomb. © Reuters
The mayor of France's third largest city Lyon, former interior minister and key ally of President Emmanuel Macron, Gérard Collomb, faces a preliminary investigation for possible "misappropriation of public money" linked to city council jobs held by his former partner. One constant factor in the career of this powerful politician is that Gerard Collomb's partners have always worked close at hand. Nicolas Barriquand and Mathieu Périss from online journal and Mediapart partner Mediacités report.
Prosecutors suspect that about €500,000 in public money may have been embezzled to benefit ex-partner of Gérard Collomb, the mayor of Lyon.
The 24-year old man is suspected of being behind last week's bomb blast in the central city of Lyon that injured 13 people.
French police have issued images from CCTV footage of the man thought to have placed and triggered a nail-bomb device on a busy pedestrian street in the south-east city of Lyon on Friday, which wounded 13 passers-by but for which no-one has claimed responsibility.
Eye witnesses reported seeing a man leave a package outside a bakery store on a pedestrian street in the city of Lyon, south-east France, shortly before an explosion that wounded 13 passers-by, including a child.
Protesters express concern over pollution and protected species in construction of huge centre for packing and delivery beside Lyon airport.
Cardinal Philippe Barbarin, the archbishop of Lyon, is to stand trial along with five others over claims they helped cover up abuse in local parish.
The head of the Lyon-based agency, Meng Hongwei, has been reported missing after traveling to his native China last week.
A man was arrested on Monday after driving a Mercedes saloon into a terminal building at the airport serving Lyon, France's second-largest city, and then speeding onto the runway area chased by several police cars and an overhead helicopter before he was wrestled to the ground when attempting to flee on foot.
Thieves stole up to 30m Swiss francs ($32mor £23m) on French-Swiss border after first kidnapping the daughter of a cash van delivery driver.
The giant skeleton of a male, which was discovered in permafrost in Siberia ten years ago and is believed to be the largest in private ownership, was sold at an auction in Lyon.