Opinion polls see head of far-right National Front topping the first round of presidential election but losing the run-off to mainstream candidate.
Police are hunting four thieves who stole dozens of kilos of gold from an armoured truckon the A6 motorway between Paris and Lyon.
The bones of the 7.5-metre-long allosaurus, a ferocious carnivore which became extinct 135 million years ago, were sold in Lyon to an unnamed French buyer who has pledged to put it on public display in France.
Cardinal Barbarin had been accused of failing to remove a priest when he became aware he had sexually abused young boys 25 years ago.
Cardinal Philippe Barbarin said that the four had been working in the Lyon region while other priests were also the 'object of special measures'.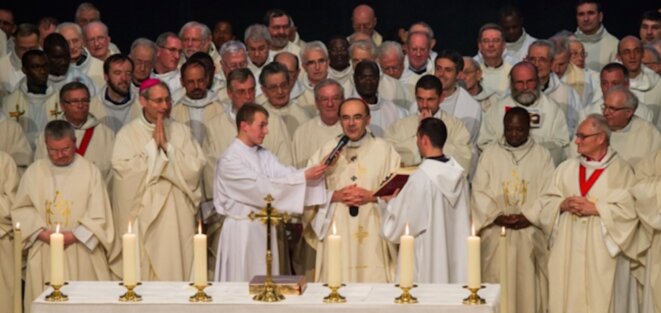 Father Bernard Preynat, on far right in second row, at a church ceremony presided over by Cardinal Barbarin in Lyon in April 2015. © lyon.catholique.fr
The Catholic Church in France has developed a system of quietly moving priests suspected of sex abuse to other areas or jobs, Mediapart can reveal. The method, aimed at avoiding or damping down local scandals without telling the judicial authorities, includes sending the priests concerned on sabbatical leave, to remote rural parishes, to jobs as archivists or as chaplains for the elderly, or in some cases despatching them to far-flung parishes in Africa and Asia. Daphné Gastaldi, Mathieu Martiniere and Mathieu Périsse report.
Almost a third of the 60,000 population of Vénissieux, close to France's second-largest city Lyon, in south-east France, live under the poverty line. Every year, its mayor, Michèle Picard, signs municipal decrees to prevent the ordered evictions of dozens of families from their homes, and the cutting off of water and energy supplies to hundreds of others. The decrees are just as regularly challenged in court by the local state authorities of the prefecture, which habitually find favour from the presiding magistrates. This week Picard was back in court to defend her case, just as a new series of evictions get underway. Michaël Hajdenberg reports.
Cardinal Barbarin made admission after meeting to discuss claims church failed to report several child sexual abuse cases in Lyon area.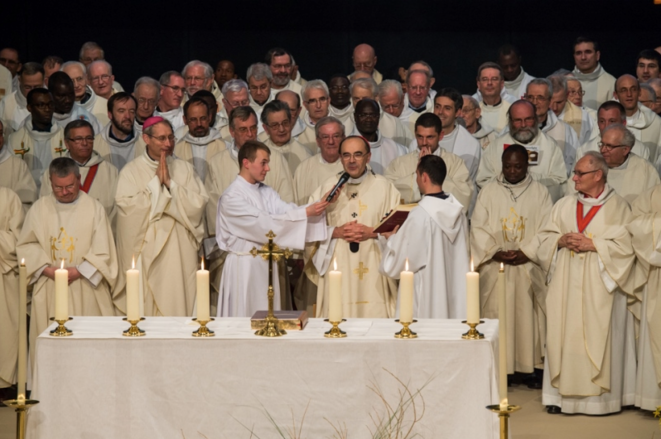 The priest involved in the scandal, Father Bernard Preynat, on far right in second row, at a church ceremony in Lyon in April 2015. © lyon.catholique.fr
In recent weeks a paedophilia scandal has engulfed the diocese of Lyon in eastern France. A Catholic priest is said to have abused dozens of boy scouts who were in his care, while the cardinal at the head of the diocese has been forced to deny covering up the affair. The scandal came to light largely thanks to the work of a group of victims who joined together and set up an association to break the silence surrounding the abuse. In the space of just three months this group has brought to light not just the scandal in Lyon, but has also unearthed other potential affairs. Daphné Gastaldi, Mathieu Martinière and Mathieu Périsse report.
Incident at Marseille-Lyon match, in which fans threw bottles onto pitch, comes less than a year before France hosts Euro 2016 finals.
The socialist president will have to explain why his security services failed to prevent another terror attack in France, argues Politico.
Reports claim that the photograph was then sent to unspecified person now in Syria, where the radical Islamic State group controls territory.
However, Yassin Salhi, 35, a father of three, had not been actively monitored by security officers since 2008 say French authorities.
The FT reports from a neighbourhood in France's second city where poor immigrants and the poor indigenous white working class cohabit.
Passengers on the service from St Pancras International will be able to reach the French Mediterranean port city in just over six hours.