Keyword: Malaysia Airlines
Related keywords
Pictures taken by a French military satellite two weeks after the disappearance of Malaysia Airlines flight MH370 in March 2014 show a cluster of what the Australian Transport Safety Bureau, involved in the search for the Boeing 777, believe are 'probably' man-made objects that could be wreckage from the plane in a part of the Indian Ocean that was not searched.
Paris prosecutor said investigators had linked serial number on flaperon with a number on the Boeing 777 that disappeared in 2014.
Investigators 'know' it comes from a Boeing 777 but they still need to identify a number inside wing part to confirm it is missing jet.
The largely fruitless search of waters off Indian Ocean island began after a wing section apparently from lost plane was found there last month.
Identification of aircraft part found on Réunion island last week could be first clue to fate of missing Malaysia Airlines flight.
French air accident investigators in Toulouse will examine wreckage amid growing speculation it is from the missing Malaysian airliner.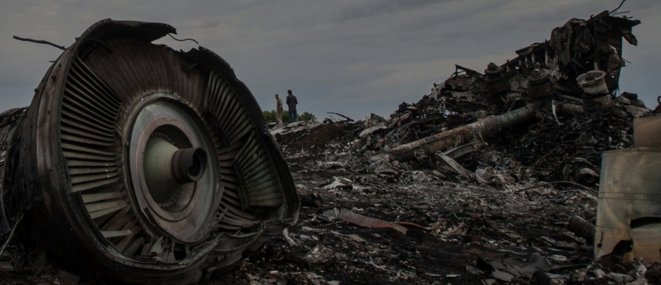 Les débris du vol MH17 le 17 juillet 2014. © CORRECT!V
Mediapart publishes here an in-depth investigation by its German partner site CORRECT!V  which details why the shooting down over eastern Ukraine on July 17th 2014 of Malaysia Airlines flight MH17, killing all 298 people onboard, is a war crime in which the Russian army is, at the very least, implicated. The BUK M1 surface-to-air missile responsible for the destruction of the plane was brought into position by members of the 53rd Russian air defence brigade from Kursk which, in an operation to protect Russian tank units, was operating in disguise on Ukrainian territory. "There is hardly any doubt: a Russian officer gave the command to shoot down MH17," concludes the investigation. But this report also underlines that some of the responsibility for the tragedy is shared by several other parties, notably the Ukrainian government which used civilian flights as human shields for its air attacks on Russian positions.