Related keywords
Facing hostility in five former colonies over a stalled fight against extremists, President Macron has taken a harsh public stance but few expect him to follow through.
France's military command has announced the first drone strike carried out by its forces, which ocurred during counter-jihadist operations in Mali at the weekend, just two days after testing had finished on the remotely-piloted Reapers for armed operations.
French President Emmanuel Macron, visiting Ivory Coast, said French troops killed 33 jihadists early Saturday in an operation in Mali's Mopti region, when one person was taken prisoner and two Malian gendarmes held hostage were freed.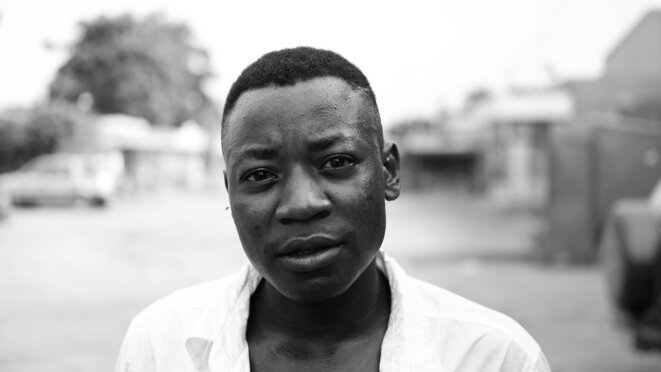 Mohamed, originally from the north of Burkina Faso, wanted to join the army but changed his mind after his family disagreed. © OM
In a country beset with spiralling jihadist violence, young people from Burkina Faso's Fula community are the ideal recruits for armed groups keen to capitalise on the discontent stemming from extreme poverty and the frequent abuses committed by government troops in this part of Africa. And as François Hume and Olivia Macadré report, if they reject the jihadists' call to arms, they are widely seen as guilty by association.
Members of the public joined with military personnel to pay homage in Paris on Monday to 13 French soldiers killed in Mali when their helicopters collided while on a night-time mission to track down Islamist fighters early last week.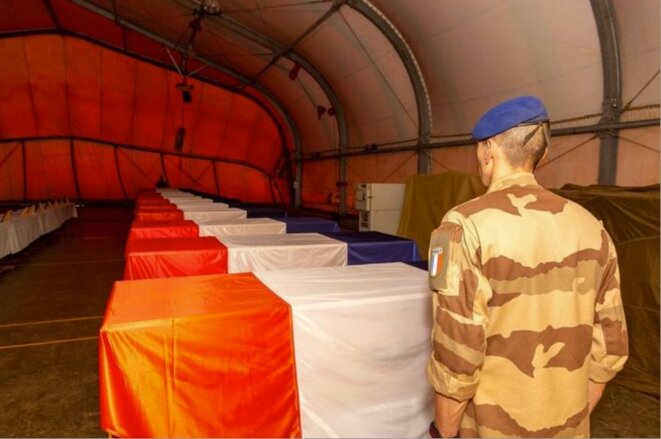 A French soldier at Gao in Mali deep in reflection in front of the coffins of the 13 French troops killed in the country on November 25th 2019. © Reuters
On Monday November 25th 13 members of the French military were killed when two helicopters crashed in Mali during France's ongoing military operations there. The grim news sparked debates back in France about the country's military involvement in the Sahel region of Africa. But as Mediapart's René Backmann writes, the legacy of France's colonial past and the remnants of its post-colonial approach to the continent known as 'Françafrique' suggest that President Emmanuel Macron's government will be unable to see that military combat against jihadism is not the only response that is needed to tackle the region's instability.
Armed forces minister Florence Parly has called on fellow EU governments to despatch special forces to the Sahel, to help curb militant attacks that have killed more than 100 Malian troops in recent weeks.
French president Emmanuel Macron expressed his 'deep sadness' over incident, which is believed to be biggest single loss of life for French military since the 1980s.
French president Emmanuel Macron expressed his 'deep sadness' over incident, which is believed to be biggest single loss of life for French military since the 1980s.
Corporal Ronan Pointeau died near Menaka in eastern Mali after his armoured vehicle was struck by a roadside bomb.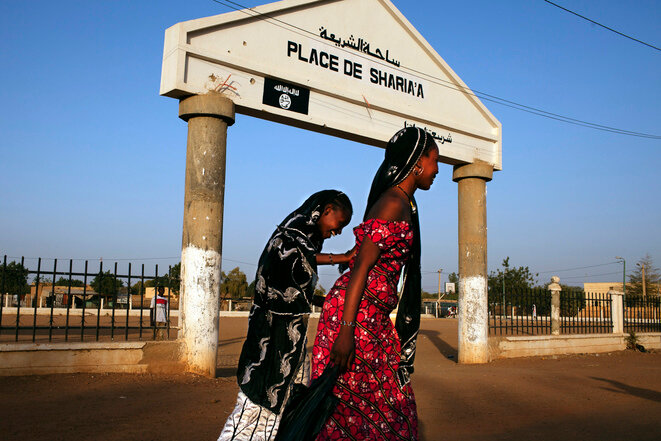 "Sharia Square"in Gao, seen here in February 2013, where the occupying jihadists in 2012 carried out amputations in public. © Reuters
Since France's military intervention in Mali in 2013 put an end to an offensive by Islamic extremists occupying the north of the country, and despite the subsequent UN peacekeeping mission to help stabilize the former French colony, it remains blighted by insecurity. Amid the continuing tensions, the government stands accused of a strategy of clemency towards senior jihadists who led a reign of terror during their occupation of the north. The vast majority of them have been allowed to escape justice, while the few who were placed in jail have been discretely freed, apparently in prisoner exchange deals. Rémi Carayol reports.
During a visit on Sunday to the Mali HQ of French military operations against jihadist insurgents in the Sahel, French Prime Minister Édouard Philippe said 'durable stabilisation' in the region could not be assured without 'the backing of others'.
Authorities in the French city of Bayonne are struggling to cope with the number of migrants coming from across the nearby Spanish border. Mediapart met Joseph and Moriba, 'blood  brothers' who are seeking France's protection after nearly dying at sea crossing to Europe from Morocco. After a legal battle, Joseph has now been recognised as a minor by the French courts while Moriba's request will be heard on appeal shortly. Mathilde Mathieu reports.
French official has already submitted names of individuals to UN Security Council committee set up last year to deal with Mali sanctions.