Related keywords
The explosion came just days after three others died in similar fashion and their deaths bring to 50 the number of French soldiers killed in the West African nation since France first intervened in 2013.
Three French soldiers from the 1st Chasseur regiment were killed on Monday in Mali in the explosion of an improvised device beside their armoured vehicle, bringing the total number of dead among French military personnel since the beginning of anti-jihadist operations in Mali and the Sahel region of west Africa in 2013 to 47.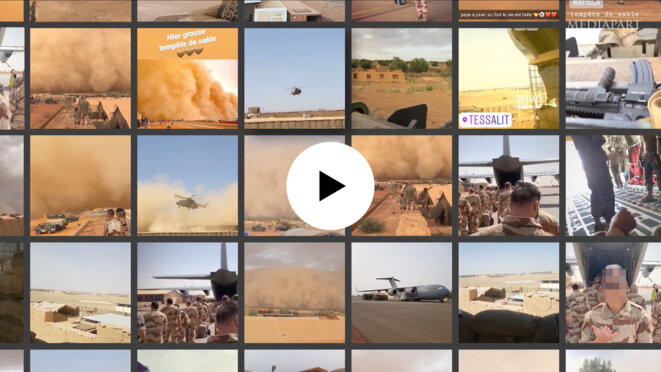 © Mediapart
The French military has banned soldiers from posting sensitive information online. However, via a number of different apps Mediapart has managed to discover the profiles of more than 800 French troops deployed abroad and the profiles of more than 200 special forces soldiers. The military's general staff meanwhile is reluctant to discuss the precise measures that have been taken to contain a problem that could put the security of military personnel and their operations at risk, especially from terrorists who target French troops abroad. Justine Brabant and Sébastien Bourdon report.
France's Barkhane force 'neutralised' Bah ag Moussa on Tuesday in an operation involving ground troops and helicopters, defence minister Parly said in a statement on Friday.
'If you accept what is happening, it will not go too badly. If you resist, you will hurt yourself,' Sophie Pétronin said after nearly four years in captivity.
French president Emmanuel Macron welcomed news of Sophie Pétronin's release as well as that of Soumaïla Cissé – a prominent Malian politician who was abducted in Mali on March 25.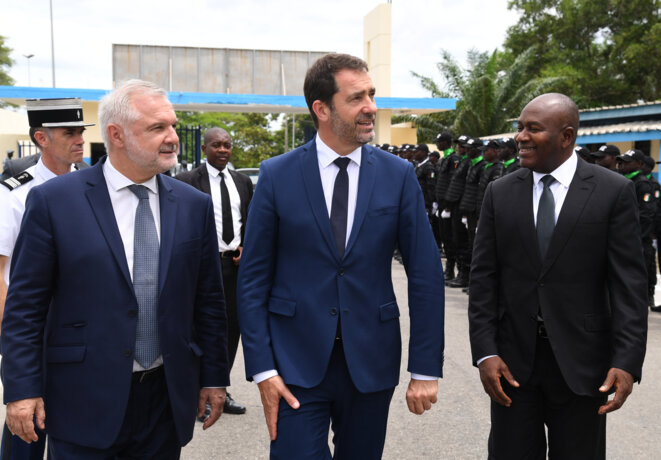 Ambassador Gilles Huberson, left, with the French and Ivory Coast ministers of the interior at Abidjan in May 2019. © ISSOUF SANOGO / AFP
France's Ministry of Foreign Affairs has launched an internal inquiry into Gilles Huberson, ambassador to Ivory Coast, after several women accused him of sexist and sexual violence, Mediapart has learnt. Huberson, who occupies one of France's most prestigious diplomatic postings in Africa, is reported to have returned to Paris, even though Ivory Coast faces an important and potentially tense election in less than two months. Michel Pauron reports.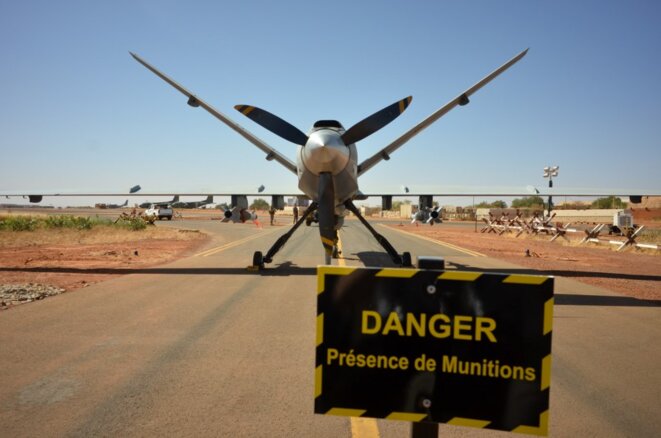 A French Reaper drone parked at its military base in Niamey, Niger, on December 15th 2019. © Daphné Benoit/AFP
Two French soldiers were killed this weekend in Mali when their vehicle was targeted by an improvised explosive device, in what was a grim reminder of the difficulties the French military face in their campaign to defeat jihadist groups in the Sahel region. To strengthen its operations, France has begun deploying, for the first time anywhere, armed drones. But, as Rémi Carayol reports, while these have apparently reduced the capacity of the jihadists to launch mass attacks, the drone strikes have also made civilians fearful for their own safety, with the potential effect of losing support for the military campaign.
Two French soldiers died and a third was wounded after an explosive device was triggered beside their armoured vehicle in the north-east of Mali, bringing the total number of French military personnel killed since anti-terrorist operations in the country and Sahel region began seven years ago to 45.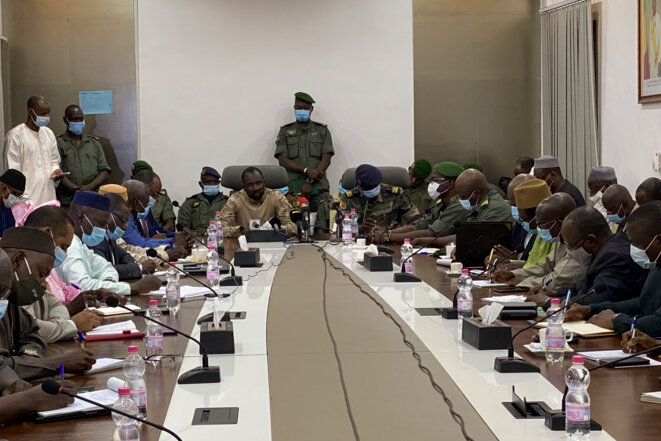 A press conference in Bamako given by the soldiers who took power in Mali, August 19th 2020. © MALIK KONATE / AFP
While the authorities in Paris knew that the position of Mali's president Ibrahim Boubacar Keïta was weak, they were not expecting the military coup that led to his resignation on August 18th. France's recent unyielding stance in negotiations between Mali's government and opposition, and its unflagging support for prime minister Boubou Cissé, are meanwhile now being highlighted as potential causes of the current crisis. Some observers say that without France's 'blind' support for the Malian government the soldiers might not have staged the coup at all. Rémi Carayol reports.
Emmanuel Macron and German Chancellor Angela Merkel also discussed growing tensions in the eastern Mediterranean and the coup in Mali, during talks at the French president's retreat in the south of France.
President Ibrahim Boubacar Keïta announced his resignation on state television late Tuesday, hours after he and prime minister Boubou Cissé were arrested by mutinous soldiers.
Meanwhile West African leaders ended a day-long summit in Bamako without a consensus on how to alleviate Mali's political troubles. 
French defence minister Florence Parly has announced an operation led by French forces this week killed Abdelmalek Droukdel, leader of al-Qaeda in North Africa, and that last month a senior Islamic State group commander in Mali had also been captured.