Related keywords
During a visit on Sunday to the Mali HQ of French military operations against jihadist insurgents in the Sahel, French Prime Minister Édouard Philippe said 'durable stabilisation' in the region could not be assured without 'the backing of others'.
Authorities in the French city of Bayonne are struggling to cope with the number of migrants coming from across the nearby Spanish border. Mediapart met Joseph and Moriba, 'blood  brothers' who are seeking France's protection after nearly dying at sea crossing to Europe from Morocco. After a legal battle, Joseph has now been recognised as a minor by the French courts while Moriba's request will be heard on appeal shortly. Mathilde Mathieu reports.
French official has already submitted names of individuals to UN Security Council committee set up last year to deal with Mali sanctions.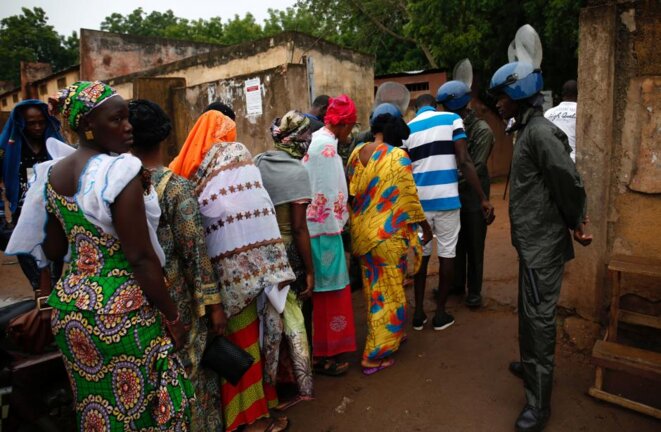 Security checks as voters line up in Mali's capital Bamako on Sunday. © Reuters
The first round of presidential elections was held last Sunday in Mali, the former French colony in West Africa which has become a key centre of the battle, led by France, against jihadist groups operating in the Sahel. Outgoing president Ibrahim Boubacar Keita, 73, hoping for re-election, is roundly attacked by his rivals for having failed to bring security to the country, despite France's military intervention against jihadists in 2013 and the continued presence of thousands of UN peacekeepers. In this analysis of the enduring instability in Mali, Rémi Carayol details how it was fuelled by the toppling of the Gaddafi regime in Libya.
In a rescue captured on video, Mamoudou Gassama scaled a building in Paris to save a four-year-old child hanging from a fourth-floor balcony.
French judge visited Mali to investigate 2013 deaths of Ghislaine Dupont and Claude Verlon but could not visit Kidal, scene of the murders.
The two soldiers, taking part in France's Operation Barkhane in the West African country where it has deployed about 4,000 troops to contain jihadist groups operating in the region, died after their armoured vehicle ran over an explosive device near the town of Gao.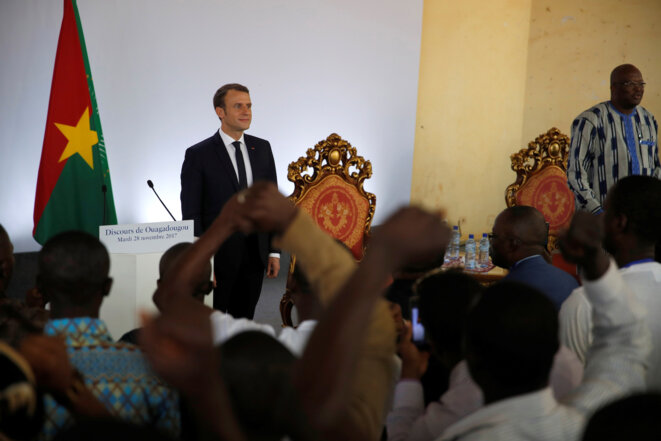 Emmanuel Macron speaking at the University of Ouagadougou in Burkina Faso on Tuesday November 28th, 2017. © Reuters
On his first tour of Africa last week President Emmanuel Macron vowed to do away with France's old and discredited approach to the continent. Addressing 800 students in the Burkina Faso capital of Ouagadougou, the French head of state certainly struck a fresh tone, talked of new projects and themes and signalled the passing of an old generation. But as Mediapart's editor François Bonnet reports, the old and serious problems confronting France in its relations with Africa have not gone away.
A French armly spokesman announced Thursday that a ground and air strike earlier in the week against an al-Qaeda-linked 'armed terrorist group' in northern Mali left 15 jihadists dead, while no French casualties were reported.
Move came as Emmanuel Macron vowed to 'eradicate' kidnappers of French citizen Sophie Pétronin, who has appeared in hostage video.
In a visit lasting just a few hours, President Emmanuel Macron on Friday met some of the 4,000 French troops engaged in Mali to fight jihadist forces in the north and the wider Sahel region, pledge that France will continue to defend the West African country and to provide aide for its development.   

Image from a video in which AQMI claimed responsibility for taking the hostages in Niger.
In November 2013 two journalists from French public broadcaster RFI, Ghislaine Dupont and Claude Verlon, were kidnapped and killed while on assignment in the north of Mali. The exact reasons why the pair were killed have never been clear. Now an investigation suggests the murders may have been a revenge attack after the jihadist kidnappers of four other French hostages had not received all the ransom reportedly paid to secure their release. Yann Philippin reports.
The talks between some 30 African states and France, which are being held in Mali's capital Bamako, will also cover the migrant crisis.
Barring the two people from entry, the government in Bamako said it could not accept anyone who was 'simply assumed to be Malian'.