Related keywords
Some demonstrators waved Russian flags and held banners calling for greater cooperation between Mali and Russia.
The attack occurred in the Kaigourou neighbourhood of Gossi in central Mali injuring several soldiers operating under France's Operation Barkhane in the Sahel.
Dadi Ould Chouaib, also known as Abou Dardar, was arrested on June 11 in the flashpoint "tri-border" region between Niger, Mali and Burkina Faso.
French President Emmanuel Macron has announced that France will reduce the size of its military mission in the West Africa region of the Sahel where it has been engaged since 2013 in operations against jihadist groups.
Emmanuel Macron says that France will withdraw its troops if Mali turns towards radical Islamism.
Foreign minister Jean-Yves Le Drian also says France is seeking an urgent meeting of the UN Security Council to discuss the situation.
Olivier Dubois this month appeared in a video appealing to authorities to do everything they can to free him from the group holding him.
French freelance journalist Olivier Dubois, who disappeared in the northern Mali town of Gao on April 8th, appeared in a video on Wednesday appealing for the authorities to secure his release from captivity at the hands of an al-Qaida-linked jihadist group. 
Agnès Callamard says justice is being denied over killings of Ghislaine Dupont and Claude Verlon in Mali in 2013.
Witnesses to the January attack describe aerial attack on a wedding but French officials claim the gathering was of armed extremists.
Swedish parliament approved the deployment of up to 150 soldiers to the so-called Takuba task force in June last year, with reinforcements of up to 100 others.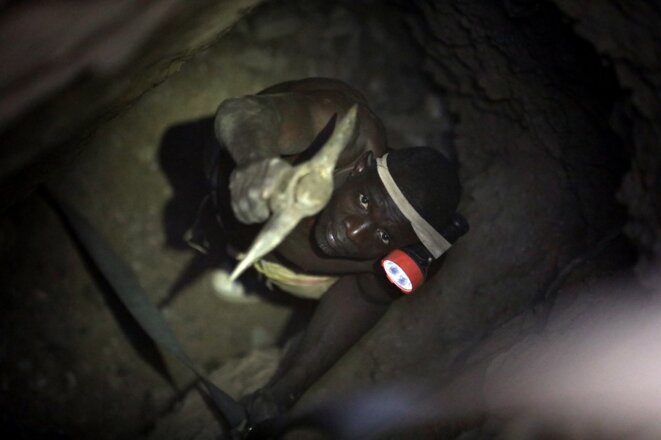 A gold mine in Nigeria in December 2019. © Kola Sulaimon/AFP
Around a quarter of the world's gold production is in Africa and extraction of the precious metal has been been stepped up as its price on world markets has increased. But a significant proportion of this mining is carried out illegally by small-scale miners and much of the gold then finds its way into the hands of criminal and armed groups across the continent before being sold in the Middle East. Fanny Pigeaud reports on attempts to clean up the sector through stronger regulations.
The explosion came just days after three others died in similar fashion and their deaths bring to 50 the number of French soldiers killed in the West African nation since France first intervened in 2013.
Three French soldiers from the 1st Chasseur regiment were killed on Monday in Mali in the explosion of an improvised device beside their armoured vehicle, bringing the total number of dead among French military personnel since the beginning of anti-jihadist operations in Mali and the Sahel region of west Africa in 2013 to 47.