The French defence ministry said a convoy of vehicles was heading north from Gao when a mine exploded under the lead vehicle.
The soldier, a member of a parachute regiment, suffered the injuries in October in the north of Mali when a landmine blew up his vehicle.
French and US special forces helped Malian troops end siege in Bamako in which up to 27 people were killed.
Gunmen shouting 'God is great!' have seized control of Radisson Blu Hotel in capital of Mali where French troops intervened in 2013.
President Hollande greeted visit of Ibrahim Boubacar Keïta by announcing total of 360 million euros in loans and grants to Mali by 2017.
Four UN contractors freed in raid, but Mali's UN peacekeeping operation MINUSMA said 5 people associated with mission had died.
Malian police said among the 20 'presumed jihadists' arrested is a man wanted for an attack in March on a Bamako restaurant that left five dead.
The French army said Mohamed Ali Ag Wadossene, an operations chief for al-Qaeda in the Islamic Maghreb, died in a firefight in northern Mali.
French troops who routed jihadists in Mali in 2013 are now waging attritional campaign against shadowy fighters who use 'hit and run' tactics.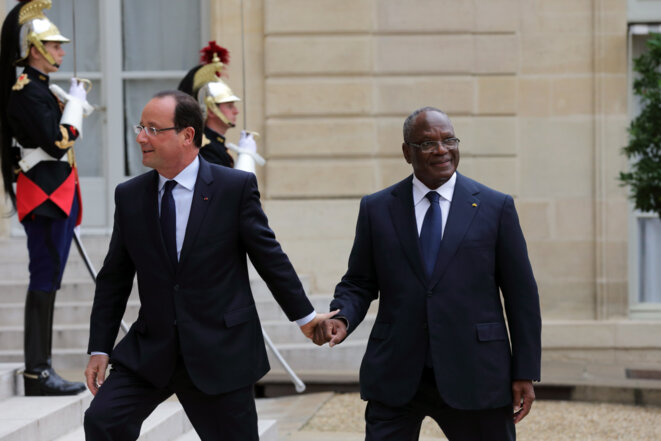 MM. Hollande et Keita, à l'Elysée. © Reuters
The conversations of two African heads of state have been eavesdropped by French police during a major investigation into alleged corruption by a French businessman. The transcripts of the phone-tapped conversations involving Mali's president Ibrahim Boubacar Keita, known as IBK, and Gabon's Ali Bongo reveal a vast system of gifts and favours apparently provided by controversial Corsican businessman Michel Tomi, who has been dubbed the "godfather to the godfathers". As far as the judges investigating the case are concerned, the phone taps reveal corruption. And for French president François Hollande the content of the transcripts involving IBK will come as a devastating and embarrassing diplomatic blow. For much of Hollande's African policy has been based on the symbolic success of his old socialist friend IBK, who was voted in as president of Mali just months after Paris sent in troops to end an Islamic insurgency there. IBK's election was supposed to usher in a fresh start for Mali and a new era of French diplomacy in Africa. That narrative now looks to be in ruins. Fabrice Arfi, Ellen Salvi, Lénaïg Bredoux and Thomas Cantaloube report.
One of the men killed was named as Amada Ag Hama, who has been linked to the murder of two French journalists in 2013.
Gilles Le Guen, arrested in Mali by French troops, is the first to be convicted under a 2012 law allowing prosecution for waging Jihad abroad.
Gilles Le Guen, 60, faces ten years in jail for allegedly collaborating with Al-Qaeda's branch in Mali, where he was captured in 2013.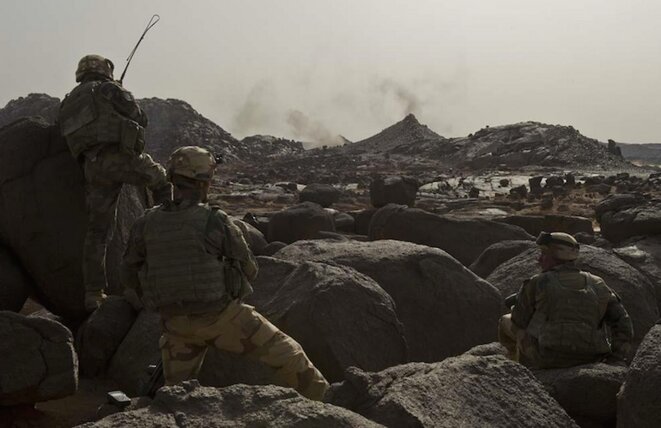 Des soldats français de l'opération Barkhane. © Ministère de la Défense
When French troops intervened in Mali in early 2013 the aim was to shore up a faltering regime and help bring stability and strong government to the former colony. Instead just over two years later the African nation seems on the edge of a political catastrophe. There has been a growing number of attacks and armed clashes in the country and the United Nations mission that replaced the French military operation has suffered heavy casualties. Meanwhile there has been little or no political progress domestically as everyone waits for the signature of a peace agreement which will result in a de facto partition of the country. Thomas Cantaloube reports.
Mali, French and UN troops face attacks similar to those employed by Islamist militant movements Boko Haram in Nigeria and Somalia's al-Shabaab.