Former socialist prime minister of France, Manuel Valls, 55, has told Spanish media that he is mulling becoming a candidate in mayoral elections next year in Barcelona, where he was born, when he would run as representative of Spain's centre-right Ciudadanos party which is opposed to Catalan independence.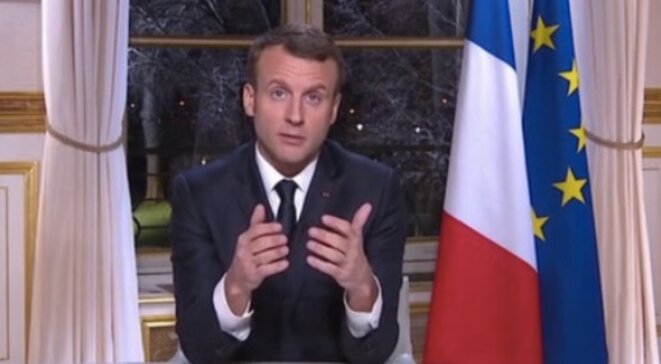 Addressing the nation: Presisdent Emmanuel Macron on December 31st, 2017.
"I did it in 2017....I will do it in 2018". On Sunday December 31st, President Emmanuel Macron delivered his first New Year goodwill message to the French people. Just 12 months ago no one imagined that he would be the occupant of the Élysée. Even last summer, when he had been elected, no one thought he would be in a strong position. Yet here he is, and his political situation looks robust. But it is a little too early for the new president to get out the bunting just yet. For Hubert Huertas argues that President Macron is about to face his biggest political 'opponent' – himself.
The court ordered a convenience store's lease agreement in a town near Paris to be torn up on the grounds that the outlet failed to operate as a general "grocery" shop as agreed. The landlord, a local authority housing agency, says the shopkeeper does not sell pork products or alcohol, though it denies any religious motive behind its court action. The shopkeeper, meanwhile, is set to appeal. Louise Fessard reports on a case that appears to be the first of its kind in France.
That is the question we ask ourselves after these dizzy recent weeks of a political and media cabal against us, writes Mediapart publishing editor Edwy Plenel in this op-ed article, in which he offers an answer and responds to the extraordinary call by former French prime minister Manuel Valls that Mediapart be "removed from public debate."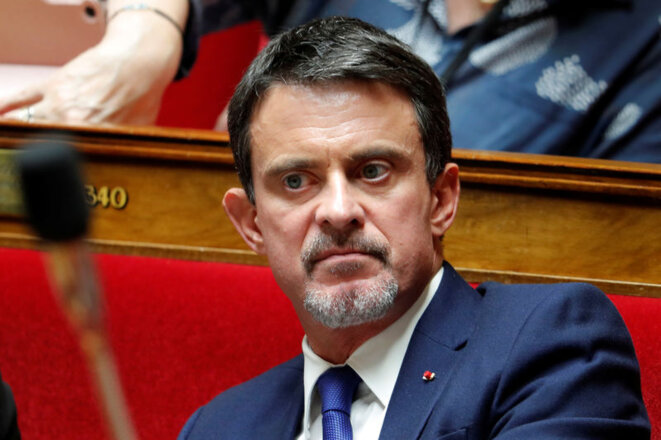 Leading the charge: former premier Manuel Valls. © Reuters
In recent days Mediapart has been burnt at the metaphorical stake for having supposed "complicity" with the Muslim intellectual and Oxford University professor Tariq Ramadan. Worst still, it has been hinted that this site may have deliberately ignored the actions of a man who today stands accused of rape and sexual assault, claims he denies. This ignominious Donald Trump-style campaign, led by former prime minister Manuel Valls, is part of a wider political movement which brings together elements of the Left who were destroyed at recent elections and the nationalist Right. Mediapart's editor François Bonnet responds to the claims.
A source close to Manuel Valls said that the former premier would now be allied to President Emmanuel Macron's centrist group.
France's former socialist prime minister Manuel Valls has announced he is seeking nomination to stand as a parliamentary election candidate for the movement created by centrist president-elect Emmanuel Macron, with whom he had a strained relationship when Macron served as his economy minister.
Announcement of support for independent candidate regarded by many in Socialist Party as a betrayal and new low in scandal-hit campaign.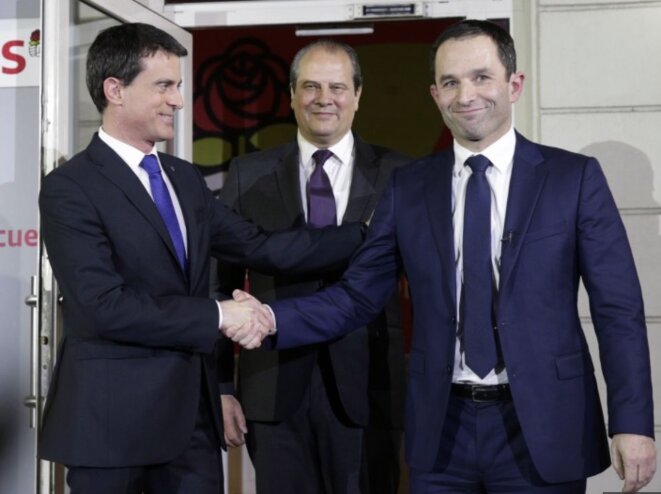 Manuel Valls (left) congratulates Benoît Hamon after the latter's victory in the January socialist primaries.
Former prime minister Manuel Valls, who resigned last December to run in the Socialist Party's primary to choose its presidential candidate, has controversially refused to support the election campaign his leftist rival who won the contest, Benoît Hamon. But he has also refrained from backing maverick centrist candidate Emmanuel Macron, whose ideas are closer to his own. Mediapart political commentator Hubert Huertas argues here why Valls, whose ambition was to transform the French Socialist Party into something resembling the New Labour of Tony Blair, has ended up in a political dead end and left behind him a party in tatters.
Former prime minister Manuel Valls has refused to publicly back Benoît Hamon, the French Socialist Party's presidential candidate who beat him in party primary elections earlier this year with a markedly a leftwing programme in contrast to that of Valls.
The list of victims of the recent presidential primary elections held by the Left and Right in France is remarkable. Two presidents, two prime ministers and a number of senior former ministers have been rejected after rebellious voters gave their verdicts. The primary process - which ended on Sunday with the unlikely election of Benoît Hamon as the official socialist candidate for the presidential contest – has proved something of an earthquake for the French political establishment, writes Hubert Huertas.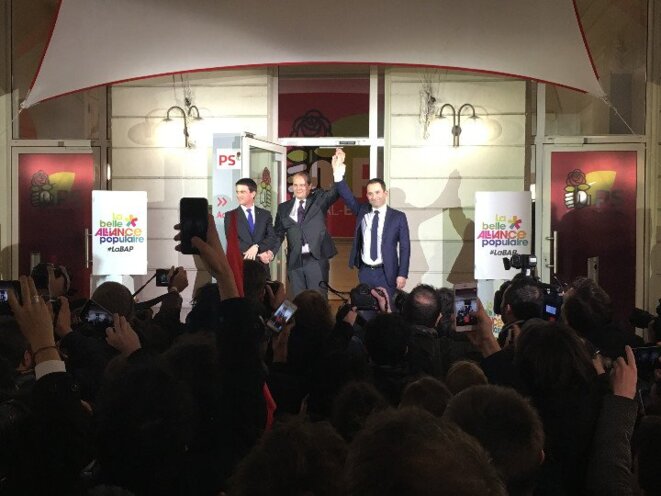 Benoît Hamon (right) with Socialist Party leader Jean-Christophe Cambadélis (centre) and Manuel Valls. © Christophe Gueugneau
Benoît Hamon, the leftist candidate bidding for the Socialist Party's nomination to run in France's presidential elections this spring, has won a resounding victory over his rival, the former prime minister Manuel Valls, in the final round of the primary contest on Sunday. Hamon, 49, who represents a clear break with the policies of the current socialist government and President François Hollande, will run on a manifesto that eats into that of the radical-left, with significant consequences for the spread of the vote in the presidential election, and also on the future cohesion of France's beleaguered Socialist Party. Follow the results and reactions as they happened throughout the evening in this live report.

Manuel Valls (left) and Benoît Hamon. © Reuters
The first round of the French Socialist Party's primaries to choose its candidate for this spring's presidential  elections saw leftist former education minister Benoît Hamon arrive in the lead, followed in second place by Manuel Valls, on the party's Right and who last month resigned as prime minister to take part in the race. Hamon now has a significant chance of winning the second and final round between the two men to be held next Sunday. But whatever the result, the deeply divided Socialist Party faces implosion. Mathieu Magnaudeix and Christophe Gueugneau followed the two camps as the results unfolded during Sunday evening. 
Former education minister Benoît Hamon, who left the socialist government led by prime minister Manuel Valls citing his opposition to its austerity policies, came ahead of Valls in the first of the two-round Socialist Party primaries to choose its candidate for next spring's presidential elections, with a final play-off between the two due in the final round next Sunday.