President François Hollande's socialist government has been at the centre of a political controversy since it announced that convicted dual-national terrorists would be stripped of French nationality. Many of its own supporters on the Left, including senior figures, are bitterly opposed to the idea. Now, as an alternative, some party MPs are suggesting a revival of the old offence of "national unworthiness", which would entail the citizen concerned losing their civil rights and status, and which was last used at the end of World War II. Mathieu Magnaudeix explains.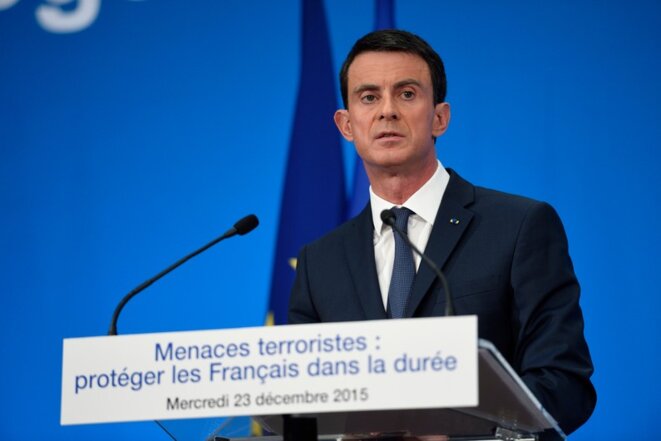 Prime minister Manuel Valls presented the reform on December 23rd, 2015. © Reuters
President François Hollande and Prime Minister Manuel Valls are forging ahead with plans to strip French nationality from anyone with dual nationality who commits terrorist acts against the country. This is despite strong opposition from many on the Left, including senior figures in the ruling Socialist Party. Here Mediapart's editor-in-chief Edwy Plenel argues that in following this path the socialist government is removing traditional political and historical reference points from its supporters. In particular, he says, the authorities have forgotten the warnings set out in philosopher Hannah Arendt's masterpiece 'The Origins of Totalitarianism'.
Some 86% of public back constitutional change to allow French citizenship to be taken from bi-nationals if convicted of terrorist offences.
Manuel Valls said the football star, implicated in an alleged sextape blackmail sting against team-mate Mathieu Valbuena, lacked 'exemplarity'.
Two weeks after the November 13th terror attacks, France's Fifth Republic is gripped by fear, a clamour for war and the spectacle of a government that is out of control. This headlong rush towards security at all costs – including the arrest of climate activists ahead of the Paris climate summit - is storing up new crises for the future. The fact that it is a socialist government that has taken France down this route recalls the bad old days of the discredited Fourth Republic, writes Mediapart editor François Bonnet.
Manuel Valls said stricter controls were not imposed on the EU's external borders, then people would say 'enough of Europe'.
French president's approval rating up by seven to eight points in various polls, while prime minister Manuel Valls also gets popularity boost.
Manuel Valls said the EU needed to 'take responsibility' over border controls or cherished passport-free Schengen zone would be in danger.
French MPs approve prolongation of measure that allows anyone's house to be searched and people to be put under house arrest without trial.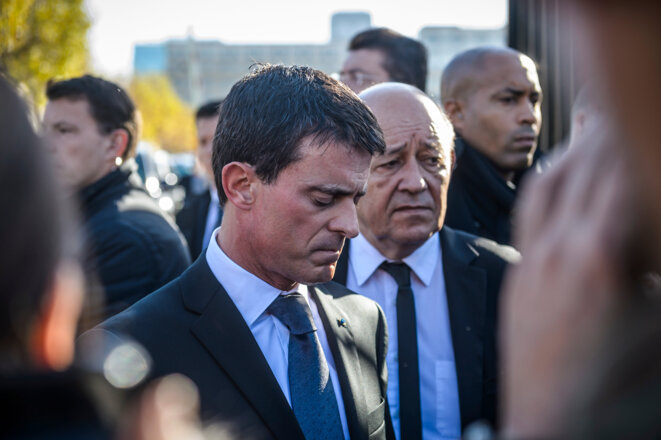 Manuel Valls, le 15 novembre © Reuters
Mediapart can reveal how during the Paris terror attacks on Friday night security service agents hastily removed France's prime minister Manuel Valls from his home which is just 300 metres from the scene of one of the restaurant shootings. At the same time, however, witnesses have complained that it took police around ten minutes to arrive at the scenes of the shootings as the gunmen rapidly made their murderous passage through the capital without once encountering a police unit. Karl Laske and Louise Fessard report.
Warning from Manuel Valls came as French MPs debated extending the state of emergency after the Paris attacks.
Manuel Valls said Friday's shootings were 'planned in Syria' and that Europe should be prepared for a repeat attack in weeks ahead.
No fewer than 18 government ministers turned out in force in one of France's troubled suburbs to show state is on their side after 2005 riots.
Manuel Valls condemned burning of cars and blocking of road as protesters vented anger over refusal to let jailed man attend brother's funeral.
As far-right National Front party surges in polls for December local elections, French politics are relentlessly driven from the Right, argues NYT.