The 'yellow vest' movement of anti-government, ant-elite protests over living standards for low- and middle-income earners held its 23rd day of nationwide demonstrations on Saturday, which passed off peacefully in many towns but was marked in Paris by violent clashes with police, while contested interior ministry estimates said fewer people took part than last weekend.
Rolling anti-government, anti-elite nationwide marches by the so-called 'yellow vest' movement, notably in protesrt iover falling living standards for low- and middle-income earners, continued into a 22nd day of action on Saturday, ahead of a much awaited televised address by President Emmanuel Macron on Monday. 
France's so-called 'yellow vest' demonstrations against falling living standards among low- and middle-income earners, which since its beginnings in November has become a protest movement against the governement and the political elite, again drew tens of thousands of protestors nationwide on Saturday, which the interior mionisrty estimated to number 46,600, an increase on last weekend.
So-called 'red scarves', opponents of the 'yellow vest' demonstrations that have caused havoc in France with two months of protests against falling living standards for the lower paid, held a rally in Paris and other cities on Sunday calling for an end to the continued national disruption by the weekly street protests.
French President Emmanuel Macron is to address the nation next week after a fourth day of nationwide protests by the so-called "yellow vests" movement against the falling living standards of low- and middle-income earners was held on Saturday in Paris and major towns and cities, when the interior ministry said a total of almost 1,400 people were arrested and 118 others injured amid scenes of vandalism and looting by troublemakers who joined the marches.
Marches in Paris and other cities and towns across France in protest at public spending cuts and reform of the welfare system introduced by President Emmanuel Macron's government drew 300,000 according to labour unions, half as much according to the interior ministry. 
The FO union claimed the target figure of one million people turned out in nationwide marches against reform bill aimed at liberalising labour market.
François Hollande and Paris mayor Anne Hildago dedicated a plaque to the 147 people who died at the hands of terrorists in France in 2015.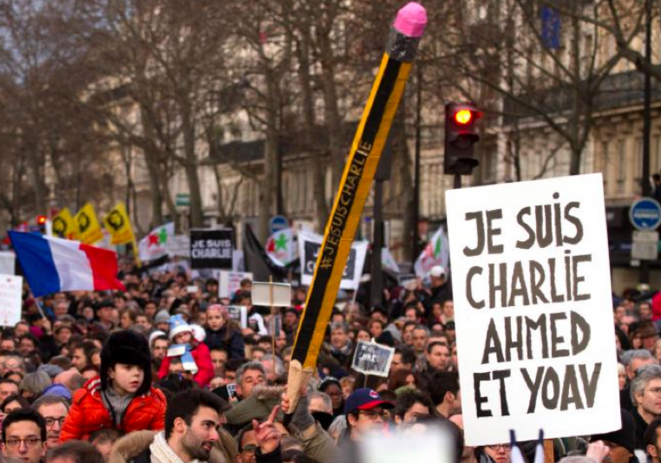 Manifestation du 11 janvier 2015 à Paris. © Thomas Haley
Following the January 2015 terror attacks in and around Paris which left 20 people dead, including the three gunmen, there were huge marches held across France to express public outrage over the events. On Sunday January 11th, an estimated four million people took to the streets of the country's major towns and cities, with an estimated two million in Paris alone. The French government, and in particular Prime Minister Manuel Valls, has since coined the phrase 'the spirit of January 11', using it repeatedly as a rallying call for national unity, notably as it drove through its recent law to introduce mass surveillance powers for the security services. But the recurrent references to what was a remarkable day have now turned sour, amid a heightening debate, as critics on the Right and Left accuse the government of attempting to invent a false conception for cynical political gain. One of them is Christian Salmon, a writer and researcher with the Paris-based Centre for Research in the Arts and Language. In this opinion article he argues that the 'spirit of January 11' has "evolved into a confusing scrum, a macabre dance with a cortege of grimacing masks, heroic posturing and denunciations".
More than three-and-a-half million people took to the streets of France on Sunday. They were the biggest demonstrations seen in the country since the World War II liberation of France in 1944. Those who marched did so with a variety of different hopes but with one single demand: to raise the level of public debate in this country. It is now down to the government to pick up the theme, argues Mediapart's editor François Bonnet, even if, since his election in 2012, President François Hollande, and also his prime minister Manuel Valls, have shown themselves to be deaf to the idea.
The rival marches saw protests at the government's austerity plan, while the far-right held its traditional Paris rally in tribute to Joan of Arc.