Related keywords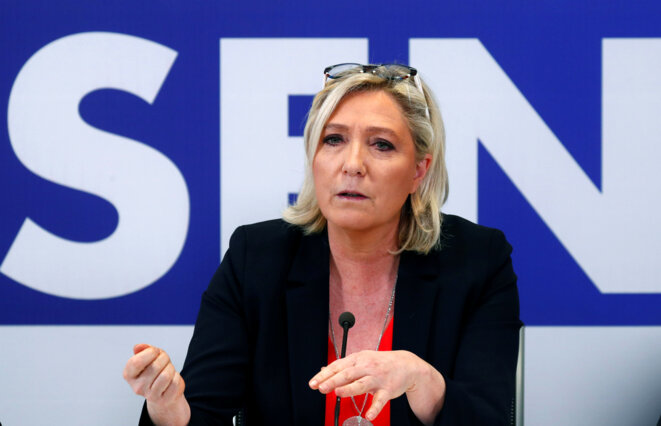 Far-right Rassemblement National party leader Marine Le Pen. © Reuters
To fund its campaign for this month's European Parliament elections, the French far-right Rassemblement National party (the renamed Front National) has raised around 4 million euros through so-called "patriotic" loans from its members and supporters, to who it has promised a 5% interest rate. The party will submit the amounts raised, with interest, in its application for a post-election refund of campaign spending that is granted to parties and paid out of the public purse. The generous interest payments paid to its lending members and supporters will cost the taxpayer around 200,000 euros, and the party says it plans employing the same strategy in future elections. Marine Turchi reports.
Mainstream Left and Right struggle to stay relevant in French politics ahead of European elections, writes veteran commentator John Lichfield.
The leader of the far-right Rassemblement National could face trial for tweeting pictures of atrocities committed by the Islamic State group.
Marine Le Pen, head of the far-right Rassemblement National (National Rally) party, formally the Front National, has refused to submit to court-ordered psychiatric tests in a judicial investigation into her posting of 'violent images' including pictures of the killing of the American reporter James Foley – a few weeks after jihadists killed 130 people in attacks in Paris in November 2015.
In a speech on Sunday to supporters of her Rassemblement National (National Rally) party in the southern French town of Fréjus, far-right leader Marine Le Pen said her party would campaign 'in liaison' with its Europe of Nations and Freedom party allies for next May's European Parliament elections, which President Emmanuel Macron has billed as a battle between anti-immigrant populists like Le Pen and pro-European Union progressives like himself.
French judges have blocked the payment of more than £2 million in state subsidies to the far-Right party, newly named Rassemblement National.
European Parliament's watchdog has said that Le Pen used two legislative aides who were on EU payroll for party's political activity in France.
Marine Le Pen's far-right party is now Rassemblement National or National Rally in bid to broaden appeal ahead of European elections next year.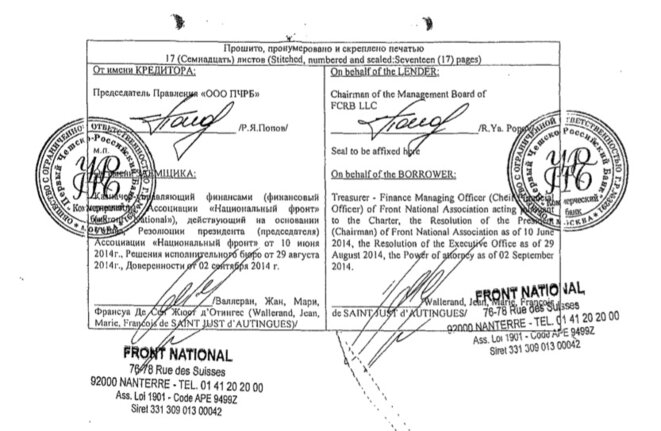 The Russian loan contract signed by the head of the bank Roman Popov and Front National treasurer Wallerand de Saint-Just. © Document Mediapart
Mediapart has obtained a copy of the contract for the 9 million euro loan that a Russian bank gave to France's far-right Front National (FN) in 2014. The document answers some of the questions in this murky affair but many remain. The bank later went bankrupt, its former director is wanted for alleged misappropriation of funds, the FN's loan has been sold on at least twice, and it is still not clear to whom it has to be repaid. Marine Turchi and Agathe Duparc report.
Former Trump adviser addresses Front National as its beleaguered president Marine Le Pen attempts to relaunch her party.
Steve Bannon is surprise guest speaker as Marine Le Pen aims to use conference to resolve rifts amid some questions over her leadership.
Leader Marine Le Pen will unveil a new name for 45-year-old party and a refocus on immigration as it searches for more voters and relevance.
One showed the decapitated body of Islamic State victim James Foley, which the far-right leader later deleted from her Twitter feed.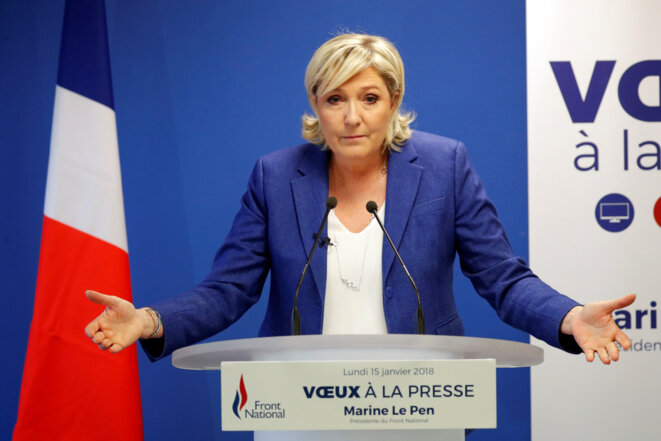 Marine Le Pen during the traditional New Year address to the French press in Paris, January 15th 2017. © Reuters
French far-right Front National party leader Marine Le Pen was once tipped as the likely winner of last year's presidential elections, sending shockwaves across Europe, before she finally lost to Emmanuel Macron. In the build-up of her campaign, and little known to the wider public, her policy programme was developed with the help of senior French civil servants, dubbed by her party as "night-time visitors" and whose names were kept secret. But in this joint investigation, Mediapart and Buzzfeed have obtained access to documents which reveal the true identities of several of them. They are nearly all graduates of France's elite higher education schools and include former members of France's Council of State and the French national audit body, along with a prefect and advisor to the director-general of the French gendarmerie, and a director of a major French construction firm. Marine Turchi and David Dufresne report.