Marine Le Pen, 52, was on Sunday re-elected as leader of the far-right Rassemblement National party, the former Front National, during its congress in the southern town of Perpignan, setting in train her 2022 presidential election bid. 
Rassemblement National fails to win region in south of France stronghold after rivals form 'Republican front'; all French regions are won by incumbents from mainstream Right and Left.; turnout was again very low. 
Marine Le Pen gave a brief speech after her party's poor showing in the regional elections on June 20th 2021. © Hans Lucas via AFP
The first round of France's regional and département or county elections took place on Sunday June 20th and one of the major stories of the day was the record level of abstention, with nearly two out of three voters staying home. A year before the presidential election another key outcome was the poor showing of the far-right Rassemblement National (RN), led by Marine Le Pen, which despite doing well in opinion polls only came top in one region. Elsewhere the biggest winners of the night were the conservative Right, while the vote for the Left and the Greens held up better than many had predicted.  Perhaps the biggest loser of the night was Emmanuel Macron's ruling La République en Marche party which failed even to come second in any region. The second and final round of voting takes place on Sunday June 27th. Mathilde Goanec, Ellen Salvi, Lucie Delaporte, Ilyes Ramdani and Pauline Graulle report.
.
Polling agencies estimate that France's traditional conservative party will win the first round of regional elections, with Marine Le Pen's far-right party performing worse than expected. 
Polls suggest her National Rally party will top Sunday's first-round vote in around six of France's 13 regions this Sunday and is on track to win at least one in the run-off vote next weekend. 
Marine Le Pen, leader of the French far-right Rassemblement National party, the former Front National, has high hopes of making gains in conservative-held regions in elections this month, notably in the south-east Provence region.
Marine Le Pen, leader of the far-right Rassemblement National party (the former front National), has claimed media revelations of a French police report into her party's alleged 6.8-million-euro fraud of the EU in a ficticious jobs scam was a plot against her by President Emmanuel Macron's camp ahead of next year's presidential elections.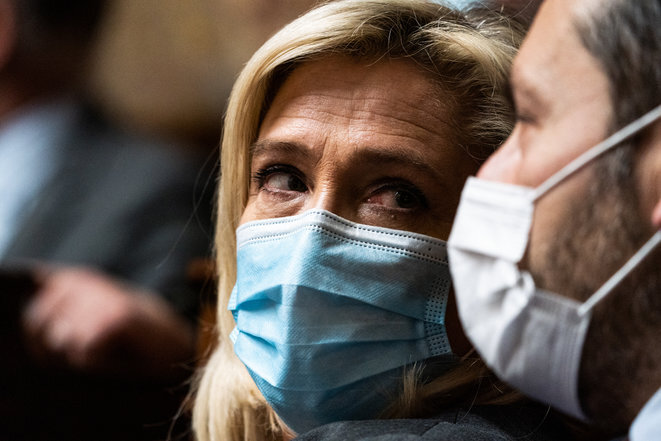 Marine Le Pen in March 2021. © Xose Bouzas / Hans Lucas via AFP
A letter signed by 23 retired French generals, who warn that the military might have to "intervene" in a "civil war" because of a failure by the French state to crack down on "Islamists", has caused a political row. Defence minister Florence Parly has warned of "consequences" for any active soldiers on the list of signatories, which includes scores of other senior ranks. Meanwhile Marine Le Pen, the president of the far-right Rassemblement National (RN) party, has given the retired generals her support. As Lucie Delaporte reports, her backing for such views is a stark reminder of what the RN really stands for, after a decade in which Le Pen has sought to soften the party's image.
Defence minister said there would be 'consequences' over the letter to right-wing magazine Valeurs Actuelles onApril 21st - the 60th anniversary of a failed putsch over Algerian independence.
The text, backed by far-right leader Marine Le Pen, was dismissed by Macron's government as a diatribe from a bunch of military pensioners who "only represent themselves".
The Rassemblement National or National Rally party was fined  €18,750 on Tuesday for misuse of assets during the 2012 parliamentary elections.
Marine Le Pen, the 51-year-old leader of France's far-right Rassemblement National party, the former Front National, and who reached but lost the second-round playoff against Emmanuel Macron in France's 2017 presidential elections, has announced she will stand in the country's next presidential elections due in 2022.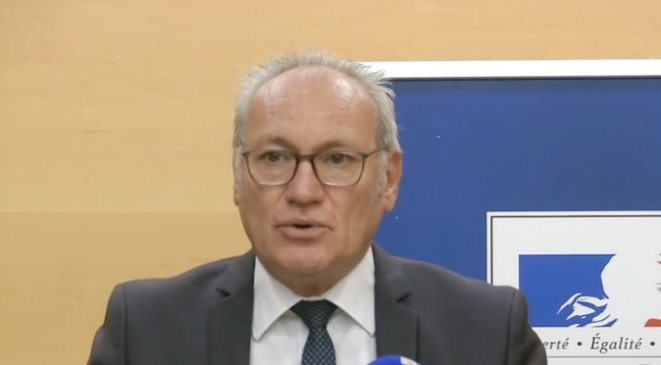 The state prosecutor in Bayonne Marc Mariée.
Claude Sinké, aged 84, a former local election candidate for the far-right Front National – now called Rassemblement National – is in custody for the attack on a mosque in Bayonne in south-west France on October 28th 2019. He told detectives his aim was to "avenge the destruction" of Notre-Dame cathedral in Paris from a fire which he blames on Muslims. Marine Le Pen and the rest of the RN leadership have been quick to distance themselves from their former activist. But Claude Sinké had been adopted as a candidate for the far-right party in 2015 despite posting hate-filled messages on Facebook. Marine Turchi and Matthieu Suc examine the far right party's handling of its supporters and look at the growing threat posed by right-wing extremists in France and across Europe.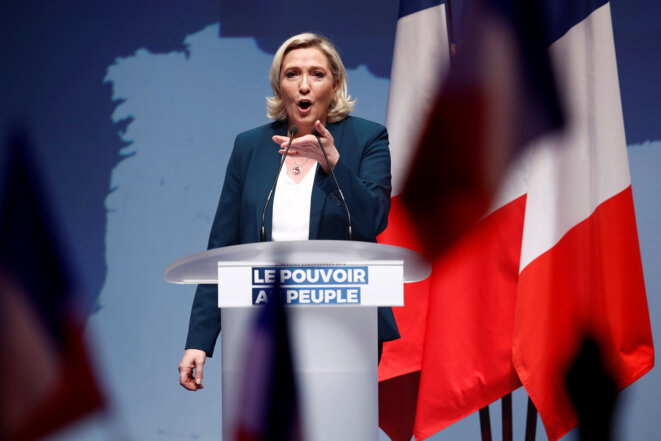 Far-right leader Marine Le Pen in Paris on January 13th 2019. © Reuters
The far-right Rassemblement National – the former Front National – was in serious financial difficulty after the Parliamentary and presidential elections in 2017 and was bailed out by a loan of 8 million euros. That loan, Mediapart can reveal, came from French businessman Laurent Foucher who has a range of commercial interests in Africa and who is close to Nicolas Sarkozy's former right-hand man Claude Guéant. The loan was transferred from a bank in the United Arab Emirates but questions still remain over the precise origin of the money. Karl Laske and Marine Turchi report.