Keyword: Marion Maréchal-Le Pen
Marion Maréchal-Le Pen, 28, granddaughter of the founder of France's far-right party Front National, who is regarded as a potential future leader of the party currently headed by her aunt Marine Le Pen, was invited to the US Conservative Political Action Conference in Maryland where she told the audience that a 'France first' campaign, mirrored on US president Donald Trump's  slogan, is rallied by 'youth ready for this fight in Europe today'.
Marion Maréchal-Le Pen, 27, niece of Front National party leader Marine Le Pen, who is regarded as a future contender for the French far-right leadership despite her recent leave of absence from active politics, and who represents a staunchly Catholic, anti-abortion and anti-Gay marriage stance, is to address take part in the first full day of speeches at the US annual Conservative Political Action Conference, along with Republican lawmakers.
Marion Maréchal-Le Pen, 27, the hardline niece of far-right Front National leader Marine Le Pen and one of the party's two MPs, said she has decided for 'personal and political reasons' to quit active politics in a decision her grandfather Jean-Marie Le Pen described as a 'desertion'.

Scenes from the graphic video showing the attack carried out by members of the French extreme-right group GUD.
The head of the extreme-right French group the Groupe Union Défense or GUD in Paris, Logan Djian, has been placed under formal investigation for "aggravated violence" over the assault of a former head of the same group. Mediapart has obtained copies of nine video clips which show the full savagery of the attack. Mediapart can also reveal that investigators are examining where the 25,000 euros for Dijian's bail came from, amid suspicions that it came from a company set up by a senior figure in Marine Le Pen's far-right Front National. Marine Turchi and Thierry Vincent report.
John McCain's 2008 US presidential election running mate praised French politician for 'unapologetic pro-life' stance and her 'clear voice of courage'.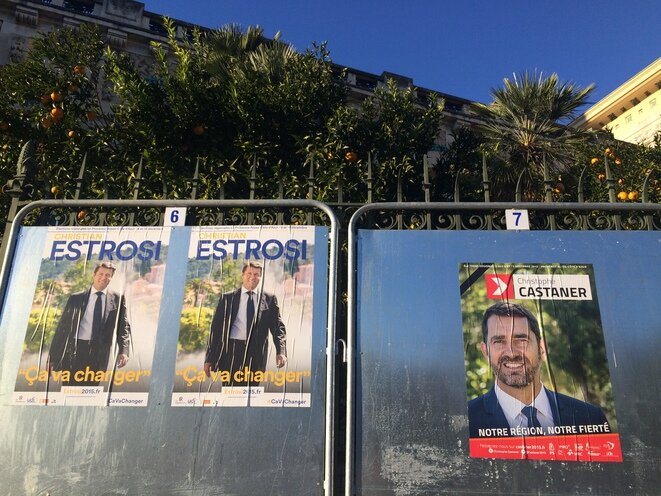 Election billboards in Nice. © ES
France's far-right Front National (FN) party is hoping to take control of the Provence-Alpes-Côte d'Azur region in nationwide regional elections played out today and next Sunday. The council of this south-east corner of France has been run for 17 years by the Socialist Party, which is now predicted to receive a drubbing. The main predicament facing the socialists after the first round is whether or not to withdraw their list of candidates for the benefit of the hard-right conservative candidate to defeat the FN. But, as Ellen Salvi reports from Nice, even collective political suicide may not be enough to stop the increasingly popular far-right.
Front National's Marion Maréchal Le Pen ahead in polls in PACA region in southern France ahead of December's regional elections.