Keyword: Marlène Schiappa
Related keywords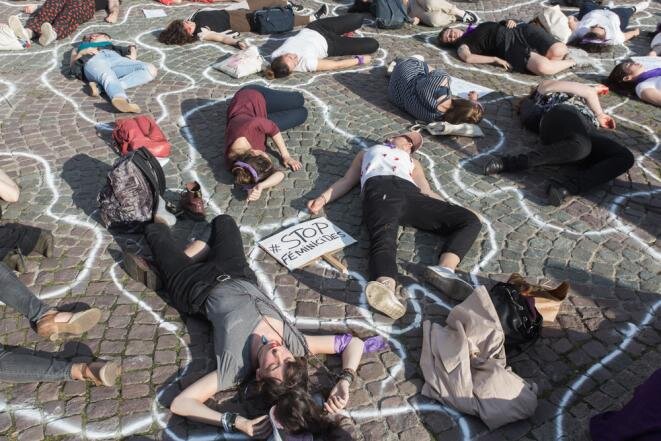 A Paris demonstration by feminist groups to draw attention to domestic violence, June 20th 2019. © Pierre Michel Jean
According to the French interior ministry, 121 women died in 2018 in incidents of domestic violence. Already this year, 92 women in France have been murdered at the hands of their husbands, former spouses or companions, according to records compiled by a French feminist association, while women's support groups denounce inadequate legal protection afforded to domestic violence victims. Sophie Boutboul reports on the emblematic case of a mother-of-two, separated from her former partner against whom she has filed a complaint for violence, and who says she fears so much that she has moved house three times in two years. Despite her detailed complaints, a previous protection order was lifted by a judge last month, along with the secrecy of her home address.      
Data collected by women's advocacy group show 74 women have so far been killed this year by their husband or partner in France.
The 'outrages sexistes' law was passed in August 2018, and allows for on-the-spot fines of up to €750.
Amid the controversy of sex assault allegations against two of her fellow members of government, French gender equality minister Marlène Schiappa tells The New Yorker why she could not remain in a government with a minister placed under investigation for rape, and why she is determined to see through proposed legislation that makes pressing sexual advances in a public place an offence.
Minister Marlene Schiappa says scandal has led women to denounce harassment at work and in public places, not just in the corridors of power. 
Suggested laws would also stop men repeatedly asking for their numbers but lawyers fear the offences could be difficult to prove legally.
French gender equality minister Marlène Schiappa said a bill of law establishing the right for lesbian couples and single women to have access to artificial insemination in France will be put before parliament next year.