The death from a heart attack in Marseille last week of a boy aged nine, who suffered an inflammatory condition with similarities to the blood vessel disorder known as Kawasaki disease, is suspected of having developed the symptoms from Covid-19 virus infection for which he tested positive to, as seen in more than 120 cases of young children in France, but also in other countries,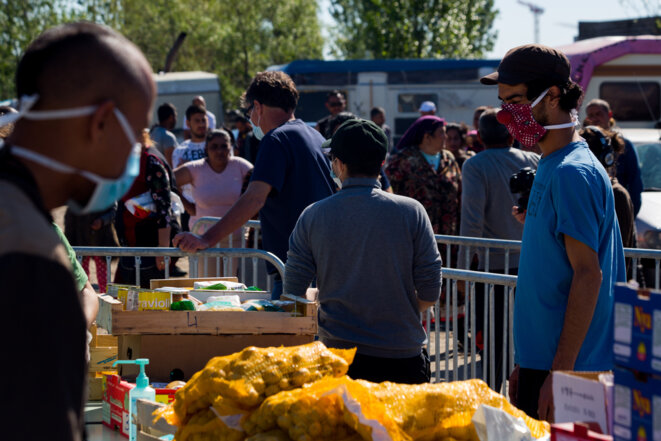 Volunteers hand out food at Bordeaux in south-west France on April 10th 2020. © Hans Lucas via AFP
Families who usually rely on casual work to make ends meet have been unable to earn money since the lockdown began in France on March 17th. As a result their children are starting to go hungry. On May 15th the French state will pay "emergency aid" of an extra 150 euros to families who already receive welfare benefits. But voluntary groups say this is not soon enough and that help is needed now. To fill the gap left by the state, local support groups have meanwhile been springing up across the country, in some cases led by teachers. Faïza Zerouala reports.
A party of seven men and three women of several nationalities who arrived from Britain in a chartered jet at Marseille-Provence airport, where helicopters were waiting to fly them on to a luxury villa in the Rivierra resort of Cannes, were told by airport police they were breaching regulations to contain the Cofid-19 virus epidemic and ordered to return to the UK.
He was president between 2005 and 2009 when Marseille finished second in Ligue 1 twice and reached two French Cup finals.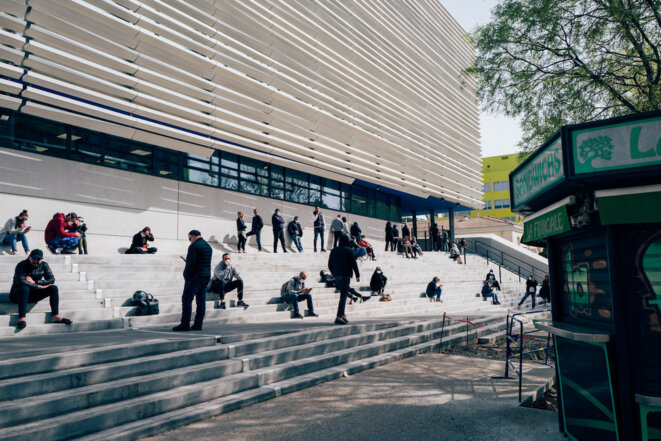 The front of the infectious diseases unit headed by Professor Didier Raoult at the IHU Marseille teaching hospital, March 22nd 2020. © Laurent Le Crabe / Hans Lucas / Hans Lucas via AFP
In China and the United States, as well as France, the drug chloroquine is one of the main focal points in the race to provide an effective treatment for the Covid-19 coronavirus. So far there is still insufficient data to show whether this anti-malaria drug will prove useful in treating people infected with the virus. And a French study praising its benefits has become mired in controversy. Rouguyata Sall reports.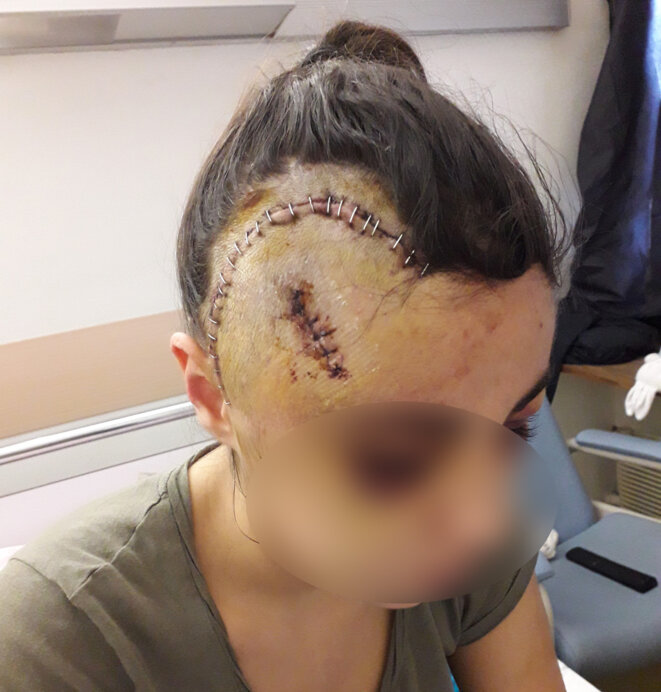 Maria, aged, 19, five days after she was attacked by police officers in Marseille on December 8th 2018. © DR
Earlier this year Mediapart reported how a 19-year-old woman had her skull fractured by police in Marseille, southern France, as she lay on the ground during a day of demonstrations. The same investigation has now revealed the existence of a new hybrid police unit that was created to take on the so-called 'gilets jaunes' or 'yellow vest' protestors in France. These officers were not trained in public order policing yet the initiative was backed by a memo from the Ministry of the Interior and superior officers who considered that in a time of "war" anything and everything is permissible. Pascale Pascariello reports.
Referee stopped Nice-Marseille  game for 10 minutes after banners and chants - incident is latest in a series to have occurred in France.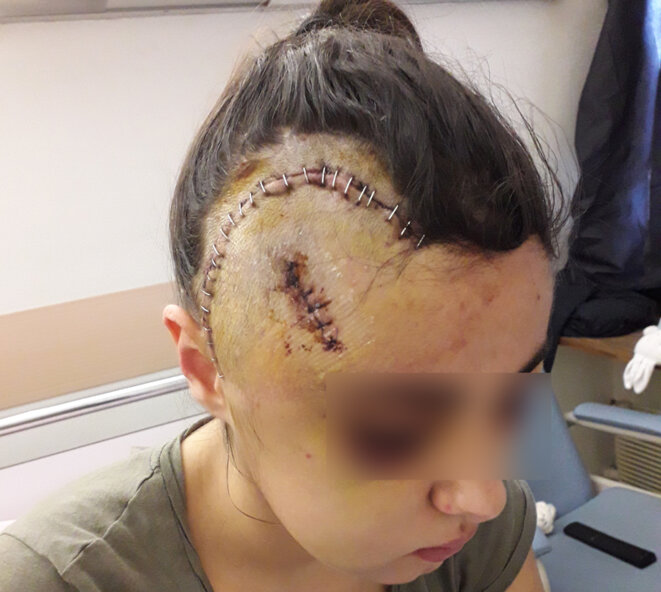 'Maria', aged 19, after her emergency operation following the incident in Marseille. © Mediapart
On Tuesday April 30th 2019, a 19-year-old woman formally lodged a criminal complaint with the Marseilles prosecution services against unnamed persons for attempted murder, aggravated assault and failure to assist a person in danger. This followed an incident on December 8th 2018 when, on the fringes of a demonstration by 'yellow vest' protesters in the southern French port city, 'Maria' – not her real name – was kicked in the head and struck with batons by police officers, according to several witnesses, as she lay injured on the ground. She suffered a skull fracture and brain damage. Pascale Pascariello reports.
The French port city of Marseille which has diverse, low-income, working-class districts in its centre, is facing its biggest crisis in decades as residents fear historical buildings that have turned to slums could crumble and fall, the increasing fears prompted by the deaths of eight people in November when two buildings collapsed near the picturesque old port.
The woman, who lived in an apartment near to where the protests were taking place on Saturday, was hit in the face while closing the shutters.
Rescuers on Thursday resumed a search of rubble in which six corpses have been found after the collapse on Monday of two dilapidated apartment blocks in the southern French port city of Marseille, following an overnight pause to demolish neighbouring buildings that threatened to tumble in turn.
Three people have been found dead in the rubble of two buildings which collapsed in the southern French port city of Marseille on Monday, while emergency services continued to search for possible survivors among up to eight people who are reported missing.
Rescue workers with sniffer dogs were searching for people who may be trapped in the rubble of two neighbouring buildings which collapsed in the port city of Marseille, southern France, on Monday, injuring two passers-by.
Economy minister Bruno Le Maire says France is not ready to allow migrants to disembark at southern port of Marseille.