Marseille mayorsaid seven to eight people had tested positive for the new variant in the city, while tests were underway on 30 others who may also have been exposed to it.
The French government's attempt to contain a significant resurgence of infections of the novel coronavirus, with measures including early closing of bars and restaurants, is facing strong opposition in the southern city of Marseille and its neighbouring region, with local politicians and proprietors warning of a popular revolt.  
New limits on gatherings are being introduced around Marseille and in the south-western city of Bordeaux, two major virus hot sports.
Olympique Marseille earned a 1-0 away win at Ligue 1 champions and arch rivals Paris St Germain, sparking the celebrations on Marseille's Vieux Port.
France has reported more than 2,500 new COVID-19 infections for the second day in a row, levels only last seen since mid-April.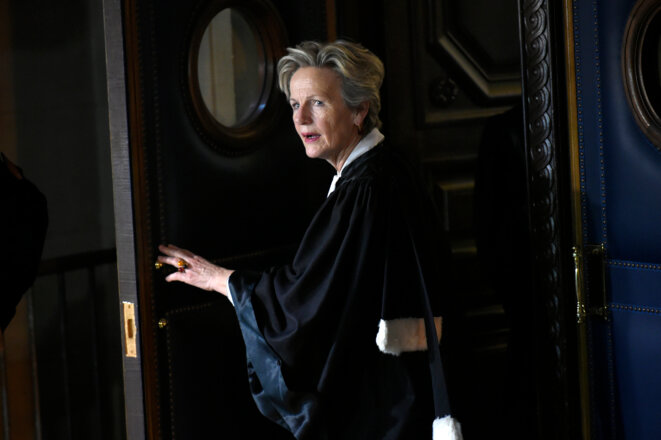 Éliane Houlette, head of the financial crimes prosecution unit the Parquet national financier (PNF) from its creation in 2013 to 2019. © LIONEL BONAVENTURE / AFP
Mediapart can reveal the contents of phone taps and two reports by gendarmes that led to serious questions over the conduct of Éliane Houlette, then head of France's anti-corruption prosecution unit the Parquet National Financier (PNF). Those reports led to the Paris prosecutor calling for a preliminary investigation into allegations of "influence peddling", "collusion" and "breach of confidentiality" concerning Éliane Houlette, who stood down as head of the PNF in June 2019 having been its boss since its creation in 2013. However, though prosecutors eventually opened a preliminary probe in September 2019 for "breach of confidentiality" in an ongoing investigation, progress in this potentially explosive case seems to have ground to a halt. Fabrice Arfi, Yann Philippin and Antton Rouget report.
The death from a heart attack in Marseille last week of a boy aged nine, who suffered an inflammatory condition with similarities to the blood vessel disorder known as Kawasaki disease, is suspected of having developed the symptoms from Covid-19 virus infection for which he tested positive to, as seen in more than 120 cases of young children in France, but also in other countries,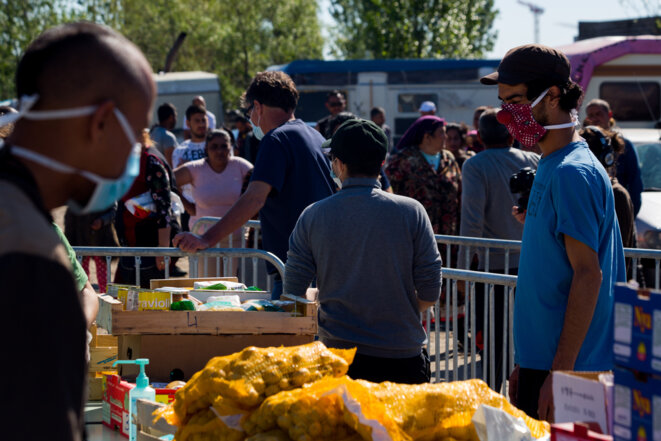 Volunteers hand out food at Bordeaux in south-west France on April 10th 2020. © Hans Lucas via AFP
Families who usually rely on casual work to make ends meet have been unable to earn money since the lockdown began in France on March 17th. As a result their children are starting to go hungry. On May 15th the French state will pay "emergency aid" of an extra 150 euros to families who already receive welfare benefits. But voluntary groups say this is not soon enough and that help is needed now. To fill the gap left by the state, local support groups have meanwhile been springing up across the country, in some cases led by teachers. Faïza Zerouala reports.
A party of seven men and three women of several nationalities who arrived from Britain in a chartered jet at Marseille-Provence airport, where helicopters were waiting to fly them on to a luxury villa in the Rivierra resort of Cannes, were told by airport police they were breaching regulations to contain the Cofid-19 virus epidemic and ordered to return to the UK.
He was president between 2005 and 2009 when Marseille finished second in Ligue 1 twice and reached two French Cup finals.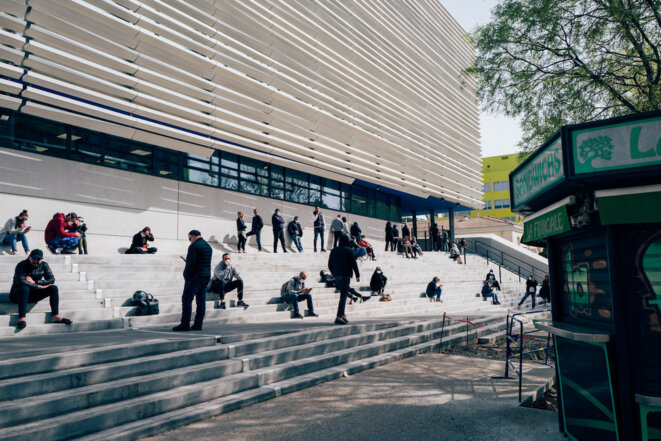 The front of the infectious diseases unit headed by Professor Didier Raoult at the IHU Marseille teaching hospital, March 22nd 2020. © Laurent Le Crabe / Hans Lucas / Hans Lucas via AFP
In China and the United States, as well as France, the drug chloroquine is one of the main focal points in the race to provide an effective treatment for the Covid-19 coronavirus. So far there is still insufficient data to show whether this anti-malaria drug will prove useful in treating people infected with the virus. And a French study praising its benefits has become mired in controversy. Rouguyata Sall reports.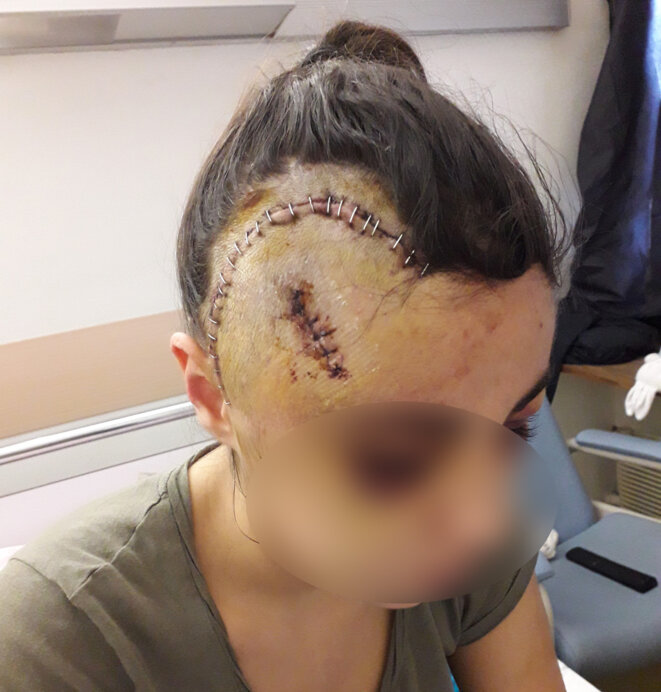 Maria, aged, 19, five days after she was attacked by police officers in Marseille on December 8th 2018. © DR
Earlier this year Mediapart reported how a 19-year-old woman had her skull fractured by police in Marseille, southern France, as she lay on the ground during a day of demonstrations. The same investigation has now revealed the existence of a new hybrid police unit that was created to take on the so-called 'gilets jaunes' or 'yellow vest' protestors in France. These officers were not trained in public order policing yet the initiative was backed by a memo from the Ministry of the Interior and superior officers who considered that in a time of "war" anything and everything is permissible. Pascale Pascariello reports.
Referee stopped Nice-Marseille  game for 10 minutes after banners and chants - incident is latest in a series to have occurred in France.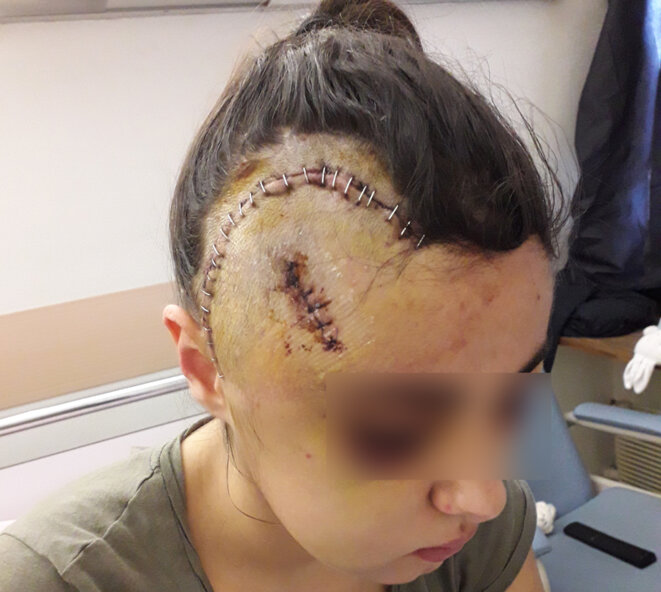 'Maria', aged 19, after her emergency operation following the incident in Marseille. © Mediapart
On Tuesday April 30th 2019, a 19-year-old woman formally lodged a criminal complaint with the Marseilles prosecution services against unnamed persons for attempted murder, aggravated assault and failure to assist a person in danger. This followed an incident on December 8th 2018 when, on the fringes of a demonstration by 'yellow vest' protesters in the southern French port city, 'Maria' – not her real name – was kicked in the head and struck with batons by police officers, according to several witnesses, as she lay injured on the ground. She suffered a skull fracture and brain damage. Pascale Pascariello reports.