A group of four tourists from Boston were attacked in the central rail station of Marseille, southern France, by a woman described as mentally unstable who sprayed acid over them, causing facial burns to two of the group. 
One person was killed in Marseille when van crashed into two bus shelters but French police are not treating it as terrorism at this stage.
Thousands of passengers were forced to sleep in their trains overnight Saturday after rail services linking Marseille and Nice were halted as a  precautionary measure when weekend wildfires, which left three firefighters and an elderly woman in need of medical treatment, surrounded tracks.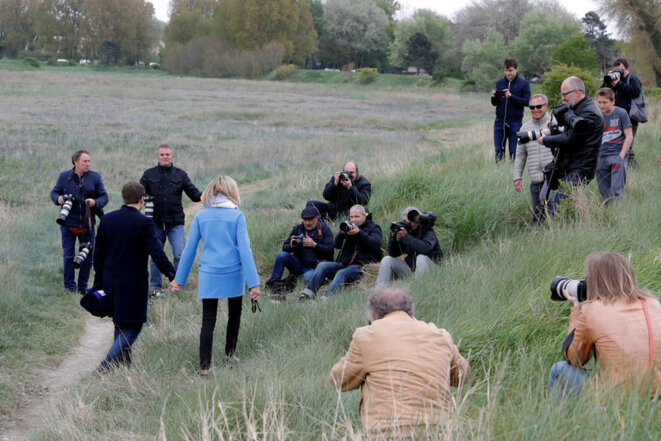 Emmanuel Macron and his wife Brigitte in a staged photo shoot during his election campaign.
French president Emmanuel Macron has lodged a legal complaint for "harassment" and "violation of personal privacy" against a photographer he alleges entered the private property in Marseille where the president and his wife Brigitte were holidaying. The photographer, Thibaut Daliphard, denies trespassing but was arrested and questioned for six hours in custody, when his computer and images were studied by police. Thomas Cantaloube and Michaël Hajdenberg report on the events which highlight Macron's very firm control of his public image and the journalists who follow him, and also the highly questionable legal move of a president who is by virtue of the French constitution immune to prosecution.
The 17-year-old is said to have claimed he carried out attack on the teacher on a Marseille street in January 2016 in the name of Islamic State.
A 19-year-old man was shot dead in a café in the Mediterranean port in an attack by three men who the local prosecutor said are also suspected of kidnapping an aquaintance who was with him. 
Seven people in Strasbourg and Marseille have been arrested over what the French interior minister called a new potential attack.
Funeral costs in France can often be beyond the means of the least well-off and their surviving relatives. In one region an association has teamed up with an insurance company to offer low-cost cover to ensure that the poor can organise a dignified final ceremony. In other areas local associations are naming and shaming local councils in a bid to force them to carry out their legal obligations to provide decent burial arrangements for the most disadvantaged. Mathilde Goanec reports.
The victims, aged 20 and 22, were shot by two men on a scooter using a semi-automatic rifle and a handgun who escaped the scene said a local public prosecutor in the Mediterranean port, bringing to 28 the number of people fatally wounded in shootings in and around the city this year.
A lifeboat with five crew members in it fell from the Harmony of the Seas, while docked in Marseille, reportedly tumbling 10 metres from the ship's fifth deck.
Frank McCourt, former owner of Los Angeles Dodgers baseball team, described the French club as 'one of the most iconic brands in all sports'.
More than 1,500 firefighters tackled blazes which had sprung up in scrubland north of the southern city, injuring three people.
Decision by group in Marseille to book a water park for Muslim women who want to wear 'burkinis' has drawn criticism from French Right.
Alexander Shprygin was among 43 fans held on Tuesday in southern France after serious violence et Russia's Euro 2016 clash with England in Marseille.
UEFA also fined the team 150,000 euros for rioting during match against England in Marseille, while Russian fans' coach was intercepted in Cannes.