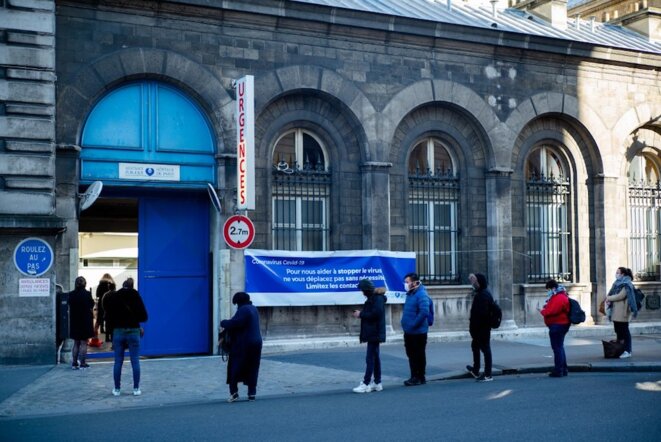 The queue at the Hôtel-Dieu AP-HP hospital in Paris on March 23rd 2020. © Edouard Richard / Hans Lucas via AFP
Hospital intensive care units in the Paris region are already swamped by the Covid-19 coronavirus outbreak. Mediapart has seen emails in which the regional health authority has asked hospital chiefs to free up a thousand beds in 48 hours as a matter of urgency and to transform their hospitals into disaster zone facilities. There has even been talk of nurses having to be pressed into service. Meanwhile hospital staff, who are poorly protected and in some cases themselves suffering from the virus, say they will "settle their scores" with the health authorities later. Caroline Coq-Chodorge reports.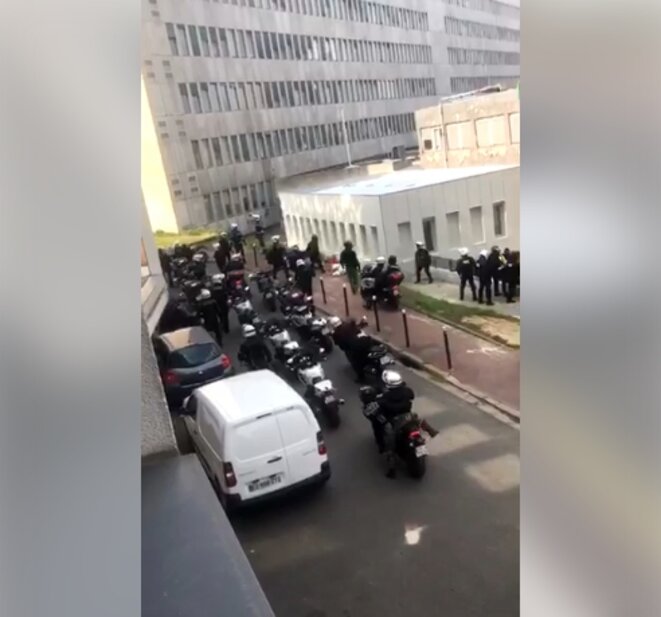 Police on motorbikes inside the grounds of Pitié-Salpêtrière hospital, May 1st 2019.
The Pitié-Salpêtrière hospital in Paris has been at the centre of a major controversy after incidents that took place there in the aftermath of this year's annual May Day demonstrations. Throughout the evening of May 1st and into the following morning, several members of the government and senior health managers in Paris insisted the well-known hospital had been "attacked" by violent demonstrators. Yet in fact there was no such attack: instead, a few dozen protestors sought refuge in the hospital's buildings to escape police tear gas and charges. There was no threatening behaviour from protestors towards hospital staff and none of them damaged the premises. However, some were later hit by the police. Now interior minister Christophe Castaner has formally retracted his use of the word "attack". Dan Israel reports.