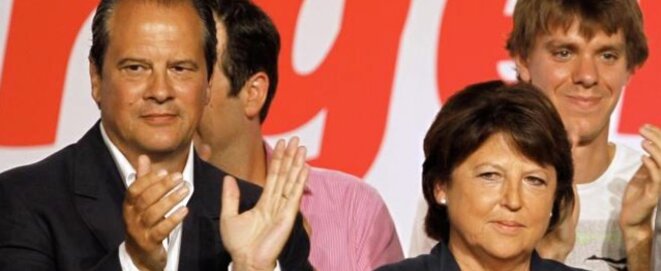 Martine Aubry on the warpath, seen here with current party boss Jean-Christophe Cambadélis.
The former first secretary of the French Socialist Party (PS), Martine Aubry, has launched a ferocious attack on the policies of President François Hollande and his prime minister Manuel Valls. Her trenchant comments in an article in Le Monde – seen by some as a call by Hollande to ditch his prime minister - in turn led to bitter criticism of her stance from government loyalists. It remains unclear where Aubry's initiative will lead. But as Mediapart's Stéphane Alliès reports, it looks as if support for the socialist government could now be in a minority within the Socialist Party itself.
Lille mayor and former party boss lashes out at socialist government's policies, demanding it reorients economic policy favouring business.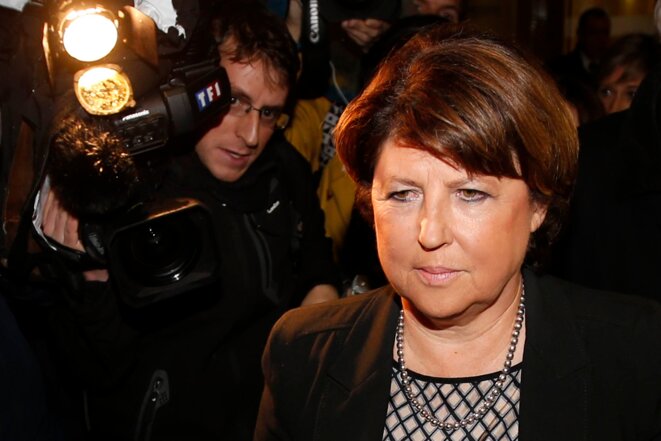 Martine Aubry, ancienne ministre socialiste et maire de Lille. © Reuters
The former first secretary of the Socialist Party and one-time presidential hopeful Martine Aubry has recently made a return to national politics in France. In a series of media interventions the mayor of the northern city of Lille has made clear her dismay at the direction taken by François Hollande's socialist government. But Aubry's return to frontline politics could yet be overshadowed by a judicial investigation into how a false document was used to justify the award of a multi-million euro contract to build a major sports stadium in Lille that will feature in the Euro 2016 football tournament. Though the investigation was recently and unexpectedly closed, Mediapart can now reveal the existence of an embarrassing letter written by Martine Aubry that shows she passed on the fraudulent document to councillors. Geoffrey Livolsi reports.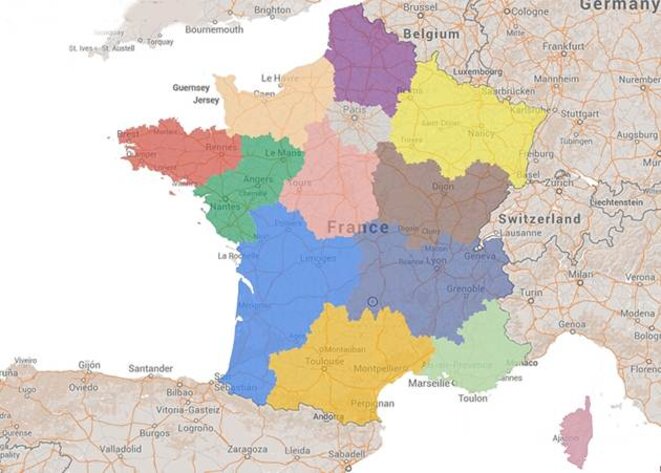 Since François Hollande personally redrew the map of France in June as part of his local government reforms, the shape of the country's regions have been amended several times. However, French MPs recently voted to approve the latest version of the regional boundary changes, which now seems likely to form the new face of France. Mediapart has examined this regional structure, which reduces the number of regions from the current 22 to 13, to see what impact it will have on demographics, economic growth and employment. It seems clear that one result of the reforms will be to increase the wealth of already well-off regions and leave isolated areas languishing even further behind. Yannick Sanchez reports.
François Hollande has been elected French Socialist Party candidate for the 2012 presidential vote when he is expected to challenge Nicolas Sarkozy.
The French Socilaist Party primary process that now pits François Hollande against Martine Aubry reaches the second round, final vote on Sunday.
The two remaining candidates for the French Socialist Party's presidential nomination fought a tense but inconclusive televised debate Wednesday.
François Hollande and Martine Aubry have emerged as the finalists in the first round of voting in the French Socialist Party primaries held to choose a candidate in next year's presidential elections. As the showdown between the two approaches in a final poll next weekend, the major upset for both was the unexpectedly high score reached by the party's radical candidate Arnaud Montebourg. Both candidates must reach out to his supporters, and the testing task promises some lively debate in the coming days. Stéphane Alliès and Lénaïg Bredoux report.
François Hollande and Martine Aubry are winners of the first round of Socialist Party primaries, to be settled in a showdown vote next Sunday.
Socialist Party presidential contender Martine Aubry has denounced rumours about her husband, her health and her private life.
French Socialist Party leader joins primary race to become party candidate, hoping to be France's first woman president in elections next year.
Sept 2010 © Reuters
Ségolène Royal has seen her political fortunes dive since her defeat to Nicolas Sarkozy in the 2007 presidential elections. Ostracised by many leading Socialists, she retreated to her regional fiefdom, her future chances of a second crack at the pinnacle of power apparently destroyed. But Ségo, as she's popularly called, is not one to go quietly and now she has announced she will run in elections to choose the next Socialist Party presidential candidate. Stéphane Alliès charts a remarkable and swift political recovery.