Related keywords
Claim that threats from Chérif Kouachi - one of the two gunmen - outside magazine three months before shootings were not acted on.
Five of the magazine's editorial team and a police officer, gunned down last week by Islamic extremists, were buried amid emotional scenes.
Key figure being sought is Hayat Boumeddiene, partner of supermarket gunman Amedy Coulibaly, and who is described as 'armed and dangerous'.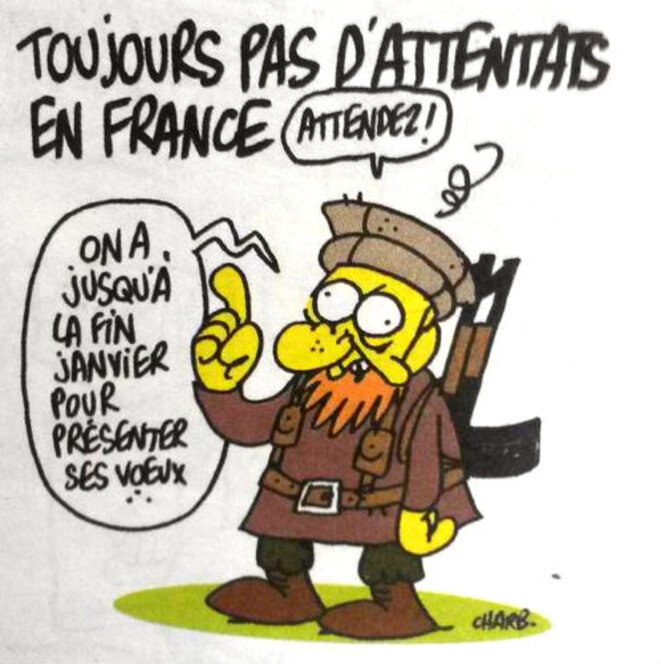 Un des derniers dessins de Charb, publié le 7 janvir 2014 © Charb
The attack by gunmen on the offices of Charlie Hebdo on Wednesday came almost nine years after the French satirical magazine found itself at the centre of a fierce controversy for first reproducing in France the so-called 'Prophet Muhammad caricatures' originally published in a Danish newspaper. Charlie Hebdo has since continued to publish cartoons that mock Islamic fundamentalism, prompting the anger of a section of Muslims in France and abroad, and which led to a devastating firebomb attack on its offices in 2011. The magazine has regularly defended its position as that of a satirical publication that is equally irreverent towards the hypocrisies of all religions. Dan Israel traces the bitter background to Wednesday's horrific outrage.
Cologne court says not enough evidence to convict 89-year-old over 1944 murder of 642 men, women and children in French village.
The rolling news channel reported evidence that more than 30 high school students were kidnapped by local police forces and drug cartels.
Charges against the 88-year-old man relate to Oradour-sur-Glane in central France where 642 people were murdered by SS troops in 1944.
Joachim Gauck will go to Oradour-sur-Glane where 642 people were massacred by Nazi soldiers in one of worst war-time atrocities in France.
French prosecutor says clues into the shooting of al-Hilli family last September may be in data stored on US internet servers, but is denied access.
Police investigating the September murders of a British family in the French Alps want to question Swiss gunman who killed three women on Wednesday.
A French cyclist was first target of "disorderly" gunman's massacre of four in the French Alps, including three Britons, French press reports say.
French President François Hollande has ended more than 50 years of official silence over the massacre by Paris police of an estimated several hundred Algerians demonstrating for their country's independence from France. "On October 17th 1961, Algerians demonstrating for the right to independence were killed during a bloody repression," read a brief statement by Hollande. "France recognizes these events with lucidity. Fifty one years after this tragedy, I pay homage to the memory of the victims." It was the first public recognition by a French president of the killings and was hailed by campaigners and historians who had lobbied for decades for France to assume what was the deadliest act of repression on its own soil since World War II. Lénaïg Bredoux reports.
In March 1996, seven French Trappist monks were kidnapped from their mountainside monastery in Tibhirine, Algeria. Two months later, their heads were found on a roadside in the same region, some hanging from trees in plastic bags. The circumstances of the killings remain a mystery amid suggestions of a cover-up by the French and Algerian authorities. A French judge is leading a revived investigation into the massacre but, just as he appeared to be approaching a breakthrough this year, Mediapart has learnt that key evidence has been declared missing from government archives.
In March 1996, seven French Cisterian Trappist monks were kidnapped from their monastery in Tibhirine, Algeria. Their heads were found two months later, on a nearby roadside, some hanging from trees in plastic bags. Their murders remain a mystery, despite initial official claims that Islamic extremists were responsible. An ongoing French judicial investigation is exploring the theory that they were mistakenly murdered by the Algerian army, and their bodies mutilated in an appalling cover-up. In this second report on the mystery, we reveal extracts from three secret French intelligence reports prepared by General Philippe Rondot, the 'super-spy' assigned to the case.