Related keywords
French President Emmanuel Macron's personal security aide Alexandre Benalla, who was revealed this week to have assaulted May Day demonstrators while wearing a police helmet and armband ID during what was supposed to be a mission of observation of crowd control police, has been fired and taken into custody for questioning as the scandal spread to allegations of a cover up involving France's interior minister and senior presidential staff. 
Despite unrest from students, rail and airline workers, union are staging separate rallies in France to mark International Workers Day.
May Day march attended by thousands in Paris was disrupted as scores of hooded youths threw petrol bombs at riot police in full gear.
Demonstrators to use 1 May marches to oppose far-right presidential candidate as Front National holds its annual gathering.
Police responded with tear gas when youths began throwing missiles, bringing the protest march in Paris to a standstill.
Activists interrupted French far-right leader's address displaying slogans including 'Heil Le Pen' and 'Stop Fascism' on their breasts.
The rival marches saw protests at the government's austerity plan, while the far-right held its traditional Paris rally in tribute to Joan of Arc.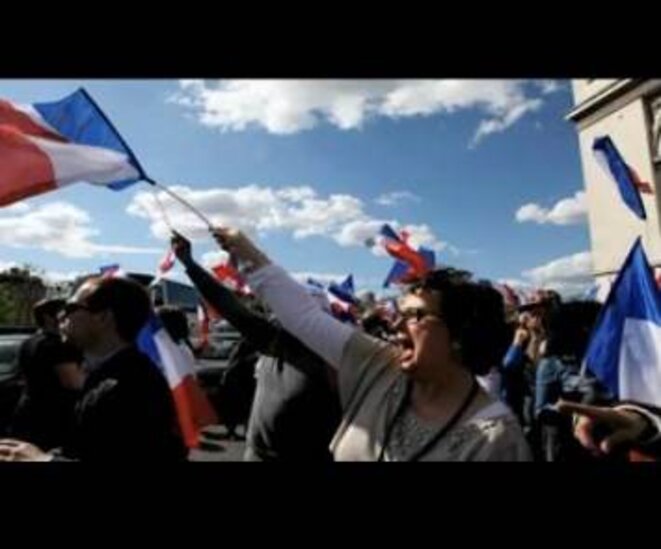 Vidéo de Patrick Artinian dans l'article
Photographer Patrick Artinian is following the French presidential election campaign trail for Mediapart, with a series of photo and video reportages of the candidates, their supporters, meetings and the milestone events. Here he captures the atmosphere at Nicolas Sarkozy's counter-May Day rally in Paris on May 1st, when the incumbent presidential election candidate, forecast by opinion surveys to be trounced by Socialist Party rival François Hollande in the final play-off on Sunday, called on his supporters to turn out en masse in support of "real labour". The notion, he said, describes he "who gets up very early every morning and goes to bed late at night, who doesn't ask for congratulations, nor medals, nothing."     
 Francois Hollande accuses President Nicolas Sarkozy of trying to hijack a centuries-old May Day celebration of labor rights for political end.