Interior minister Christophe Castaner's false claims on Twitter on May 1st.
A newly introduced French law designed to combat the proliferation of false information on social media which may manipulate elections was tested this month for the first time, but not in the manner the government foresaw when it devised the legislation. Two communist politicians lodged a demand, under the articles of the law, for the removal of a message posted on Twitter by French interior minister Christophe Castaner, who falsely claimed that May Day demonstrators had attacked a Paris hospital and its staff. Géraldine Delacroix reports on how they lost their case, but won their demonstration that the law, as they put it, "serves no purpose".
Downturn in protestor numbers could be a relief to President Macron, who made policy proposals to address the issues raised by the movement.
Criminal investigation is launched after footage shows a police riot officer from behind as he hurls the rock, but it does not show where it landed.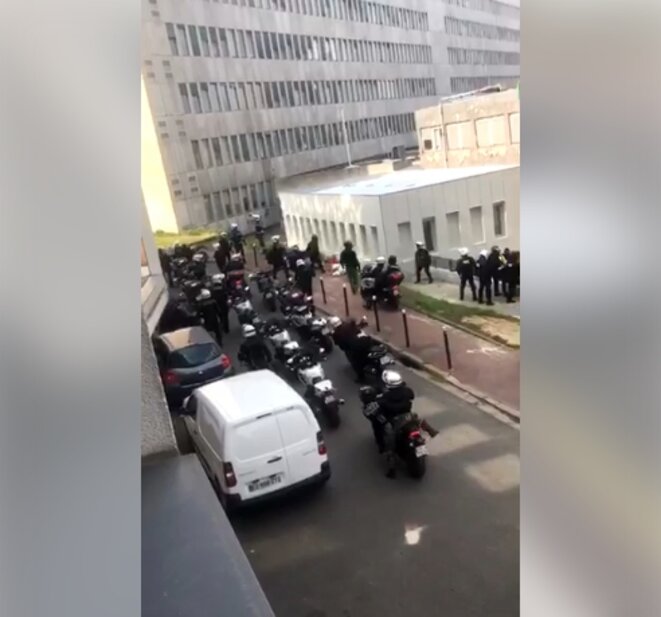 Police on motorbikes inside the grounds of Pitié-Salpêtrière hospital, May 1st 2019.
The Pitié-Salpêtrière hospital in Paris has been at the centre of a major controversy after incidents that took place there in the aftermath of this year's annual May Day demonstrations. Throughout the evening of May 1st and into the following morning, several members of the government and senior health managers in Paris insisted the well-known hospital had been "attacked" by violent demonstrators. Yet in fact there was no such attack: instead, a few dozen protestors sought refuge in the hospital's buildings to escape police tear gas and charges. There was no threatening behaviour from protestors towards hospital staff and none of them damaged the premises. However, some were later hit by the police. Now interior minister Christophe Castaner has formally retracted his use of the word "attack". Dan Israel reports.
The trade union event also brought both the 'yellow-vest' movement and so-called 'black blocks' of dark-clad protesters onto the streets.
Authorities fear this year's May 1 marches could be tense, barely a week after leaders of yellow vest movement angrily dismissed a package of tax cuts by President Emmanuel Macron.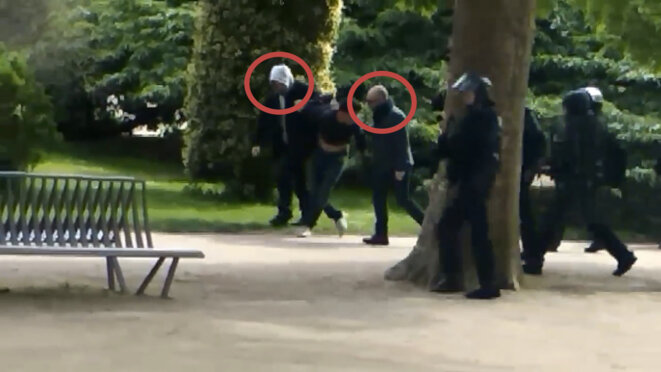 Alexandre Benalla (circled, with white hood) and Vincent Crase (circled right) during the arrest of a man in the Jardin des plantes on May 1st.
French President Emmanuel Macron's security aide Alexandre Benalla, together with an employee of Macron's ruling LREM party, Vincent Crase, were involved on May 1st in other incidents before they assaulted a man among May Day crowds at a square in the Latin Quarter of Paris. In a new video obtained by Mediapart, the two men, officially present alongside police as civilian "observers" of crowd-control operations that day, can be seen heavy-handedly joining in the arrest of a man at a public park. The new evidence of their violent and illegal behaviour that day further deepens the scandal of a suspected cover-up of their actions by the presidential office and senior police hierarchy.
French President Emmanuel Macron's personal security aide Alexandre Benalla, who was revealed this week to have assaulted May Day demonstrators while wearing a police helmet and armband ID during what was supposed to be a mission of observation of crowd control police, has been fired and taken into custody for questioning as the scandal spread to allegations of a cover up involving France's interior minister and senior presidential staff. 
Despite unrest from students, rail and airline workers, union are staging separate rallies in France to mark International Workers Day.
May Day march attended by thousands in Paris was disrupted as scores of hooded youths threw petrol bombs at riot police in full gear.
Demonstrators to use 1 May marches to oppose far-right presidential candidate as Front National holds its annual gathering.
Police responded with tear gas when youths began throwing missiles, bringing the protest march in Paris to a standstill.
Activists interrupted French far-right leader's address displaying slogans including 'Heil Le Pen' and 'Stop Fascism' on their breasts.
The rival marches saw protests at the government's austerity plan, while the far-right held its traditional Paris rally in tribute to Joan of Arc.