Call to address severe poverty and illegal immigration on the Indian Ocean island, ten years after it officially became the 101st department of France.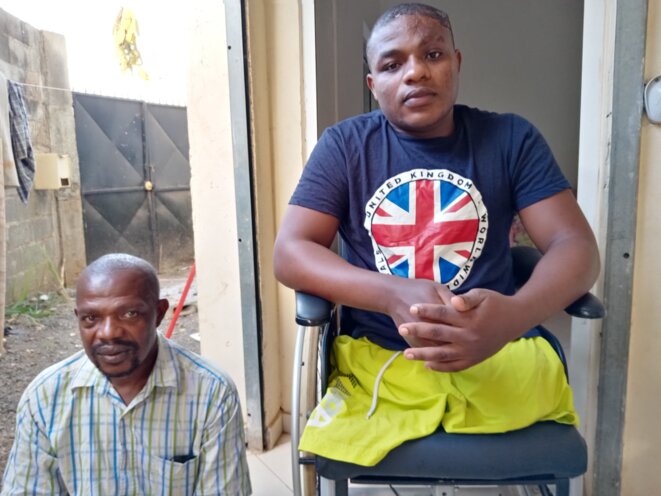 Having lost both legs when injured by a police boat while trying to get to Mayotte, Djassadi Farid now lives with the help of his father not far from the capital Mamoudzou. © JS
Violence is reaching unprecedented levels in the French overseas département of Mayotte in the Indian Ocean, prompted by the arrival of migrants from the neighbouring island nation of Comoros on makeshift boats. The result has been regular expulsions and repatriation of illegal migrants, clashes between the new arrivals and locals, and even riots. The situation has been exacerbated by the Covid crisis. Meanwhile the heavy-handed security response by the authorities in this small département has caused disquiet among local associations. Julien Sartre reports.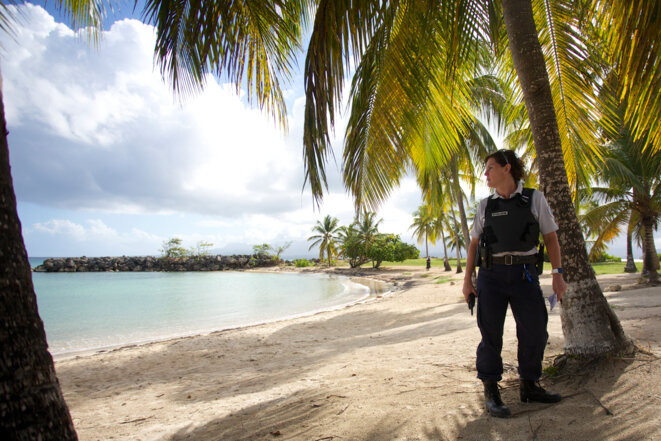 A police officer patrolling Gosier beach on Guadalupe, March 20th 2020 © Cedrick Isham CALVADOS / AFP
The threat of the Covid-19 coronavirus is particularly great for France's overseas regions and territories because of their remoteness and their lack of infrastructure. But above all, as Julien Sartre writes, the pandemic risks being a disaster for the morale and mental well-being of the people living on these far-flung lands.
France's 101st département wants investment to strengthen the Indian Ocean territory's public services and to combat illegal immigration.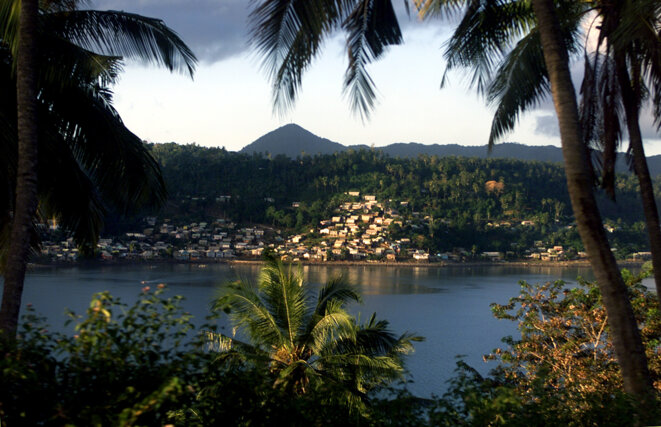 Mayotte, a French département in the Indian Ocean. © Reuters
Authorities in Paris and on France's Indian Ocean overseas département of Mayotte seem set on deterring further Sri Lankan asylum seekers from coming to the impoverished archipelago. Even if, as a series of documents show, the cost to taxpayers of sending that message has been exorbitant. Manuel Sanson from investigative website Le Poulpe reports
Seventy percent of the mothers giving birth in maternity ward in French territory of Mayotte off Africa are foreign, most of them illegal migrants.
A group of residents in the French-ruled Indian Ocean archipelago of Mayotte, paralysed by turmoil since mid-February amid protests against dire economic conditions and the mass arrivals of immigrants from the nearby Comoros islands, are reported to be rounding up people they identify as foreigners with no legal status and handing them to police.
Inhabitants say violence is increasing, illegal immigration rates continue to rise, amid feeling that Paris pays little regard to the overseas territory.
The French authorities have quietly issued a decree to state officials in some regions that allows them to depart from the normal rules when it comes to projects concerned with the environment, farmland, forests, local development projects and urban policy. The rules are being relaxed as part of an experiment to give decision makers in certain regions greater flexibility. But lawyers representing environmental groups say the move could open the way to more projects that cause pollution and are harmful for the environment. One has called the decree 'absurd and dangerous'. Jade Lindgaard reports.
French citizens living overseas territories can pay between two and five times as much to send a parcel as their counterparts in metropolitan France. Now trade unions want to put an end to what they see as yet another "injustice" suffered by those who live in far-flung parts of France. Julien Sartre reports.
President made joke about small boats often used by migrants to sail from Comoros islands to France's Mayotte, with many dying en route.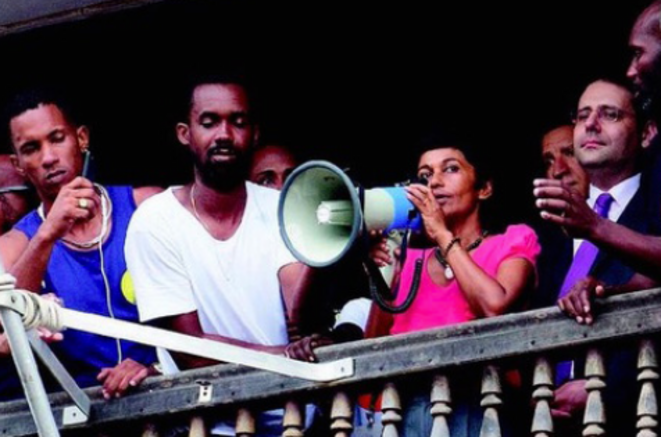 French minister Ericka Bareigts said sorry to French Guiana - but will it herald change? © Eric Bosc
For decades there has been a string of legal and economic initiatives by France aimed at improving the lot of its overseas territories. Yet as the current crisis in French Guiana shows, these measures have failed to have a noticeable impact on the 2.7 million French people who live in those regions. Julien Sartre reports on how an outdated model of development applied to these territories still shows no signs of being updated.
Despite his much-vaunted election promises, President François Hollande's commitment to end the detention of child refugees and migrants has failed to materialise. In mainland France, 460 minors were detained between 2012-2016 and in the overseas département of Mayotte, in the Indian Ocean, some 20,000 were locked up. The Léonarda scandal – when a Kosovan child on a school trip in France was arrested pending deportation – is just one example of the hardships faced by immigrant minors under the current presidency. Carine Fouteau reports.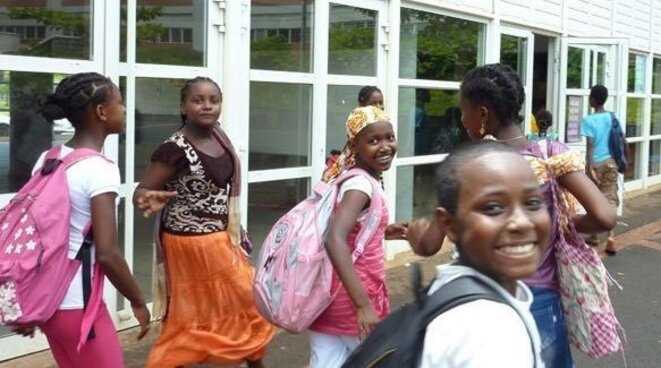 © Mayotte Observer
Mayotte, which lies in the Indian Ocean between Madagascar and the East African coast, only became a full-fledged French département (or county) in 2011. The new status means it is now governed by the rules and practices of metropolitan France, including the compulsory and exclusive use of French in schools in a two-island nation where all local people speak regional languages as their mother tongue. Mayotte is also having to endure the uneasy transition from custom and tradition-based law to French common law. Meanwhile the high pay of civil servants posted from France is blamed for the rising cost of living in a society that is blighted by poverty, and where "condescending" expatriates and the middle classes live in protected areas removed from the grim reality of life for most ordinary people. "Some Whites rule here like in colonial times," says one state employee. Olivia Müller reports on Mayotte's struggle to reconcile its very real needs with its new status as an integral part of France.