In a televised address to the nation on Monday, French President Emmanuel Macron announced that all staff workers in medical facilities must be vaccinated by September or face losing pay, while 'health passes' proving double-jab vaccination will be needed from early August to enter shopping centres and other venues.
As of Sunday, people arriving in France from EU countries must produce a negative coronavirus PCR test obtained in the previous 72 hours, a measure already imposed on non-EU arrivals, while a growing number of experts advise that the high new rates of Covid-19 infections, hospitalisations and deaths registered in the country require a third lockdown on public movement.
As the numbers of Covid-19 infections and hospitalisations soar in France, Prime Minister Jean Castex on Thursday announced  9pm-6am curfew measures, aleady in place in Paris and eight other cities to limit public socialising, will now include a vast swathe of the country, representing two thirds of the population.
In a televised speech to the nation on Thursday evening, French President Emmanuel Macron described the novel coronavirus outbreak as the "worst" health crisis the country has faced for 100 years and announced new measures to conatin the epidemic, notably an indefinite shutdown of all educational establishments from next Monday, while urging people aged over 70 to stay at home, but he stopped short of cancelling the nationwide municipal elections due to begin on Sunday. 
French President Emmanuel Macron has announced a series of environmental measures measures, including increasing the size of protected natural areas on land and at sea, limiting sales of arable land for construction projects and reaffirming France's goal of reducing the use of chemical pesticedes by 50% between now and 2025, after a meeting in Paris with experts who produced a UN report warning one million species in the world are on the brink of extinction.
Speaking at a yearly gathering in tribute to victims of terrorism in France and French victims in other countries, President Emmanuel Macron announced the future creation of a memorial in their honour, together with a dedicated public body of support for all those affected by attacks, and promised increased financial support for relatives of victims of terrorism abroad.  
French President Emmanuel Macron on Saturday proposed a series of measures intended to curb violence and sexual harassment against women, including extending the statute of limitations for sex crimes to 30 years, facilitating the reporting of rape, setting a minimum age below which sexual activity with a minor cannot be considered consenting and a plan that women may hail a bus anywhere at night in cities.
The extreme levels of air pollution in the capital, exacerbated by many days of dry weather and little wind, have prompted a partial vehicle ban, free parking on public roads and free use of the city's public transport system.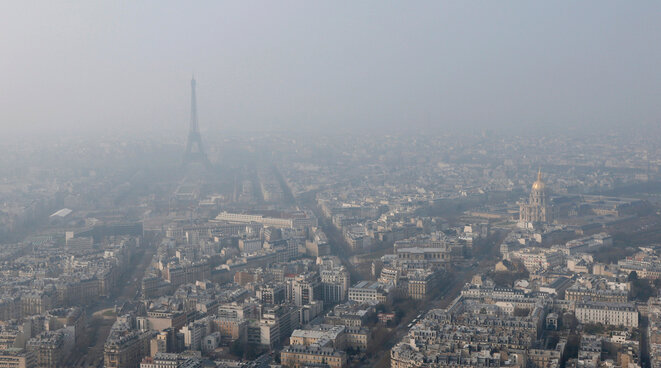 Pollution cloud over Paris, March 2015. © Reuters
Every year in France, atmospheric pollution causes the deaths of an estimated 48,000 people and annually costs the country's economy more than 100 billion euros. The authorities in Paris, where pollution has reached record peaks in recent years, this month introduced a programme to restrict access to the capital by most-polluting vehicles and incentives for inhabitants to give up ownership of cars. But, as Laurent Geslin reports, the plan has been attacked as discriminating for lower-income groups of the population amid wide disagreement between government, city authorities and political parties on how to tackle a growing health crisis.
The move due Wednesday follows mounting protests, including road blocks, by farmers decrying retailers' and food processors' profit margins.
Manuel Valls announced easing of rules limiting roll-on temporary contracts, severance pay limit of six months, and tax breaks for those who hire.
France could get longer to reach its public finance goals, if the country makes the necessary reforms, says the EU's economic chief.
French president Nicolas Sarkozy on Sunday announced a battery of economic measures the scope of which has never before been undertaken by a president facing an imminent re-election contest. While still not officially declaring himself candidate in the two-round elections that begin in April, although providing a clear hint that he will run as expected, Sarkozy presented a raft of major reforms to be rushed through parliament in the weeks ahead, including a hike in VAT, a go-it-alone 'Tobin tax' and the effective end of the 35-hour minimum working week, all of which are to be introduced after the elections. Mathieu Magnaudeix analyses the principal measures unveiled during an hour-long interview broadcast live across eight television channels.