Related keywords
Geoffroy Roux de Bézieux set to give technology sector even higher profile as President Macron bets on it to spur the country's economy.
The French government has presented the detail of its labour law reform, which were a pillar of President Emmanuel Macron's election manifesto and which he said was urgent "because it will create jobs". But already, Prime Minister Édouard Philippe has downplayed the importance of the reforms, which he now describes as "just the start". Mediapart economics correspondent Romaric Godin argues in this op-ed article that this is a typical example of the rhetoric surrounding liberal reforms, such as during the European debt crisis, in which their limited results become obscured by the supposed necessity for yet more urgent deregulation.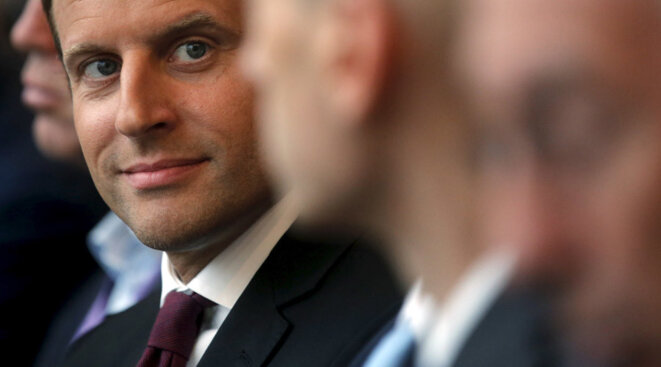 An eye on 2017: Emmanuel Macron. © Reuters
French economy minister Emmanuel Macron this week announced the launch of his political movement, En Marche, raising speculation that he was preparing a bid for next year's presidential elections. Macron, a former advisor to socialist president François Hollande and who holds no elected office, declared that his movement was neither left- nor right-wing. But, as Laurent Mauduit reports, it is in fact domiciled at the private address of the director of one of the leading think tanks of French business.
Medef boss Pierre Gattaz was speaking ahead of regional elections next weekend, when the Front National is tipped to make strong gains.
From 2019, most employees in private sector will have to work until 63 to get full pension, but will get a bonus if they delay retirement until 64.
Government has made 'regulatory thresholds' - which employers say stop firms growing -  a key focus of talks on labour market reforms.
Employers' federation calls for cutting two public holidays out of 11 and allowing the very poor to be paid less than the minimum wage.
Unions have threatened boycott of the talks on job creation, accusing government of failing to make employers keep their end of the bargain.
Bosses publish open letter saying president 'must act quickly, with determination and consistency' due to 'urgency' of France's economic situation.
When the man at the helm of the French bosses' organisation calls for wage restraint and suggests paying young workers less than the legal minimum wage, it would seem reasonable to expect him to be prepared to take a dose of his own medicine. Instead Pierre Gattaz, president of the employers' association MEDEF, has just awarded himself a 29% pay rise. He is far from being the only culprit in France's corporate world. But, says Martine Orange, the symbolism bodes ill for President François Hollande's bid to cut business costs in exchange for creating jobs, a policy on which the president has staked his political future.