Élysée official say new president's 'complex thought process' lends itself badly to traditional Bastille Day television interview with journalists.
Some French broadcasters and newspapers announce they will refrain from naming, or publishing photos of, terrorists so as not to contribute to  their 'glorification'.
Murder of 9 journalists in attack on magazine left France second only to Syria in annual list of world's deadliest countries for journalists.
TV and radio stations revealed the presence of Lilian Lepère hiding in a cupboard at a printing plant where the two gunman were under seige.
Marine Le Pen claims she is trying to make the far-right Front National more 'normal', a strategy that has perhaps contributed to her party surging ahead in opinion polls. One survey suggests that Le Pen would come top if the first round of voting in a presidential election were held today, whoever her main opponent. But behind the attempts to 'de-demonize' the FN lurks another reality – that of a party that still refuses to abide by democratic rules. Last weekend Mediapart's reporter was ejected from the party's youth conference, and this was not the first time this has occurred. Nor is it just Mediapart which is targeted – other media outlets and also academics have found themselves ostracised by a party which seems to fear the freedom of the press.
A collective of French female journalists have launched a campaign against what they call the "invisibility" of women in the media and the often sexist stereotypes of women presented by the media. Their manifesto, published earlier this week with signatures of support from more than 400 media professionals, calls for tough new measures to guarantee gender parity in the journalistic profession and among pundits invited by the media, as already required by law. Here, Mediapart political correspondent Lénaïg Bredoux, a member of the newly-formed collective, explains why she and her colleagues have had enough of the macho media.  
Exposé of the French president's alleged affair with actress marks a departure from the country's previous nonchalance over such matters.
EU trade ministers' deal means the audiovisual sector will be excluded from any free trade agreement with the United States.
Google executive chairman Eric Schmidt met with French President François Hollande to discuss a revenue row with media firms over content use.
Launched less than four years ago, Mediapart is unique among the media, with no equivalent in terms of either its editorial identity or its business model. This December marked the first year in which it has crossed into profit, with more than 56,000 subscribers. Here, Mediapart co-founder and Editor-in-Chief Edwy Plenel sets out why, more than ever, this fully-independent, ad-free online journal needs the support and loyalty of its subscribers to reach an enduring, solid base.
Apple's tight control over media content on its iPad could fall foul of a coalition some of France's most powerful newspapers and magazines.
The French press industry receives a staggering one billion euros annually in State aid, amounting to a "fiasco" and a "scandal" according to a government-commissioned study. Now newspaper publishers are under pressure to restructure or die before the tap runs dry. But, as David Medioni and Vincent Truffy report here, time is fast running out on a business still unable to define its future.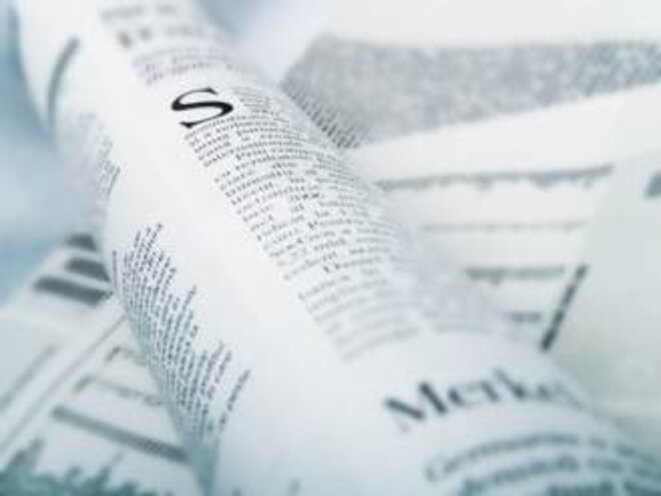 © DR
The French press is in crisis, with readers fleeing the newsstands, revenue collapsing and titles changing hands amid ever cheaper sell-offs. Vincent Truffy and David Medioni argue here that media owners and editorial managers must re-think the role and tools of the profession, instead of stubbornly grasping onto an obsolete model.