Data leak and forensics suggest NSO's surveillance tool Pegasus was used against journalists at some of world's top media companies. Mediapart was among those organisations targeted. 
Gilles Huberson is the target of an investigation by the foreign affairs ministry into allegations of sexual violence and sexual harassment spanning a number of countries, reports Mediapart.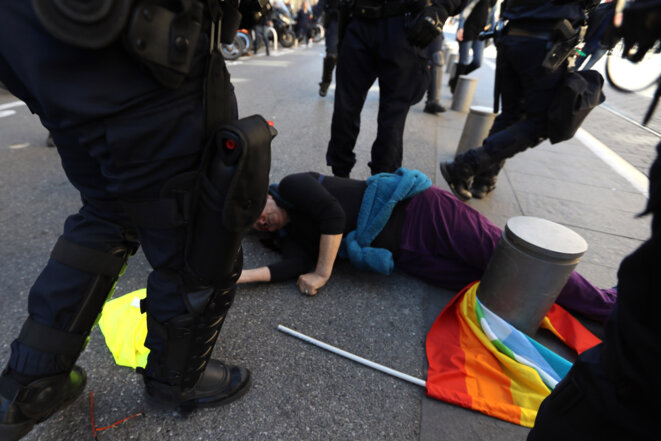 The activist Geneviève Legay on the ground having been knocked over by a police officer on March 23rd, 2019, in Nice. © Valery HACHE/AFP
In the spring of 2019 Mediapart journalist Pascale Pascariello revealed the lies told by a state prosecutor and President Emmanuel Macron himself over a case involving an activist in her 70s who was injured during a protest amid allegations of police violence. This week, on Tuesday 26th May, the reporter was questioned as a potential suspect by the police body which investigates police actions, the Inspection Générale de la Police Nationale (IGPN). The alleged offence is receiving information passed on as a result of a breach of professional confidentiality. As Mediapart's Fabrice Arfi writes, it is the fourth time in under 18 months that the legal system has targeted Mediapart's sources following investigations that have proved embarrassing for the government.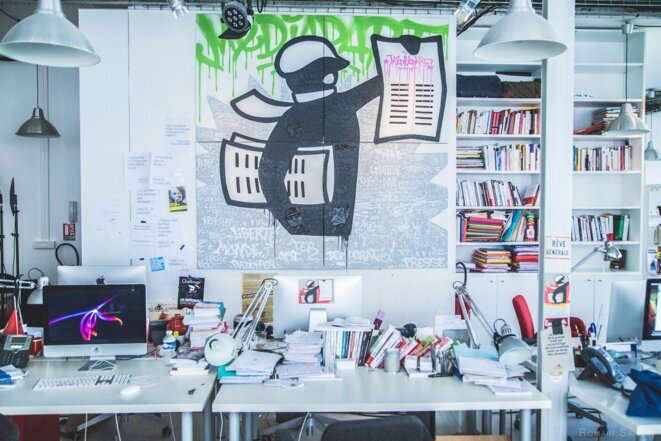 © Mediapart
On top of its successful journalistic venture, Mediapart has now come up with its own capitalist invention by placing 100% of its capital in a not-for-profit structure which will ring-fence it and ensure it cannot be bought or sold in the future. The new Fund for a Free Press will also have its own objective in the general interest - to defend the freedom, independence and pluralism of the press. Its four co-founders, François Bonnet, Laurent Mauduit, Edwy Plenel and Marie-Hélène Smiejan-Wanneroy, explain this move to guarantee Mediapart's permanent independence.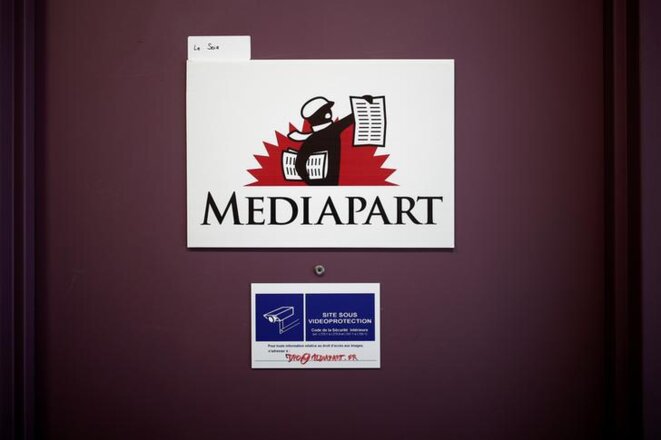 © Reuters
Mediapart is taking legal action against the French state for the attempt to search our offices over the so-called Benalla affair involving President Emmanuel Macron's former security aide Alexandre Benalla, writes Mediapart publishing editor Edwy Plenel. We are asking the courts to rule that by ordering this baseless, unfair and disproportionate action, the Paris prosecutor has made the French state liable for breaching the protection given to journalists to keep their sources secret, and for obstructing Mediapart's journalistic work.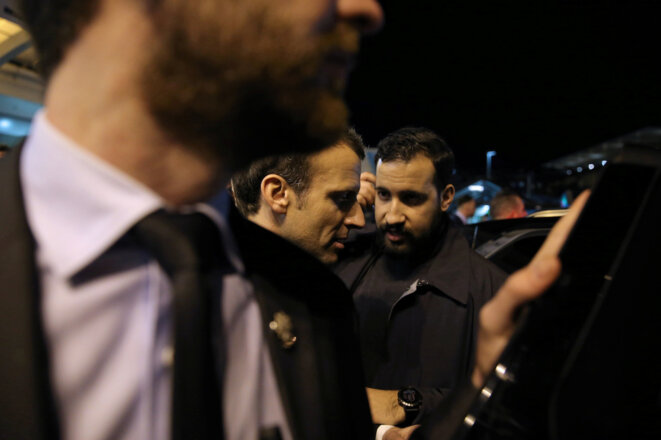 Emmanuel Macron and Alexandre Benalla. © Reuters
Mediapart refused a highly unusual attempt by prosecutors in Paris on Monday morning to search its editorial offices as part of an  investigation that notably cites a breach of the personal privacy of Alexandre Benalla, the disgraced controversial former security aide to President Emmanuel Macron. He was sacked and placed under formal investigation last summer after video footage emerged of him and ruling LREM party security manager Vincent Crase using violence on protestors during demonstrations in Paris on May 1st. The new prosecution services' probe follows Mediapart's revelations last week of extracts from a compromising conversation between Benalla and Crase, who met in violation of their conditional bail, which raise wider questions over Benalla's actions while employed by the presidency, and also his relationship with the president. Mediapart exercised its legal right to refuse the raid on the grounds of protecting the identity of its sources.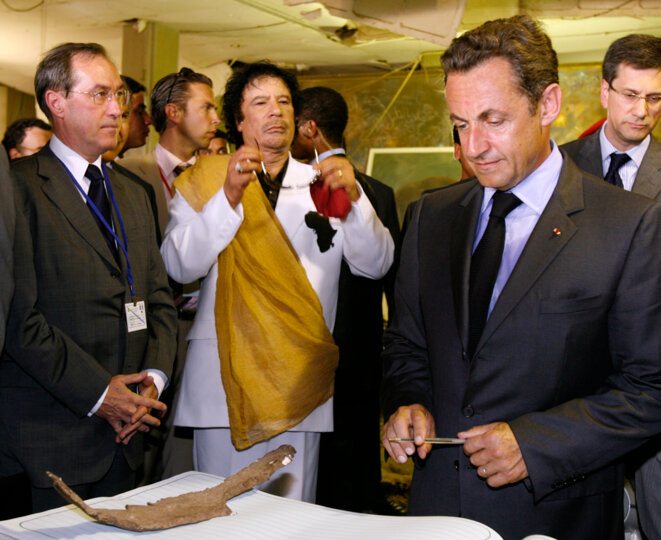 Left to right: the French president's chief aide Claude Guéant, Muammar Gaddafi and Nicolas Sarkozy inTripoli in 2007. © Reuters
France's highest appeal court, the Cour de Cassation, has rejected an appeal by former president Nicolas Sarkozy in a case against Mediapart relating to the authenticity of a key document showing he was promised Libyan funding for his 2007 election campaign. The judgement, published on Wednesday January 30th, means that the former president can no longer evade the election funding scandal revealed by this site, says Mediapart's publishing editor Edwy Plenel.
After almost one year in office, French President Emmanuel Macron gave a live interview on Sunday evening with Mediapart's cofounder and publishing editor Edwy Plenel and Jean-Jacques Bourdin of French rolling news channel BFM-TV. The wide-ranging two-hour interview, the French president's first public appearance since France joined the US and Britain in missile strikes this weekend against the Syrian regime of Bashar al-Assad, was streamed live on Mediapart (with studio debates from Mediapart before and after the interview) and can be replayed here (click on screen, in French only). Together with the video in French of the full interview, arguably the first uncompromising quizzing of a French head of state, follow the highlights in English here (click on headline for article page).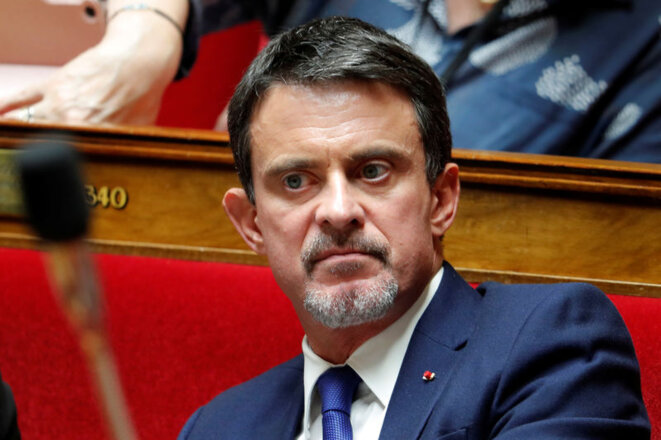 Leading the charge: former premier Manuel Valls. © Reuters
In recent days Mediapart has been burnt at the metaphorical stake for having supposed "complicity" with the Muslim intellectual and Oxford University professor Tariq Ramadan. Worst still, it has been hinted that this site may have deliberately ignored the actions of a man who today stands accused of rape and sexual assault, claims he denies. This ignominious Donald Trump-style campaign, led by former prime minister Manuel Valls, is part of a wider political movement which brings together elements of the Left who were destroyed at recent elections and the nationalist Right. Mediapart's editor François Bonnet responds to the claims.
Bullets and threatening letters have been sent to four judges plus journalists at two media organisations, including Mediapart. Of the judges who have been singled out, one is the head of the national financial crimes prosecution unit, and the other three are the judges who have been designated to investigate the 'fake jobs' allegations involving right-wing presidential candidate François Fillon and his wife Penelope. The other media outlet that received a threatening letter and a .22 calibre Long Rifle bullet was Le Canard Enchaîné, the weekly investigative newspaper that first broke the Fillon story. Matthieu Suc reports.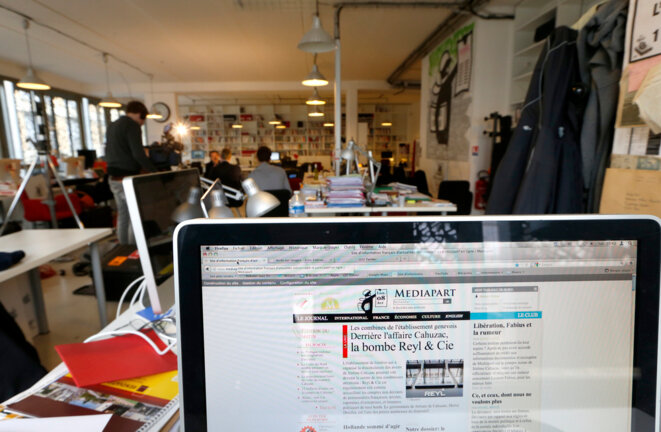 La rédaction de Mediapart en 2013. © Reuters
Mediapart has been notified by the French tax administration that it must pay a total of 4.1 million euros in an adjustment of its VAT payments over a six-year period between 2008 and 2014. The adjustment comes after Mediapart's long campaign, finally vindicated by a law introduced in 2014, calling for the discriminatory 20% VAT rate for the online press to be removed and aligned to the 2.1% VAT rate applied to the print-based press. Mediapart, which openly applied the lower VAT rate amid years of discussions over the issue with the administration and government, must now meet the demand for the backpayments immediately, despite an appeal procedure. Mediapart editor-in-chief Edwy Plenel explains the background to what appears to be a move of vengeance, and appeals here for your support in face of the severe threat now hanging over this independent online journal.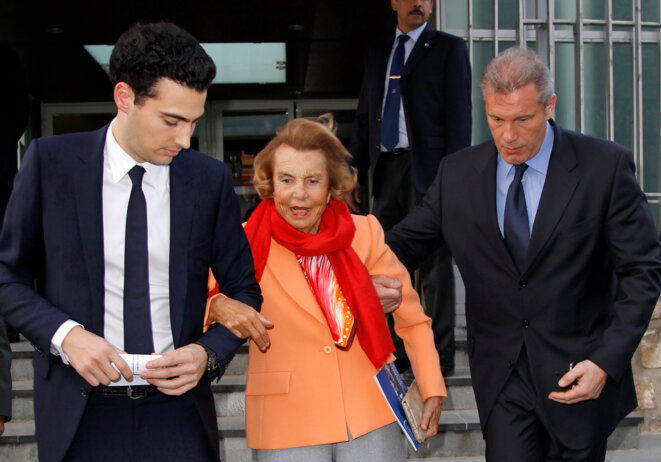 Liliane Bettencourt, le 29 mars 2012 © Reuters
This week, five journalists, including Mediapart editor-in-chief Edwy Plenel and Mediapart investigative reporter Fabrice Arfi, stand trial in Bordeaux on charges relating to the violation of personal privacy. The case centres on the publication by Mediapart in 2010 of extracts of secretly recorded conversations between L'Oréal heiress Liliane Bettencourt and her entourage of advisors which revealed a catalogue of corruption and manipulation surrounding the ageing billionaire and which led to the convictions of eight people earlier this year. Here, Fabrice Arfi denounces a trial that flouts press freedom laws and threatens the fundamental 'right to know'.
Move comes as documents show that US agents spied on Jacques Chirac, Nicolas Sarkozy and François Hollande, listening to their phone calls.
It took three years, but Mediapart has finally been vindicated in its fight for full transparency when it comes to scrutinising the campaign accounts of French elections. The highest administrative court in the land, the Conseil d'État, has ruled in favour of Mediapart's demand that the entire process of how election accounts are checked by the official body in charge – the CNCCFP - should be open to the public. The ruling means that whatever the election and whoever the candidate the public has a right to know the full details. Mathilde Mathieu reports on this landmark verdict.