Keyword: Mediterranean Sea
Related keywords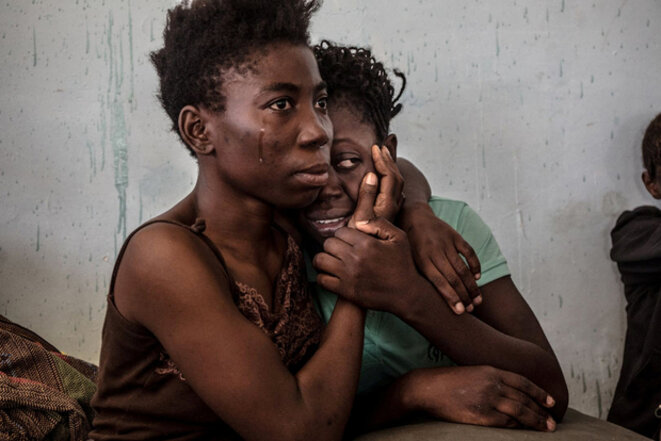 Nigerian migrants in a detention centre in Surman, Libya, August 2016. © Reuters
A report published this week by UN bodies UNICEF and the International Organization for Migration highlights the shocking treatment meted out to child migrants along their journeys to Europe. The most at risk are those from sub-Saharan countries travelling north to the Mediterranean through Libya, where they are exposed to sexual exploitation and forced labour, and who are especially targeted, the study finds, because of racism. Carine Fouteau reports.
French NGO Doctors Without Borders has announced it is suspending its boat's operations to search and rescue migrants crossing the Mediterranean Sea in hazardous conditions after what it said was 'threatening behaviour' by Libyan coatsguards.
A total of 103,000 migrants have crossed the Mediterranean Sea to Europe so far this year, reported the UN refugee agency the UNHCR on June 9th. Nearly 1,900 others are estimated to have drowned while attempting the crossing, which is most often made in flimsy, overloaded crafts that set sail from Libya. Over the past two weekends alone, nearly 11,000 migrants were rescued at sea by European navy boats taking part in the recently beefed-up 'Operation Triton', the maritime patrols led by the EU border control agency Frontex. Less publicised is the increasing role merchant ships are called upon to play in the search and rescue missions, and which last year plucked some 42,000 migrants from the sea. But their crews, often called upon for help by Triton's command centres, are ill-equipped and untrained to carry out rescues which place both them and migrants in peril. Ship owners, captains and international organisations are now sounding the alarm over the escalating crisis. "We have the feeling of being taken hostage by the situation," Hubert Ardillon, president of the Confederation of European Shipmasters' Associations, tells Mediapart in this report by Carine Fouteau, and he warns that the situation is so acute that some captains could soon be tempted "to look the other way".
French and German interior ministers said EU plan to resettle migrants across member states should 'take better account of efforts already made'.
The French president urged a meeting of foreign, interior ministers after drownings of about 700 EU-bound migrants off Libya this weekend.
More than 300 migrants crossing the Mediterranean Sea in a clandestine convoy from Libya to Italy were reported drowned this week when their boats overturned off Lampedusa, just days after 29 other seaborne migrants were discovered dead from hypothermia close to the Italian coast. The tragedies follow the narrow rescues in December and January of more than 1,200 Syrian migrants from two rusting 'ghost' freighters left abandoned by people smugglers to their fate. Earlier this month, Mediapart's Carine Fouteau joined the Týr, an Icelandic coastguard ship patrolling the central Mediterranean as part of an operation mounted by the EU border-policing agency Frontex. She heard the harrowing experiences of the Týr's proud crew who have already rescued 2,000 migrants in difficulty, and questioned Frontex officials about what is an increasingly confused mission. But she begins this report with the dramatic events she witnessed aboard the Týr, when a drifting, apparently crewless rusting freighter suspected of carrying hundreds of migrants in its hold was left to its fate overnight in strong seas - because no-one had sent out an SOS. 
The discovery last week of two abandoned cargo ships crammed with clandestine migrants in the Mediterranean Sea has underlined a cynical change of tactics by people traffickers. Though buying the massive vessels costs money, the traffickers still stand to make millions from preying on the desire of refugees to flee war-torn Syria or the Horn of Africa for a better life in Europe. Mediapart has been reporting regularly on the plight of migrants and refugees crossing the Mediterranean and has highlighted the new tactics being used by traffickers. Here Carine Fouteau looks at the background to people smuggling and describes just how traffickers exploit the needy – including wealthier middle class Syrians desperate to escape the ongoing war in their country.