The 77th anniversary of the allied D-Day landings in Normandy was, because of the Covid-19 pandemic, without the usual strong contingent of remaining veterans, but a highlight was the unveiling of an imposing seafront memorial to the more than 22,000 troops under British command who died during the three-month campaign to liberate northern France from German occupation.
François Hollande and Paris mayor Anne Hildago dedicated a plaque to the 147 people who died at the hands of terrorists in France in 2015.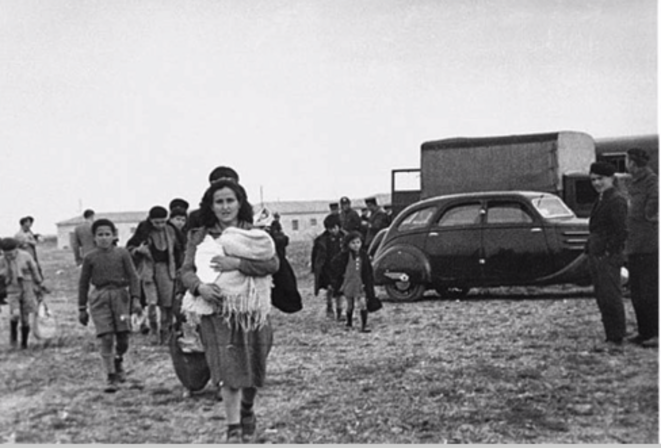 Arrivée de réfugiés espagnols fuyant Franco © Mémorial du camp de Rivesaltes
Between 1941 and 1964, a total of 60,000 people were interned in a camp at Rivesaltes in south-west France, close to the border with Spain. The successive waves of internees included Spanish Republican refugees, Jews and Roma during the German occupation of France in World War II, and later Algerian Harki soldiers and their families who had sided with French forces during their country's bitter war of independence. On Friday, French Prime Minister Manuel Valls inaugurated a major memorial centre at the notorious camp and which highlights widespread political hypocrisy in face of the current refugee crisis. Nicolas Chevassus-au-Louis reports on the history of the camp and its belated memorial centre, a project of 17 years in the making.
The French president, on a tour of Caribbean islands, paid homage to slaves and their sacrifices at the memorial, the first of its kind on French soil.
François Hollande was speaking at ceremony in Armenia's capital Yerevan to mark 100 years since mass killings of roughly 1.5 million people.
French president marked Armistice Day by saying France should not hide behind new 'Maginot Line' of racism, anti-Semitism and xenophobia.
'Ring of Remembrance' has names of all 580,000 soldiers of all nationalities who died in Nord-Pas-de-Calais in northern France from 1914 to 1918.
Next year's first world war centenary, to be launched by François Hollande, may include memorial for the 600 young men shot by firing squad.
President François Hollande led a ceremony at a former WWII internment camp at Drancy, north of Paris, used in the deportation 65, 000 Jews.