Related keywords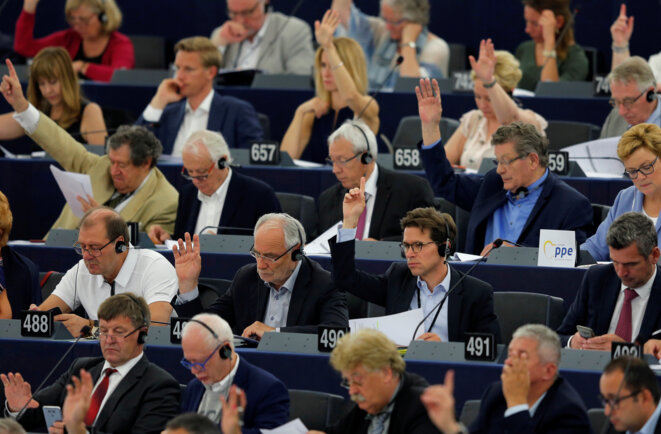 European Parliament members attending a plenary session in Strasbourg in July 2018. © Vincent Kessler / Reuters.
Almost a third of the 751 Members the European Parliament (MEPs) have earned a combined total of up to 41 million euros from outside activities over the four years since the current legislature was elected in 2014, according to a report published this week by anti-corruption organisation Transparency International. The numbers of MEPs remunerated for outside activities – which include working for private companies, lobbyists and investment funds – has risen dramatically since 2014, reveals the NGO which highlights a limp and ill-enforced code of ethics that allows numerous potential conflicts of interest among the lawmakers who are among the continent's highest-paid elected representatives. Mediapart Brussels correspondent Ludovic Lamant reports.
French MEPs are in charge of just two of a total of 22 parliamentary committees and sub-committees, those that oversee fishing and the budget.
A hacker using elementary computer equipment and what he described as "a few bits of knowledge that everyone is capable of finding on the internet" has succeeded in accessing confidential emails and personal files of Members of the European Parliament, their assistants and even the institution's IT experts, Mediapart can reveal. The operation was, he said, mounted as a demonstration of the vulnerability of security at both the parliament in Strasbourg and also among many national administrations which use software, notably that of Microsoft, that experts have for years warned is exposed to espionage manipulations through fundamental - and what some suggest are possibly deliberate - flaws. While the scandal of mass surveillance employed by the US National Security Agency continues to unfold, Jérôme Hourdeaux reports on how major public institutions like the European Parliament continue to expose themselves to almost mundane intrusion of confidential data.
The European Parliament has demanded further negotiations on the EU's multi-year budget, after national leaders agreed to a cut of 3.3%.